Writer Joseph J. Airdo // Photography by Loralei Lazurek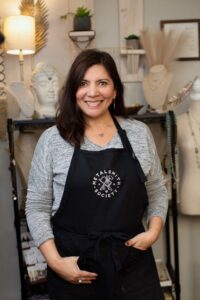 In the summer of 2017, Anthem resident Kelly Autry spotted a beautiful silver necklace with initials stamped into it on a woman in a store. Having always been drawn to creative efforts, she wondered if she might be able to make such a gorgeous piece of jewelry herself.
Her curiosity piqued, Autry scoured YouTube for how-to videos, purchased the necessary materials, sat down at her kitchen table and created her very own necklace — which she wore to her kids' school, where she worked as a paraprofessional, that fall. After receiving several compliments from teachers, she began making them as gifts.
"I have always made gifts for my family and friends," says Autry — who, originally from Southern California, moved to Arizona in 2006. "I would crochet, I would make beaded jewelry, I would make all kinds of things. I remember being in my early 20s and thinking, 'Gosh, it would be so nice to have my own business through which I could make and create.'"
Witnessing her talent and passion, Autry's husband helped her create a shop on Etsy. Within the first 24 hours, she received five necklace orders.
"That was in September," Autry says. "In December, I told my husband that I want to learn how to make a silver ring because I have always loved rings. So, for Christmas, he got me into a metalsmithing class. I walked into that class in January 2018 and, within the first hour, I knew that this was my calling. I wanted to learn everything about it. I became very obsessive. And by the end of that year, I pretty much transitioned out of the school and opened my own business."
Autry named her business Touch of Wonder Designs.
"I think that there is something so neat about being in a state of wonder," Autry says. "I feel like that is what I do. With every order I send out, I write, 'I hope you like your touch of wonder.' I feel like everything I send out brings hope and whimsy to the person who receives it."
Over the past five years, Autry's business has blossomed and grown to include necklaces, rings, bracelets and earrings, many of which involve setting stones and crystals to create one-of-a-kind heirloom pieces.
"Stones, like people, are unique and are some of the most beautiful gifts from nature," Autry explains. "I believe that jewelry is about self-expression; choosing to wear a large statement piece or a delicate item can transform your style and the personality of your outfit. It can be a reminder of a special event, a person, a date or a quote that is meaningful only to you."
Autry especially enjoys the personal connections she makes with each and every one of her customers — who, by the way, live all across the country.
"I love brainstorming with them to come up with the piece," says Autry, noting that she takes great pride in making each item unique to the recipient. "And I think that I am really good at kind of pulling out what it is that someone wants and putting that into a real thing that they can wear."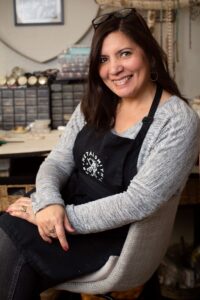 Most recently, she has added permanent jewelry to her list of products. Inspired by friendship bracelets, this chain jewelry is soldered with a pulse-arc welder directly around the wrist, neck, ankle or finger of the wearer.
"Until these past few months, I have been strictly online," Autry says. "But I did my first market last fall and that went really well. I did 81 permanent bracelets for a University of Arizona sorority over Superbowl weekend. And soon my pieces will be in a store down in Chandler."
One of her most popular products is something she calls a grieving parent necklace, designed after Albert Gyorgy's sculpture "Melancholy" in Geneva, Switzerland.
"It looks like a person sitting on a bench, hunched over because he has lost the love of his life," Autry explains. "It represents this feeling of your whole middle part being gone. That sculpture has always resonated with me because my sister lost her son 20 years ago. She had shown a picture of this sculpture to me and I just thought that it was amazing how much it says.
"So I created this piece after I started metalsmithing and it is the likeness of the sculpture but in its shadow. I have made countless of them over time. I hear these stories [from my customers] about their spouse or their child or any kind of loved one. Knowing that each person who receives one of them has a memory of their loved one around their neck, close to their heart, has meant so much to me."
Something else that has meant a lot to the 53-year-old entrepreneur: Finally realizing the dream she had 30 years ago to own her own business through which she embraces and exercises her creativity.
"I do not know that I could have done this when my kids were younger, " says Autry, who has one child in high school, one child in college and one college graduate. "There is a lot of juggling. But I have also realized that I am quite disciplined. I have been surprised at that and how willing I have been to jump in with both feet.
"These are things that you really do not know about yourself until you own your own business. I really am a one-woman show. I do all of the administration, all of the shipping, all the marketing and all of the social media. I often have to start working early in the morning and keep working late into the night.
"It is sometimes very exhausting. So if you do not have the discipline, the tenacity and the passion for it, then it is not for you. But I have realized that I do and I think that I found my niche when it comes to drawing things out of people and bringing them to life so that they can wear and enjoy their touch of wonder."