Writer Joseph J. Airdo // Photography by Larry Hanelin and Alix Theurich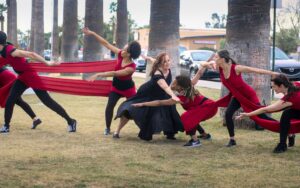 When dancers perform in a typical theater setting, they are — to some extent — blinded by stage lights and so far away from the seated audience that they are unable to feel much of a connection with them.
On April 14 and 15, Scottsdale Arts and Movement Source Dance Company will strengthen that connection, bringing a series of explorative, mobile dance performances to Old Town Scottsdale via Arizona Trolley Dances — a special event during which guests may board a trolley at Scottsdale Center for the Performing Arts and journey to five unique and hidden public art destinations around the area.
"It creates really nice energy and excitement," says Mary Anne Fernandez Herding, founder and director of Movement Source Dance Company. "You can see the reactions on [audience members'] faces much more than you can when you are on a stage. You feed off their energy and there is a more interactive and intimate feeling to it. There is more of an opportunity to build a relationship and allows for a moment of conversation, too, before and after the performance."
The Trolly Dances concept was created more than 20 years ago by San Diego Dance Theater's former artistic director Jean Isaacs, who aspired to make dance accessible to the entire community by taking art "to the people."
"A couple of years ago, I was in San Diego attending the National Dance Education Organization Conference," Fernandez Herding says. "I got to experience Trolley Dances there and loved it. It was so cool to see all of the spaces that they used, the dances that they created and the vibe that was generated with audiences being on trolleys. I liked how it connected to the community and how it used the public transit that existed there."
Having enjoyed it so much, Fernandez Herding approached Isaacs about purchasing the trademark and bringing the concept to Arizona — specifically to Old Town Scottsdale which, at the time, already had its own trolley system in place.
"I spoke with Diandra [Adamczyk, senior programming coordinator at Scottsdale Center for the Performing Arts], and she was really excited and open to trying it and supporting us," Fernandez Herding adds.
However, at that time in 2021, there had been major shifts in both the arts and public transportation as a result of the COVID-19 pandemic. In an effort to keep dance alive, Movement Source Dance Company partnered with Scottsdale Arts to present a parking lot dance show, which gave both nonprofit organizations a taste of outdoor dance.
"I think that our company got a little addicted to and excited about dancing outside," Fernandez Herding says. "It was so much nicer than being in a theater. Our rehearsals would start around sunset and we got to look up at the stars and just have this whole feeling of being connected to the environment and outdoor space. It just felt so broad and open."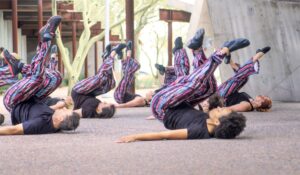 One year later, Scottsdale Arts and Movement Source Dance Company debuted Arizona Trolley Dances, utilizing Dunn Transportation's Ollie the Trolley charter trolley service — which will be used again this year.
Each stop on the tour will feature its own site-specific dance work that fuses the creative essence of both performance and public art. In addition to Movement Source Dance Company, this year's performance lineup includes Furious Styles Crew, specializing in urban hip hop style; Shola K. Roberts, specializing in contemporary Caribbean style; and Jordan Kriston, specializing in contemporary style.
"Dancing outside is exhilarating for the dancers and offers an intimate and unique setting to share dance with audiences," Fernandez Herding says. "It is raw and integrates our art form into real-life spaces. The setting of public art complimenting and inspiring each dance work is also an added point of interest on the Trolley Dances tour."
Of course, there are some drawbacks to dancing outside, away from the usual sprung floor that provides performers with proper shock absorption.
"A stage is a lovely surface," Fernandez Herding says. "Concrete, grass and other funky surfaces are not the best for your knees or your body and some of the dancers really feel it. So we have to be a little careful about that."
But the advantages of fresh air, open space and an environment that changes throughout the day are welcomed aspects of outside dance — especially in a city as beautiful as Scottsdale.
"When you think of the vastness of our Valley and all these little pockets of cities, there are so many different venues for the arts," Fernandez Herding says. "But there is a nice, heartfelt hub here in Scottsdale. So I want to encourage people to come to this event, which provides an accessible way to enjoy dance alongside public art."
Arizona Trolley Dances
April 14 and 15 // Scottsdale Center for the Performing Arts // 7380 E. Second St., Scottsdale // $30; youth discounts available // scottsdaleperformingarts.org