Writer Susan Kern-Fleischer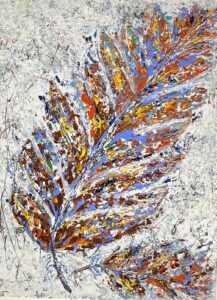 When a group of artists joins forces to showcase and sell their work, there's often great synergy that brings about even more creativity and growth. It's what happened in 1974–1975 when several artists began meeting at Cave Creek's historic Treehouse building to discuss forming the Cave Creek Craft Council, which later evolved into the nonprofit Sonoran Arts League.
It happened again nearly 50 years later, when eight artists decided to partner to open The Finer Arts Gallery in the same historic building that is situated in the town's core, in the shadow of Black Mountain.
The Finer Arts Gallery opened in September 2021, and since then, it has grown to become one of the North Valley's largest art galleries, with 50 distinct artists — all of whom are Arizona professional artists.
Visitors to The Finer Arts Gallery will find diverse paintings, drawings, sculpture, mixed media, photography, glass, wood, fiber, ceramics, jewelry, and other original work. The gallery features all genres of art, from western to contemporary and even some AI-inspired and Steampunk-inspired art.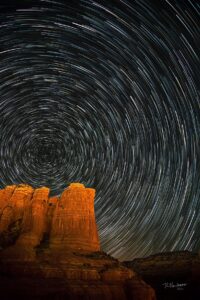 Taking a Leap of Faith
In late 2020, the Sonoran Arts League made the decision to close its Scottsdale gallery location at el Pedregal, shuttering it in February 2021.
Eight of the artists who showcased their work at el Pedregal and worked there as managers began talking about the possibilities of opening their own gallery. They included: fine art nature photographer Robert Elenbaas; ceramic artist Paulette Galop; lifecasting sculptor Bill Goren (Gullwing); contemporary glass artist Pat Isaacson; landscape and abstract painter Linda Lindus; jeweler Marlene Sabatina; graphite artist Jack Schilder; and abstract painter/mixed media artist, Shannon Taggart.
"Our experiences there gave us confidence that we could work effectively together and identify a unified vision of what we wanted to accomplish," Elenbaas says. "We each brought different backgrounds, skills, knowledge and strengths to a formal partnership."
The artists knew launching a new business during a pandemic was a big risk, but their collective confidence kept them moving forward.
"It was a leap of faith in some scary COVID waters, but we knew we could find solid talent that understood our goals for the gallery," Taggart explains.
The artists began meeting weekly to develop a plan. A key priority was to locate a building for lease in a visible setting with consistent foot traffic.
"Our desire was to focus exclusively on local artists, all of whom we juried prior to offering a space in the gallery," Lindus says. "Additionally, we wanted to ensure that the gallery captured the charm of the area by including work that is diverse in both subject and medium."
Lindus and Schilder had visited the Treehouse building previously in late 2020 when it was for sale or lease, but they decided to look elsewhere.
"As a start-up, we thought the building's 4,000-plus square feet was more than we could handle," Lindus says. "The building also was in such poor shape, the improvements were daunting."
Isaacson says the group got lucky when the Treehouse building was sold to Doug Perkins, an artist himself.
"We did look at several properties in North Scottsdale and Carefree, but none had previously been art galleries, and most were just rectangular spaces with a few windows in the front," Isaacson says. "It was difficult to envision any as gallery space. But then we learned the Treehouse building had been purchased and divided into two spaces. The front space had windows all around and immediately appealed to us. It didn't take us long to make a decision and sign a lease for the front space."
Perkins, a real estate investor, shares that meeting the gallery partners shortly after purchasing the building was serendipitous.
"As a painter, I immediately embraced the idea of leasing part of the building to artists," Perkins says. "And now that the gallery fills the full space, I'm ecstatic to see how this group of talented artists has breathed new life into the Treehouse building."
Taggart notes the gallery partners all knew they would be occupying space inside a building that had a long, revered history in Cave Creek.
"The Treehouse building is steeped in history," Taggart says. "I remember when my folks went there when it was a restaurant and they saw Dick Van Dyke fairly frequently. Many celebrities went there as it changed from a bar to a restaurant, then both."
Elenbaas adds that it is a unique building with historic significance to Cave Creek, unlike the vanilla strip mall settings they found elsewhere.
"It was basically an empty space, like a blank canvas, so it provided great flexibility in how we could do our buildout," Elenbaas says.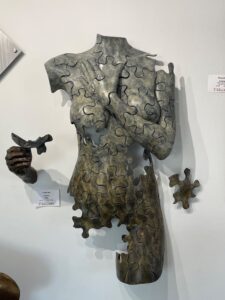 Fond Memories of the Treehouse
Located next to Big Earl's Greasy Eats, the Treehouse building is well-known by most locals and has good parking at the rear of the building.
Patrick O'Grady — a talented jeweler, longtime arts advocate and history buff — says the Treehouse building is shaded by two grand, century-old Tamarisk trees. The rustic building has had many incarnations over the years.
"For many years, it was the Cave Creek Store, owned by the Quinton family," says O'Grady, one of the gallery's featured artists. "It was a small-town grocery store that sold produce, canned goods and frozen meat. Like most retail stores at the time, they also sold 'water dogs' and worms for the fishermen going to Horseshoe and Bartlett lakes."
In 1973, Joe Hage took over the building and transformed the establishment, with the addition of a large pizza oven, deli case and pool table.
"With the help of his friends, some of which were artists, they built a structure over half the roof, in the shade of the huge trees," O'Grady says. "A spiral staircase wrapped around one of the trees to access the rooftop patio."
Lindus also remembers those days fondly.
"For years the Treehouse was on the must-visit list and part of the local character," she says, noting that O'Grady helped install the log supports that still mark the building's front entrance. "A friendly competitor among other local establishments — like Harold's Corral, Buffalo Chip and the Mine Shaft — the climb to the tree patio was a favorite."
O'Grady, who was part of the original Cave Creek Craft Council, says it has been rewarding to see the historic building full of fine art.
"It's remarkable that some of the same artists who started the craft council are now exhibiting their work at The Finer Arts Gallery," he explains.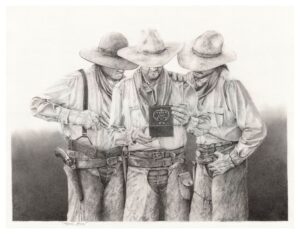 Creating an Airy, Inviting Gallery
Isaacson says The Finer Arts Gallery has come a long way since it opened in September 2021.
"When we first opened, we occupied a 2,200-square-foot section of the building," she says. "Over time, we were able to expand into the full building and add to our roster of fine artists. It has been very rewarding to hear from visitors how warm, inviting, and beautiful our gallery is, and we hope those who have not visited in some time will come see how we've grown."
One of the initial challenges involved transforming a space that was formerly a retail establishment selling western apparel into a bright, airy, inviting gallery space.
"Fortunately, Jack Schilder had the software and carpentry expertise to design a space
and make the changes necessary for the transformation," Isaacson says.
By early 2022, the second suite of the building was still vacant. The gallery partners approached Perkins about renting the full 4,000-square-foot space.
"We nervously took a bold step to expand the gallery, and bring in additional artists," Elenbaas says. "Jack went back to work and designed a plan to make the two spaces into one. Now it is
difficult to tell the old space from the new. The new space also includes a kitchen
area with a large bar-like countertop that we use during our monthly Art Affaire receptions."
Taggart says the gallery partners are constantly seeking ways to energize and improve the gallery.
"We serve refreshments at our monthly Art Affaire receptions, and we also highlight four artists each month," she says. "We just added sculpture to our patio, and we recently painted a mural on the outside wall. In addition, we refresh the gallery every six months by switching out all the work."
Isaacson says the gallery does not mark up prices.
"When you purchase art at our gallery, it's like purchasing directly from the artist," she says. "Many of the artists also volunteer at the gallery, which not only gives them a chance to interact with guests, but it reinforces the fact that we represent local artists."
Lindus explains the gallery's name, The Finer Arts Gallery, was chosen to reflect the diverse mix of fine art.
"We're not a gift shop or a crafts store," she says. "All our artists are accomplished professionals with successful careers. The mix of art is intentional, and I often say we are as eclectic as Cave Creek."
Art Affaire Monthly Artist Reception
Friday, April 21 // 5–7 p.m. // The Finer Arts Gallery // 6137 E. Cave Creek Road, Cave Creek // Free // 480-488-2923 // thefinerartsgallery.com