Writer Shannon Severson // Photography by Loralei Lazurek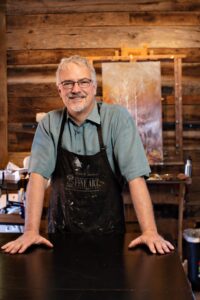 What traits and tendencies are passed down through generations? A prominent physical feature? Left-handedness? Special propensities or talents? Renowned wildlife artist Trevor Swanson can trace not only his artistic aptitude to generations of his forbears, but also the centuries-old techniques he uses today.
Each depiction of a quail, a coyote, a roadrunner or a bison tells a story of its own time and place and of Swanson's adventurous experiences that inspire the paintings.
Now, he has developed another aspect of his art, using chemical treatment of metals to create patinas that serve as a new type of canvas and the results are durable works of art that can be displayed indoors or out and can even be utilized in functional home pieces. Swanson has partnered with Sue Bickerdyke Interiors Home Furnishings and Art Gallery in Carefree to feature these pieces.
"The patina metal is a unique technique that Trevor has developed over a period of years," says Sue Bickerdyke, the showroom's owner. "The surprises that are presented inspire the direction and the colors of the work that will become the completed art."
It's a twist on the talent that is embedded in Swanson's DNA.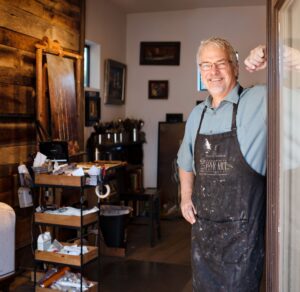 The Family That Paints Together…
Sitting in his light-filled Moon Valley studio, surrounded by volumes of photos and artifacts from his own lifetime of world travels and that of his family, Swanson says that his great-grandfather, Vernon, was an immigrant from Sweden.
"He was a full-time farmer, part-time painter," Swanson explains. "I still have some of his work. It's something that has been passed down and then skipped a generation to my uncle and father."
Swanson's uncle Ray discovered a set of paints at the family's South Dakota farm and inspiration struck like a nearly divine spark from the past. At the time, Swanson's father, Gary, was working as a taxidermist in the wilds of Alaska and his brother encouraged him to return so they could paint together.
Ray loved painting people and Americana themes, while Gary — like Swanson now — was passionate about painting wildlife. Ray became known for his depictions of Southwest Native American tribes and his studio is now replicated at Prescott's Phippen Museum, which the family helped to establish.
"My uncle just felt this calling to start to paint," Swanson says. "He kind of started this whole family business and all of us have used the style of the Dutch masters — Vermeer and Rembrandt. It's a lot of over-painting, a lot of wet and dry techniques; it's time-consuming.
"I liken it to building a house. You start with a real interesting kind of foundation layer where you get the general layout of what the painting is going to be. Then you go from there to start adding the things that create the structure.
"There is a point that's the drywall stage — it's going to be pretty even though it's not right now. But in that last stage, the process that's almost exactly what has been going on for centuries is applied; rabbit skin glue is what it used to be. It's called a retouch varnish. You get a kind of soft sticky layer that goes across that paint and that last layer is where you build the light and the detail."
Swanson, who grew up in Prescott, begins with using his larger paintbrushes and works his way down to the smallest and finest brushes, all the while applying a pallet of natural earth tones — the same ones his family has always used, so much so that he can always spot a Swanson painting in a gallery or museum.
"If you don't find it in nature, it's not going to be on my pallet," Swanson says.
This process and practice is the result of extreme discipline. Swanson says that he keeps the rest of his life — from what he eats to how he orders his day — very routine. It allows him to save his mental energy for art. While he's painting wildlife scenes that tend toward serene majesty, he's probably cranking hardcore metal music in his studio.
"Everyone knows if the music is loud, don't come in," Swanson reveals. "If it's quiet, then come in."
His specific routines are a discipline that extends to his tools. He admits that he is obsessive about organizing and maintaining his brushes.
"I spend more time with my brushes than I do with my family," Swanson says. "They're like my babies and I take really good care of them. They have a little spa treatment at the end of the day in a lukewarm bath, then I treat them with olive oil. Some of these brushes have been with me for a decade. At first, I didn't realize that not everyone does the same thing I do."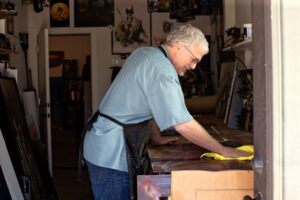 Heavy Metal
It seems fairly appropriate that a hardcore metal fan would end up using metal material, but it's quite different from his 25 years of painting only on canvas. Swanson's metal works are a new level of process and careful attention to detail.
After so many years of oil on canvas, he became intrigued by steel patina and the chemical process associated with it. The journey began when a friend asked his advice for covering up an unsightly air conditioner condenser outside his kitchen window. Swanson located a company in California that was creating patina for steel.
"Most patinas are made to be used on bronze," Swanson says. "These can be used on steel, copper and brass. I worked on it for a year to experiment and get the effect I wanted. Suddenly, I had a whole new branch of my work, a whole new avenue of what I can do."
Swanson says that he had to go back and learn chemistry — a subject that he didn't enjoy in school. But this time was different because it really meant something to him; he was on a mission. He delved deep into metal, chemicals and just how much heat and acids to apply. It's a delicate balance so that, when the chemicals are washed away after curing, all the color doesn't go with it.
At first, he was pleased that the patina produced similar color to the palette he was already working with — mostly browns and tans — but with time and practice, he has also developed rich forest greens and blues. He's also chasing an elusive pink that would mimic the rosy-orange hue of a sunset. When it came time to present his results, some galleries weren't open to change.
"I started shopping around my work with different galleries that knew my canvas work," Swanson recalls. "Some galleries were like, 'Nah, that's just too different; it's not a traditional thing.' I'd known Sue Bickerdyke for years and we spoke when I took my work to the Celebration of Fine Art in Scottsdale. We clicked and it's opened up this whole different world of functional art.
"In working with Sue, we've done projects like copper table tops, outdoor fireplace screens and a custom-built refrigerator. Growing up in the desert, I love Arizona and people who move here want something of the desert in their homes. We are bringing the desert to them."
Bickerdyke is just as thrilled to be working with Swanson and says that she loves sharing his talent with her clients, who are amazed at his attention to detail — the hundreds of tiny paintbrush strokes that are captured with his collection of hundreds of brushes. His quail works, for which he is well-known — are among her favorites.
"He was born to be an artist," Bickerdyke says. "It's just in his blood. "Trevor's passion for his work and his unique approach to wildlife, nature and life are captured in his work; you just feel it. It doesn't matter if it's an animal or a vintage old truck; the expression and the personality make you fall in love with the subject."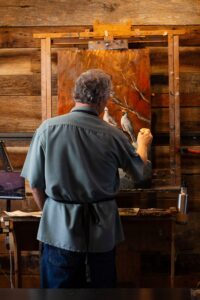 Lasting Works of Art
Swanson says that he's had to embrace the chaos and unpredictability of the chemical process on metal. Unlike the canvas process he uses, smooth metal surfaces aren't "grippy," and yet he's found treatments that allow him to paint in even greater detail than in his traditional works.
"The feathers on my birds are even softer on a piece of copper than on my canvas work," Swanson says.
Further, the pieces are durable enough to withstand daily use inside the home or the harsh conditions of Arizona's weather. New ideas for sturdy yet beautiful framing are also on Swanson's mind. Everything is created to endure for generations and to fit traditional or modern design styles.
"The paintings will outlast me," Swanson says. "The company that makes the patina has these incredible sealers that protect the pieces. It's just amazing. With Sue, we do a lot of desert scenery. It's easy to go hiking somewhere and I come back with a bunch of different ideas and the beauty of the desert in different seasons. Each piece I do, I research and travel and it comes from a story that people are able to connect with."
The Swanson legacy and its true representation of the beauty of our desert environment is alive and well and now there are myriad ways for patrons to enjoy it. Galleries and collectors are enthusiastically embracing both of Swanson's artistic formats.
"There's a guy who has had one of my paintings for ten years now," Swanson says. "I see him every once in a while and he says, 'Man, I start my day with a cup of coffee and I look at your work.' That just gives me the chills. There is sacrifice in this business; it's not a steady paycheck, there's no health insurance –– that type of stuff. But there is an intangible element in those types of moments where you see that someone has connected to your work. It's amazing."
Bickerdyke recounts her own joy of living daily with one of Swanson's works in her home.
"Trevor was commissioned to paint San Xavier del Bac Mission as a surprise from my husband," she says. "It is lit with a picture light at the top. Every morning I turn on the dimmers and enjoy the sky or the architecture or the beauty of it. By carrying his work in our showroom, it has upped our game."