Writer Rebecca L. Rhoades // Photography Courtesy of High Desert Designs
Vignettes of rare and specimen-quality cacti in shades of green, yellow and purple nestle among strategically placed boulders. Towering saguaros are complemented by clusters of plump golden barrels, spiky agaves, flowering prickly pears, and shrubby groundcover. The result is both sophisticated and dramatic: Water-wise yardscapes that look as though they are indigenous to the desert — but even better.
The sight is a familiar one in some of the region's toniest communities, from Desert Mountain to Estancia to Silverleaf. But now, thanks to landscape designer Chad Norris, it's becoming more familiar in enclaves such as Paradise Valley, which long has been known for its European-style gardens filled with verdant lawns, lush hedges and elegant long-stemmed roses.
Over the past decade, the native Phoenician made a name for himself as a top creator of eye-catching desert-friendly gardens in the North Valley. His work as the lead designer for a large landscape firm garnered him numerous accolades, including Phoenix Home and Garden magazine's prestigious Masters of the Southwest award and Luxe Interiors + Design magazine's Gold List honor.
So it was no surprise when, almost three years ago, Norris decided to strike out on his own.
"I never thought I would leave my previous job," Norris says. "I loved the place. I loved the people. It was everything I had ever wanted to do. But things happen, and I decided to go a different route."
Norris grew up in the industry. His father, Brian, owned a landscaping business, and Norris remembers spending his younger years mowing lawns and trimming plants.
"My dad was getting older and was ready to retire," he explains. "He had this company, this space, this clientele. And I wanted to have more control over what I was doing and be 100 percent in charge of the things I was creating."
On March 16, 2020, Norris officially opened his own landscaping company, High Desert Designs — four days before the worldwide COVID-19 lockdown began.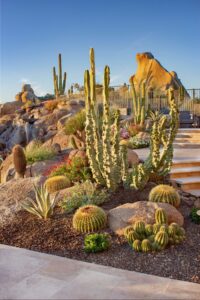 New Growth in a Time of Crisis
"When the pandemic hit, I was like, 'Are you serious?'" says Norris, remembering the panic that he felt during the business's early days. "We had worked so hard to get this started."
However, within weeks of opening, the firm's phone began ringing nonstop. While many companies fell victim to the shutdown, closing their doors for good, those in the housing and garden industry flourished. Now that people were staying home, they wanted prettier environments to enjoy, especially when it came to dining, playing and entertaining outdoors.
"There is so much opportunity in the field," Norris explains. "Everybody's busy. The other day, a well-known company said it is booked until next fall. Next fall? That just shows how much work there is."
High Desert Designs is truly a family affair. Although Norris' parents have stepped back from the daily grind of running a company, they continue to help out, offering support and advice.
"My dad's not a big computer guy, but he's so smart," Norris says. "He knows such much about irrigation."
Norris' wife, Bahia, handles the bookkeeping. And some close co-workers from his previous company who believed in Norris and followed him to his new firm now serve as his right-hand men, handling the day-to-day installation operations and managing the maintenance division.
In the almost three years since the company began, it has developed rapidly — faster, in fact, than even Norris had expected. Today, it employs about 75 to 80 workers, ranging from maintenance crew members to landscape planners to salespersons and office staff. Norris is the main designer, overseeing the entire team and making sure standards are the same from project to project.
"We didn't have two crews for five years before we added another one, which is typically how landscaping companies grow," he says. "We had to move very quickly."
The firm's fleet also has grown, expanding from an initial three trucks to 30 trucks in two-and-a-half years.
"It seemed like I had to buy another truck every month," Norris remarks with a laugh.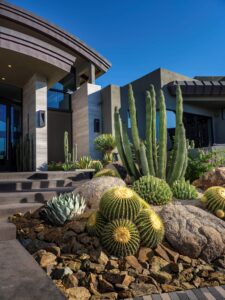 Reshaping Valley Landscapes
The name High Desert Designs was born of Norris' love of native plants and xeriscaping.
"My intention was to re-create my designs in Paradise Valley," he explains. "I was seeing that grass was not as in demand as it used to be because water prices are going up and there are concerns about water usage. I felt that Paradise Valley will start to transition to a more low-water, low-maintenance type of design. It's not just desert landscape. It's not just lush green grass and hedges. It's a combination. It's high desert."
Norris continues to work on landscapes throughout North Scottsdale and Cave Creek, areas in which he gained a loyal clientele over the past decade. In addition to working directly with owners of luxury properties, he frequently collaborates with builders and architects who create custom homes and want gardens that underscore the natural flow of the terrain and accentuate the lines of the architecture.
"It's never about the budget," Norris is quick to point out. "I could do $5,000 projects or $500,000 projects. What's important is that we're using the landscape in the best way possible."
It's this desire to incorporate his aesthetic throughout the Valley that attracts him to Paradise Valley. In the northern communities, the land is rugged and mountainous, with rocky elevations and steep cliffsides. In the central and southern neighborhoods, large swaths of flat ground traditionally have been filled with pools, hardscape and expansive lawns.
"Paradise Valley projects are the most fun for me right now because they're so different from what I'm used to doing," Norris explains. "The size of the property could be the same as a place in Cave Creek or one of the golf communities, but you can use all of it, so the projects are a lot bigger. It's a challenge to anchor that much square footage. I've been incorporating more soft materials to fill in the space and create transitions between focal points."
Norris speaks of a landscape he's creating at a home near Cactus Road and 60th Street. The spacious — and flat — yard includes a pool and a tennis court.
"They could put two more courts back there, it's so big," he notes. "So how do you take a property like that and make it feel cozy and integrated around the living space? Most designers might put ramadas and more firepit seating, but people honestly don't use that stuff. We didn't add any hardscape. We created this cozy destination-style setting around the pool with plants that completely changed the backyard."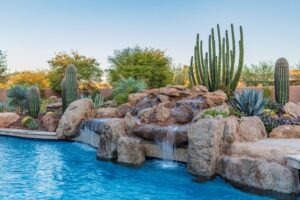 Designing the Future
Although business is booming, Norris is the first to admit that it hasn't always been easy.
"There's a lot more to do than I ever expected or gave credit to before," he explains. "Invoicing, the computer software, the server, 401(k)s, insurance, bonus packages: all those little things you have to budget for and account for that are outside of the profit you think you made on a project. And you're paying those paychecks every week on projects that might finish every few weeks. Those are the things you don't think about when you're just working for another company."
So what's next for Norris? Building a brick-and-mortar office — a home base for his team, which has been working from home since day one. Construction is expected to begin on the site of the company's nursery near 16th Street and Deer Valley Road in the next three to six months.
Not bad for the self-taught landscape designer who just wanted to create.
"I never thought I'd want to run my own company," Norris says. "I used to tell people that I'm not a good business owner; I'm a good second in command. And that was true for a long time. But I like being in control. I like creating something new, with all the knowledge that I have, or that my dad has. I like being in control of my own destiny and success. That's the part that's worth it. I'm blessed to be able to do that thing every day that I enjoy doing and don't get tired of."