Writer Shannon Severson
Holiday traditions are many and varied, but a common thread runs through nearly every one: food.
At the center of the dining table or on a cookie plate, recipes are passed down through generations and among friends, adapted little by little or remaining stalwart in such a way that tastes may directly reflect celebrations of many years past.
Here in our little corner of the Valley, we are blessed with a plethora of independently owned restaurants and the proprietors share their own family traditions and recipes with valued customers. Diners can celebrate away from home or, in some cases, can leave the cooking to the pros and bring home dinner to share with family and friends.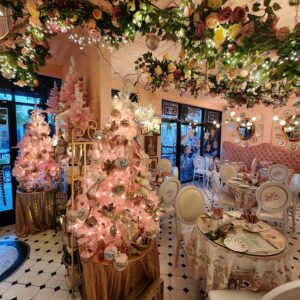 English Rose Tea Room
For the last 20 years, owner Jo Gemmill has played host to a medley of performers and musicians that bring the spirit of Christmas to all of her customers at English Rose Tea Room and to neighboring merchants. Highlights have included Dickensian carolers, the Salvation Army brass band, ballerinas performing to the familiar strains of Tchaikovsky's "Nutcracker Suite" and even Santa Claus.
"You think we look pink and sparkling right now?" Gemmill asks. "Just wait and see what happens once Santa's elves have paid us a visit. Baubles, glitter and glitz, with gorgeous decorations to buy or simply admire. Even our Christmas trees are pink this year."
English Rose Tea Room's six "Nutcracker" performances are already sold out, but Gemmill says that carolers will return each weekend and all visits are free. Santa Claus is also likely to make an appearance for children of the human and four-legged varieties.
Many groups keep a tradition of gathering at English Rose Tea Room each season, so she has added the restaurant to the Open Table app to ease the reservation process and will be serving traditional Christmas afternoon tea with the full lunch menu. Festive tea beverages like holiday spice tea and a traditional Christmas pudding will be added to the already extensive variety of sweets on the menu.
Gemmill, a Brit by birth, says that her own household's Christmas is a blend of cultures and traditions. A turkey is the traditional Christmas dinner entree in the United Kingdom, but she usually adds prime rib for everyone else. There is much that the U.S. and the UK share when it comes to Christmas music, decorating the tree and decking the halls; but she has some special memories from her English upbringing.
"My favorite tradition as a child was opening the Christmas stocking at the end of my bed, having tried to stay awake half the night to see Father Christmas," Gemmill recounts. "Inside the stocking were little gifts carefully wrapped up, together with chocolate money, a Christmas cracker and the obligatory tangerine. The queen's speech came on TV on Christmas Day and we were all required to sit and listen; this year will be the very first king's speech."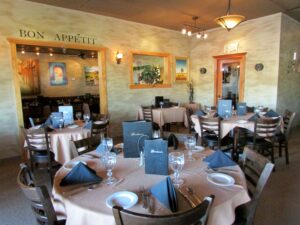 Giordano's Trattoria Romano
Giordano's Trattoria Romano is known for its home-style Italian specialties of pasta, meat and seafood, including veal shank osso buco. Adele Giordano says the restaurant will likely serve lamb shank osso buco on New Year's Eve, which is the only holiday that the restaurant is open, but all throughout the holidays, the chefs feature what's fresh. Shrimp scampi over lobster ravioli, for example, is a popular item for the many groups who visit to celebrate the holidays.
"We host dinner parties for families and enjoy sharing fun moments with our customers," says Giordano, adding that the restaurant is decorated for the holidays and festive music is playing continually. "Family time is important to us, so we take the holidays off to be with our own families."
The Giordano family tradition is to gather on Christmas Eve to celebrate and Adele is always the one to host. The family arrives to feast on Italian seafood and pasta — and they do it in matching pajamas that Adele buys for everyone to change into when they arrive.
"After dinner, the dads take my grandbabies — four girls, ages five and six — for a drive through the neighborhood to look at Christmas lights, and the moms set up all the gifts under the Christmas trees," Adele says. "Then, the moms take the Santa key from the front door and go for a short walk. When we all arrive back, the girls see the key missing and know that Santa came. Then the craziness begins!"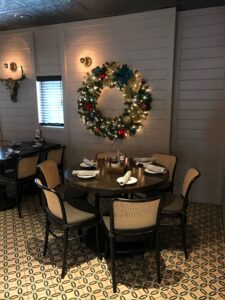 Keeler's Neighborhood Steakhouse
Matt Keeler — director of operations for Keeler Hospitality group, which owns Keeler's Steakhouse at Spanish Village in Carefree — says that being family-owned and operated means that guests are treated like family as soon as they walk in the door, regardless if one is among the restaurants' many regulars or a first-time visitor.
The Keeler family may be busy hosting individual patrons and groups large and small during the most festive time of year, but it's not just business.
"The holidays are very special to our family, especially my mom," Keeler says. "They are a little tougher now since our father, the owner and leader, passed last October, but his legacy lives on through all of us. My mom personally decorates each restaurant, which takes her three days to do, but these are an extension of our own homes and she wants it to feel that way when our guests walk through the door.
"One family tradition that we have held onto is that the entire family gets together on Christmas Eve. After the kids and grandchildren go to sleep, we watch 'National Lampoon's Christmas Vacation' while drinking adult beverages and wrapping gifts for the kids. I can pretty much recite the entire movie."
In addition to the regular menu, Keeler's Neighborhood Steakhouse's Christmas Eve menu is a three-course affair that begins with a cozy, aromatic bowl of French onion soup or Caesar salad and continues on to luxurious prime rib with a jumbo prawn topper, roast lamb or Chilean sea bass. Indulgent chocolate peanut butter cake or peach cobbler end the meal on a sweet note.
The restaurant's fourth annual New Year's Eve gala will feature an extravagant buffet with prime steak, salmon and sea bass and a prime rib and spiral cut ham carving station, a crustacean station and a coffee and dessert bar. The $135-per-person ticket includes two drinks, bottomless champagne and live music and dancing on Keeler's Neighborhood Steakhouse starlight roof-deck patio.
Liberty Station, also owned by Keeler Hospitality group, hosts a Christmas Eve dinner with a menu that includes prime rib and spiral ham. For those who like to enjoy a holiday meal at home without all the work, there are to-go options for pick-up on Christmas Eve including Christmas ham, Texas brisket and Carolina pork shoulder from the smoker along with sides like cole slaw, macaroni and cheese, baked beans and green beans. Liberty Station is also open for Christmas Eve.
Keeler says that the parties they host for family gatherings and private events really give their locations a chance to shine.
"We have so many different venues and spaces that can accommodate any function, which allows us to be very flexible in helping to make the event a very special occasion," Keeler explains. "For our restaurant group, we do an ugly sweater contest on Christmas Eve and the entire staff participates. The team and our guests love this!"
L'Entrata Tasting Room
Celebrating the one-year anniversary of their neighborhood wine bar, L'Entrata Tasting Room owners Maria and Jay Toupin have also begun the second season of wine dinners where patrons can meet the winemakers behind what's in the bottle and enjoy a multi-course meal prepared by their new executive chef, Jen Van Fleet.
"We're looking forward to rolling out some new menu items along with keeping the classics," Maria says. "Diners should keep an eye out for dishes such as pork loin with apple, butternut stuffing and roasted Brussels sprouts with bourbon maple pecan glaze and butternut squash ravioli with brown butter sage sauce to name a few.
"In addition to our high-end cuisine, Jen is also a pastry chef. We're excited to share some holiday desserts such as pumpkin cheesecake, warm apple cake and sea salt bourbon caramel bread pudding."
Maria says that L'Entrata Tasting Room's rotating menu is one of the things for which the wine bar is known. Its website is always updated with the latest offerings — including upcoming winemaker dinners, such as St. Helena's Long Meadow Ranch Winery on Dec. 4.
Wine Club members — who enjoy two bottles of wine each month, complimentary charcuterie and a 20% discount on all wine, food and merchandise — have first dibs on a place at the table, but events are open to all.
In the spirit of giving, L'Entrata Tasting Room is sponsoring a toy drive Dec. 5–20 to benefit the Salvation Army's Christmas Angels program. Unwrapped gifts can be dropped off at a designated location in the wine bar. And from 4 to 6 p.m. on Dec. 14, Santa Claus will pay a visit while elves will be on hand to snap photos and hand out candy canes and cocoa for kids.
Throughout the season and all year long, L'Entrata Tasting Room hosts live musicians several nights each week and is also available for private parties through the wine bar's event coordinator.
Noting that weekend brunch is a good way to start a day of Christmas shopping, Maria adds that guests can enjoy eggs benedict with truffle hollandaise sauce, French toast with spiced apples and brown butter maple syrup or avocado toast with smoked salmon. To wash it all down, Mimosa flights and a featured holiday apple cider mimosa will be on tap.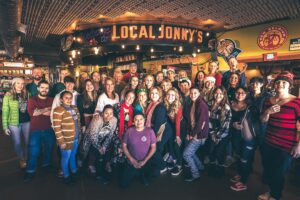 Local Jonny's
Local Jonny's, another family-owned business, recently expanded its restaurant footprint to include an outdoor patio and live music performance space. Director of operations Rebecca Harding says that guests are welcomed as part of the family — especially this time of year, when winter visitors may be far away from their own families in other states.
The restaurant is the site of gatherings both large and small during the holidays — including hosting the Foothills Food Bank and Resource Center's annual appreciation party, sports team dinners and brunches and formal, multi-course rehearsal dinners.
"It's of the utmost importance to all of us at Local Jonny's to welcome each guest [if it's] their first time visiting us or their 100th [visit]," Harding says. "A couple of our core values include community and local first. This means any member of our community — visiting or year-round resident — is a part of us to our core and we want them to know that and feel that each time they come in."
Harding says that the entire staff really looks forward to the holidays and making sure that the experience is wonderful for everyone. They also get to welcome family and friends of regulars and many of their dogs, too.
"Since we have a dog-friendly patio, we meet so many of our furry community members and that's important to us," Harding says. "We offer doggie treats for the pups and a delicious menu for their humans."
This year, Local Jonny's will participate in Cave Creek Winter on Dec. 3 — an ugly sweater, town-wide pub crawl.
"Along with several other businesses, we all throw money in a cap and get busses rented to shuttle guests from business to business for a one-hour stop each," Harding says. "Local Jonny's is the seventh pit stop. We'll have a free photo booth and you might even catch a glimpse of Santa along with some snow; we'll just have to see!"
A favorite holiday tradition for Local Jonny's is celebrating its team and its town.
"Without our employees, we are nothing," Harding says. "Each holiday season, we have a celebration for all our employees. It's a time for Local Jonny's staff to bond with one another, reconnect and become friends with the people we work side-by-side with day in and day out. It is really transforming.
"The holidays are our time to spread love and laughter from staff members to our guests. The happiness that our team feels gets passed on to our extremely dedicated and supportive guests. We at Local Jonny's are a crew of dedicated and hard-working people [who] truly love what we do and aren't afraid to show it."