Writer Joseph J. Airdo // Photography Courtesy of The Musical Instrument Museum
After eight years working alongside ancient artifacts at the Musical Instrument Museum, Rich Walter still stands in awe at many of the earliest examples of instrument development and items through which the world's most celebrated artists have created iconic sounds.
"Just looking at them, you feel like you are in the presence of history and you are getting a little bit of an insight into design, creativity and radical new ideas that we now take for granted," he says. "They provide such a cool window into the past."
Last year, the Musical Instrument Museum debuted a special exhibition that featured 80 of the most historically significant and sought-after instruments in existence. Following exceptionally positive guest response, the museum has unveiled a second iteration of the showcase that will be on display through next fall.
"Even since the original Treasures exhibition has been open, our curatorial department has been acquiring new instruments and artifacts and making new relationships with lenders," says Walter, who serves as the museum's curator for USA/Canada. "Our collection is constantly growing and maturing with these really one-of-a-kind historical objects from any given part of the world. So we actually have more things to show for those efforts and we are excited to basically bring some new energy into an existing theme."
Alongside 28 new acquisitions that have been introduced to the gallery for Rediscover Treasures, a number of objects from the original showcase will be displayed with renewed context.
"We know that a lot of people come back and visit MIM on repeated occasions," Walter explains. "So while there are a lot of new items that have not been seen before, many of them also relate to some of the previous items in new ways or kind of call attention to details or provide interesting contrasts and complements. That is the 'rediscover' aspect of Rediscover Treasures.'
"We would love for people who have already seen some of the content in the [first iteration of the special exhibition] to come back and see them in the context of some of these new materials and, once again, join us in rethinking what constitutes a treasured musical object. Because there are a lot of different ways that we can approach that topic."
For example, an 1889 Erard grand piano — the clear visual centerpiece of the original showcase — will still be on display, giving guests a taste of Paris' Exposition Universelle, where it was awarded Grand Prix honors. However, it has been relocated to a slightly different area of the gallery, making way for a collection of items that once belonged to the High Priest of Pop.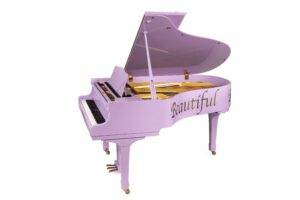 "We have Prince's grand piano and ["Black Power"] bass guitar as well as one of his wardrobe items," Walter says. "So I think that will have some real visual impact as you enter the gallery. That collection provides a really cool contemporary sense of treasures in that physically central spot."
Featuring the word "beautiful" written in gold on three sides, the purple piano — which is on loan from The Estate of Prince Rogers Nelson and Paisley Park — was custom-made for the legendary singer-songwriter and used throughout his Jam of the Year Tour in 1997. Prince often danced atop the piano during his live performances as well as in his music video for "Somebody's Somebody."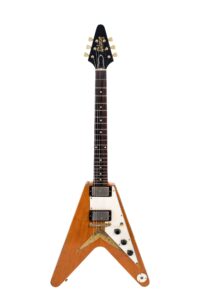 Also near the entrance is a 1958 Gibson Flying V electric guitar that was once played by world-class guitarists Joe Bonamassa, Eric Johnson and Jack Pearson. The provocatively shaped instrument was initially so controversial that only 81 examples were shipped in 1958, making originals incredibly rare.
"The body shape was such a radical departure from other guitars that players questioned its sensibility and were not quite ready to jump on board when it was first sold," says Walter, noting that Eric Clapton's iconic two-color sunburst 1956 Fender Stratocaster "Brownie" is also on display.
"When people walk into the exhibit, there is a wide spectrum of deep archaeological things up through these really cool 1950s rock and roll style guitars. The gallery will have a very broad feel to it and we want people to be captivated by those visual sight lines right off the bat."
Speaking of deep archeological items, among the many historical artifacts that are featured in the exhibit are a 6,000-year-old drum and a 2,500-year-old bell.
"The bell comes from this very deep tradition of Chinese bronze bell casting," Walter says. "It is really kind of monumental and extraordinary. There are a lot of details cast into the surface of the bell, which also features handles that are not only functional but also decorative and symbolic. It is an amazing piece of art and has a real presence in the gallery.
"There is also a very stunning 14th-century Japanese hitoyogiri flute that was once owned by Emperor Go-Daigo. It is a small instrument, but it's just jaw-dropping. We know that there are going to be people who get really excited for some of the pop culture items, but it adds even more gravity to them when they stand shoulder-to-shoulder with centuries-old items and experimental things from all over the world."
A flute that is perhaps even more impressive is one, developed by French watchmaker and mechanic Claude Laurent in 1809, which is made almost entirely of glass. Referred to as a "crystal flute," the instrument is unaffected by temperature and humidity, thereby providing a stable, even-toned and well-tuned sound.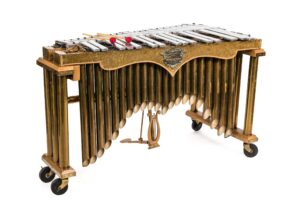 "We have also got Lionel Hampton's ['King George' model] vibraphone — which is this really stunning golden instrument that was custom-made for [the jazz legend]," Walter adds.
Meanwhile, hailing from 1720 Germany, Jacob Hochbrucker's pedal harp — one of only four that remain — features a design that represents a revolutionary step in harp history. Then there is an instrument that is believed to be the very first Hawaiian ukulele, likely handcrafted in 1879 by Portuguese immigrant Jose do Espirito Santo. Despite its delicate construction and small size, this ukulele remains in playable condition and produces remarkable volume.
"It is just a total gem," Walter says. "I mean, you are looking at the very first one. That is really heavy. We never lose track of that. At MIM, we are surrounded by thousands of musical instruments every day. But whenever we have a chance to have that kind of close contact with or close observation of these really deeply historic things, the novelty never wears off.
"And we constantly get excited. We constantly learn from them. We are constantly reminded that these historic instruments can be just as thought-provoking today because of all the progress that has been made in the meantime."
Walter adds that Rediscover Treasures will delight and enthrall anyone who has an interest in the decorative arts, in music history or in celebrated, world-class music icons. The Musical Instrument Museum's staff is extremely proud to continue the narrative started by last year's showcase and grateful to the lenders and supporters that have made the special exhibition possible.
"It is almost surreal," Walter says. "Some of these objects are in such a wonderful state of preservation. You are looking at things that represent ancient traditions of craftsmanship, artistry, decorative features and aesthetics. To think that these concepts of art and communication have persisted for hundreds of generations is very cool."
Experience
Rediscover Treasures // Daily // 9 a.m.–5 p.m. // The Musical Instrument Museum // 4725 E. Mayo Blvd., Phoenix // $10; youth discounts available // 480-478-6000 // mim.org