Writer Joseph J. Airdo
Photography Courtesy of Musical Instrument Museum
[dropcap]M[/dropcap]usical Instrument Museum invites its visitors on a daily basis to explore the vast cultural and historical significance of music. However, a new special exhibition at the museum takes that one step further, transporting visitors through time and across the globe to witness its innovation, artistic ingenuity and importance.
"We are hoping that people get a sense of really aspirational human achievement," says Musical Instrument Museum curator Rich Walter, noting that the new special exhibition demonstrates how people all around the world — from as far back as 6,000 years ago through today — have created musical treasures that convey valuable information about the time and place in which they lived.
Musical Instrument Museum last month debuted Treasures: Legendary Musical Instruments, a special exhibition that features 75 standout instruments remarkable in beauty, craftsmanship and cultural significance.
"We are in a unique position at Musical Instrument Museum to have a global collection of instruments so we can approach that concept of 'treasures' from different perspectives from around the world and through different periods of time," Walter says. "We can get into one gallery space musical instruments that are regarded as treasures based on their artistry, the beauty of their construction and the treasured historic importance that they may represent."
Storytelling Power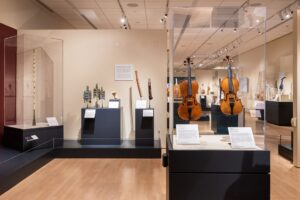 Many of the items on display in Musical Instrument Museum's special exhibition are exceptionally rare archaeological artifacts — some of the oldest known instances of musical instruments that have been meticulously preserved.
"A lot of these instruments were built specifically for use in royal courts," he explains. "Some of them were made deliberately for elevated performers. Those are some of the physical details that people can read into the objects and really get a sense of the storytelling power that these instruments have."
That storytelling power transcends time as there are also numerous much more recent examples of instruments that, just as significant as their more ancient counterparts, also warrant a place under the special exhibition's "treasures" banner.
"Many of them come from ages and cultures in the past but there are people today who are making outstanding musical instruments to the highest standards as well," Walter explains. "That is just another way of impressing upon our visitors to the gallery that music is still important and that people are still really aspiring to do their very best in making the most incredible musical instruments they possibly can."
Eye for the Aesthetic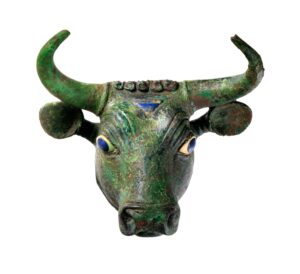 That aspiration is not exclusive to the sounds that the musical instruments make, though. As evident by the incredible construction and intricate markings and finishes on each object, the special exhibition is filled with genuine works of art.
"All of the instruments throughout our galleries are really exciting and thought-provoking but this particular exhibition really draws together particular items that have a really important musical role to play," Walter says. "However, even if you ignore that, it is really self-evident that they are exquisite objects. So much care has been taken into creating them. So much eye for the aesthetic is found everywhere in this gallery.
Some objects boast centuries-old Japanese lacquer applications. Others feature gilt-bronze sculptural treatments. And many have surfaces that are painted or inlaid with patterns or designs that are beautiful and imbued with even more portions of the story about each culture or time period.
"It is going be really exciting to be able to walk through and see through the ages and across geography that there are so many ways that people imagine their sense of beauty, balance and the ideal version of these instruments," Walter says. "Many of them are traditional instruments but these examples of them are sort of the pinnacle of what you could ever imagine one of those to be."
Finest Examples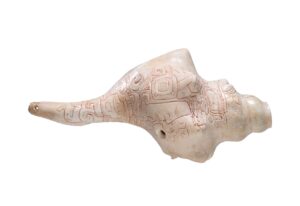 Among the many objects on display are a teponaztli, a figurative Aztec slit drum; a sho, a free-reed mouth organ composed of bamboo pipes; and a bull head and plate from a lyre from Ur, one of the world's oldest string instruments hailing one of the earliest recorded human civilizations.
The clear centerpiece of the special exhibition is an 1889 Erard grand piano, which was awarded Grand Prix honors at the 1889 Exposition Universelle in Paris — the event during which the Eiffel Tower debuted.
"Erard was arguably the finest European piano maker at the time," Walter says. "It happens to carry really extensive gilt-bronze mounts and incredible wooden geometric marquetry all over its surface with gilt-cast bronze sculptural details. It is not uncommon for these world's fair type of instruments to be just way over the top and this is basically the best that that company could do at the time. It is a really stunning instrument."
Other notable musical instruments on display include an Amati violin likely made for a royal marriage, a trumpet likely used during one of the earliest athletic games, Jimi Hendrix's famed Black Widow guitar and a conch shell trumpet from the Maya civilization.
"The conch shell trumpet is one of these instruments that has a lot of decorative elements on it that help us understand the idea of ancestry and how people have used some of these really elevated types of instruments in ritualistic and royal settings," Walter says. "To have such a fragile object like that surviving so many years later is a miracle in and of itself. Its decorative surface treatment carries an even deeper narrative. We are able to see how music factors so integrally into people's most important personal and sacred events."
Eternally Enduring
Walter adds that Treasures: Legendary Musical Instruments effectively tells extremely deep, culturally powerful and eternally enduring stories.
"It has been fun for us because we can take advantage of our entire collection and think about it broadly to find some really special instruments that bring to the foreground just why they are so singularly special," says Walter, noting that Musical Instrument Museum is also grateful to the various individuals and institutions who lent pieces to the special exhibition.
"We have brought the entire world together in one gallery. We are really excited for visitors to see the wide range of how people all around the world and through different periods of time have applied their best efforts into making the finest musical instruments they possibly could."
Experience
Treasures: Legendary Musical Instruments // 9 a.m.–5 p.m. // Musical Instrument Museum // 4725 E. Mayo Blvd., Phoenix // $10; youth discounts available // 480-478-6000 // mim.org