Writer Shannon Severson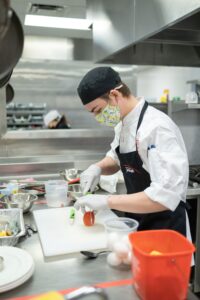 Culinary talent is certainly the path to a delicious meal, but for at-risk young people in Arizona, it can also be a path to an education and a career.
For 32 years, the Careers through Culinary Arts Program has provided more than 20,000 high school students with real-world skills and $66 million in awarded scholarships, supported by 5,000 industry partners and private donors.
Tarbell's restaurant owner and chef Mark Tarbell sits on both the program's national board of directors and the Arizona regional advisory council. As busy as his life is, he enthusiastically gives his time to this worthy cause.
"I feel strongly about C-CAP," Tarbell says. "High school is a very challenging age and their influences are great — both positive and negative. They haven't had time on earth to figure it all out. They learn math, strategy, planning and prep and they learn camaraderie. That level of community drew me to my [culinary] career when I was very young.
"[C-CAP] gives students a sense of busyness and purpose, physical activity and mental acuity. Even more importantly, it gives them a community they can stay a part of throughout their whole lives."
Tarbell credits Arizona C-CAP leaders like program director Jill Smith for growing C-CAP to be offered at more high schools than even New York City, and for innovating pre-apprenticeship and apprenticeship programs that he plans to advance on a national level.
For the past eight years, he has emceed C-CAP's Harvest Moon Feast each October and this year was the second time he opened the doors of Tarbell's to host the dinner. At this dynamic event, high school culinary teams and their professional chef mentors prepare the meal and there is an honored guest. This year, that honored guest was Arizona C-CAP graduate and celebrity chef Brother Luck.
Luck and Tenacity
The 39-year-old Luck — who recently published his autobiography, "No Lucks Given" — had a rough start in life in his native San Francisco. His father passed away when he was 10 years old. At age 14, he and his family moved to Arizona where they had relatives, but times were hard.
Luck made ends meet any way he could, including working in professional kitchens. He enrolled at Trevor Brown High School and learned about the C-CAP program. It seemed to be a pretty good way to learn a skill and be assured that he would be able to eat every day.
"As a teen, I figured being a chef meant I would always have a job, would never go hungry and could live and work anywhere in the world," Luck recalls. "I really believe in teaching kids vocational skills. They have a way to pay the bills and then can pursue any artistic or creative thing they want to go for."
Luck didn't believe that he was a good chef until people started telling him so in high school. He excelled at the C-CAP competitions, which prepared him for future appearances on food competition shows, including his winning episode of "Beat Bobby Flay," making the finals on "Chopped" and two appearances on Bravo's Emmy Award-winning "Top Chef."
Luck worked relentlessly, training at his high school C-CAP program each morning, training with a master chef at Art Institute of Phoenix in the afternoons and working nights on the line at the Hyatt Phoenix. His talent and tenacity paid off when he was named Best Teen Chef and received $30,000 in scholarships from C-CAP and Art Institute of Phoenix, where he ultimately earned his culinary degree.
"Chef Mark Tarbell is the one who handed me the C-CAP scholarship when I was 17," Luck says. "Chefs like Mark Tarbell, Vincent Guerithault and Beau MacMillan opened these doors for us. They are pioneers that created a generation like mine and now we are becoming the new voices."
Luck married his high school sweetheart, Tina, and now operates two restaurants in Colorado Springs: Four by Brother Luck, which serves his signature take on southwestern cuisine, and Lucky Dumpling, a modern Asian eatery. He was recently nominated by the James Beard Foundation as a Best Chef semi-finalist for the Mountain Region. However, he's not ruling out future opportunities back in Arizona. He also continues to give back to the C-CAP program as a chef mentor.
"It's pretty surreal," Luck says. "I see a lot of myself in young people — especially when I work with at-risk youth. They are guarded and angry and have had hard cards dealt their way. A mentorship begins with trust that hopefully turns into friendship. I start with, 'I don't want anything from you; I want to see you do well.'"
C-CAP Graduates Cooking Up Success
The connections made by chef mentors like Luck and teachers in the C-CAP program are the underpinnings for success — whether a scholarship winner decides to become a chef, work in the hospitality industry or pursue another path altogether. There are recent graduates who look back at what they learned and can credit C-CAP not just for scholarships, but also for the connections they made and the fire that was kindled within them to pursue their dreams.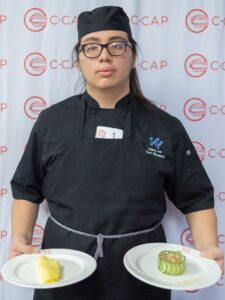 Albert Placencio is a 2022 graduate of Moon Valley High School who earned a full tuition scholarship for Johnson and Wales University in Charlotte, North Carolina, where he is pursuing a double degree in culinary arts and food and beverage service management. After graduation, he hopes to travel and work as an apprentice in professional kitchens. He'd also like to be a mentor for future C-CAP students.
"C-CAP was a great opportunity," Placencio says. "I love to cook and they helped push me further as a cook, providing me with the resources necessary to become a great cook. My teacher, Vince Pernick, really helped to train me up into who I am. He helped me with everything I know and helped me win that top scholarship position.
"I've always known that I was a competitive person. But after going through C-CAP, I realized just how truly competitive I am. It taught me how important it is to strive for greatness."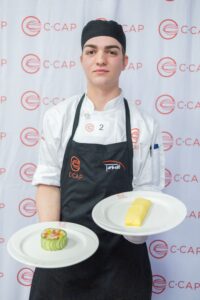 Ember Crecelius-Phelps is a 2022 graduate of Barry Goldwater High School. They earned a $20,000 scholarship sponsored by US Foods through C-CAP and are attending Johnson and Wales in Providence, Rhode Island in pursuit of a degree in food and beverage entrepreneurship.
"I hope to open my own pop-up food truck business, serving BBQ and desserts," Crecelius-Phelps says. "The thing I loved about the C-CAP program was how much I was able to be involved, not only with C-CAP, but with many local chefs and restaurants. My time at Johnson and Wales has really shown me how many aspects of the culinary industry there are. It's so much more than cooking."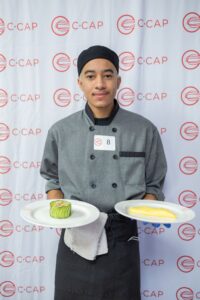 Esai Raya graduated from Perry High School in Chandler in 2022. He immediately landed a job as a line cook at Casino Arizona, working under C-CAP Regional Advisory Council member Andrew Helmandollar, he plans to use his $2500 cash scholarship from C-CAP to attend the culinary program at Scottsdale Community College.
Esai Raya hopes to own his own restaurant one day, but working at Casino Arizona has given him an insider's view of the amount of work it takes. He's determined to glean as much knowledge and training as he can by working and preparing himself for the challenge of running his own business someday.
"I fell in love with a home economics class in elementary school," Raya recalls. "In high school, I decided that culinary is what I wanted to do for my future. I was lucky enough to have C-CAP at Perry. My teacher, Mrs. Angela Stutz, helped me find job opportunities after I received my scholarship. Culinary school is expensive and I always felt like getting a job in a career I wanted was most important to me.
"Many chefs have told me that, in culinary, it's better to learn on the job. One thing that surprised me in my work at Casino Arizona is all of the different backgrounds, languages and cultures of the chefs. No one does everything the same way. I am always learning something new."
That hands-on experience and embrace of every possible learning opportunity is exactly how Tarbell grew from a self-described ruffian in New Hampshire to the owner of the award-winning Tarbell's, James Beard Best Chef Southwest nominee and two-time inductee to the Arizona Culinary Hall of Fame, with countless television appearances under his belt and champions many philanthropic community causes.
Tarbell says the C-CAP students renew his own sense of enthusiasm for the culinary industry. I love to see their joy, their passion and their sense of awe around food and being able to create food," he says. "For me, it's such a gift to see that and have it reignited in myself. I still have a tremendous passion for it. I'm just lucky to do what I do."
Tarbell adds that seeing young chefs who, just starting out, are beaming with joy upon making their first omelet reminds him of when he first did so and how hard it was.
"Seeing how what you do [in the culinary industry] brings joy to people and brings community is so rewarding," he explains. "Community is what we're most missing and it's one of the cornerstones of a happy existence."