Musical Theatre of Anthem: 100 Shows, Innumerable Reasons to Celebrate
Writer Joseph J. Airdo
Photography Courtesy of Musical Theatre of Anthem
For the past 12 years, Musical Theatre of Anthem has aspired to develop youth and adults within the field of performing arts while enhancing their intrinsic creativity and brokering their vast talents.
Over the course of 99 productions — including "Cats," "42nd Street," "Peter Pan" and several Disney classics — the nonprofit performing arts organization has worked with more than 2,000 children, training and educating them to become the artists, patrons and leaders of tomorrow while providing opportunities to adults to empower them and foster their creativity.
Next month, Musical Theatre of Anthem will produce its 100th show, marking an impressive milestone of service to the community.
Filling a Niche
Jackie Hammond moved to Arizona in the early 2000s from the San Francisco Bay Area, where she worked in theater.
"The Bay Area was very arts-focused," Hammond says. "When I moved to this wonderful town of Anthem in the North Valley, I found that many kids had never had any theatrical experience. I believed that theater was a niche that needed to be filled in the community."
Hammond, who was working as a teacher at Gavilan Peak School, decided to combine her passion for theater and teaching with her husband Jeff's entrepreneurial management degree to open a high-quality youth theater with a no-cut program so that every child had an opportunity to benefit from the theatrical experience.
The couple founded Musical Theatre of Anthem in 2008.
"I feel like the community really wanted it," Hammond says. "I have always taught private voice lessons so I had a large number of students who I was already working with that were really excited about doing shows. Of course, they told their friends and those friends told other friends and word-of-mouth spread."
Musical Theatre of Anthem initially utilized school and strip mall spaces for rehearsals and Boulder Creek High School's facilities for performances. About five years later, it secured its own space on Vision Way — an opportunity that offered the theater, its staff and its students the stability they needed to explore more complex productions.
However, Hammond quickly discovered that having her own rehearsal and performance space also increased financial stress. Two years ago, the property's management raised the rent. Unable to afford the increase, Musical Theatre of Anthem moved its operations to a space on 41st Ave.
"It was a lot of work to rebuild everything again but we just made sure that we did it all bigger and better than before," Hammond says.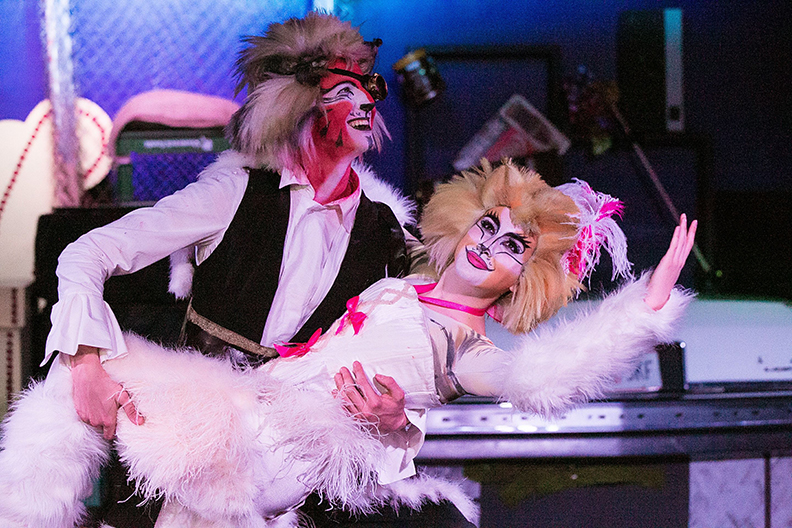 Kids Need the Arts
Adhering to Hammond's original aspirations, Musical Theatre of Anthem continues to cast all youth who audition. Hammond believes that every child deserves a chance to shine on-stage while learning and growing as a performing artist.
"Having a no-cut program does not mean that our shows are of a lower quality," Hammond explains. "It just means that we train our students and really give them all of the skills that they need for musical theater."
Hammond believes that anyone and everyone is capable of excelling at musical theater.
"I have seen kids who have had trouble singing on pitch and in tune who have gone on to be fabulous singers," she says. "Sometimes, when people cannot do something right away, they give up. But I truly feel that any child in our program can learn and grow."
In fact, many of Musical Theatre of Anthem's students have gone on to have very successful careers. With 12 years and 99 shows under its belt, the theater now has a list of alumni who have performed on national tours, on cruise ships and more.
However, the success stories are not limited to the performing arts as other alumni have gone on to pursue noteworthy careers in teaching and social services. Hammond emphasizes the importance of arts education to instill youth with the skills they need to be creative, confident and constructive citizens.
"Kids need the arts," Hammond says. "There are many kids who do not play sports and maybe do not feel like they have a place. In theater, everybody is welcomed, everybody belongs, everybody is valued, everybody is seen and everybody is heard."
Hammond adds that Musical Theatre of Anthem — which also offers film and puppetry classes with additional offerings on the horizon — provides performers a positive environment where they can practice teamwork and communication skills while experiencing the pride of accomplishment.
"Theater has such a positive environment and team-building atmosphere about it," Hammond says. "You really want to lift up everyone around you. The kids are so supportive of one another. It is nice to see the friendships that have evolved."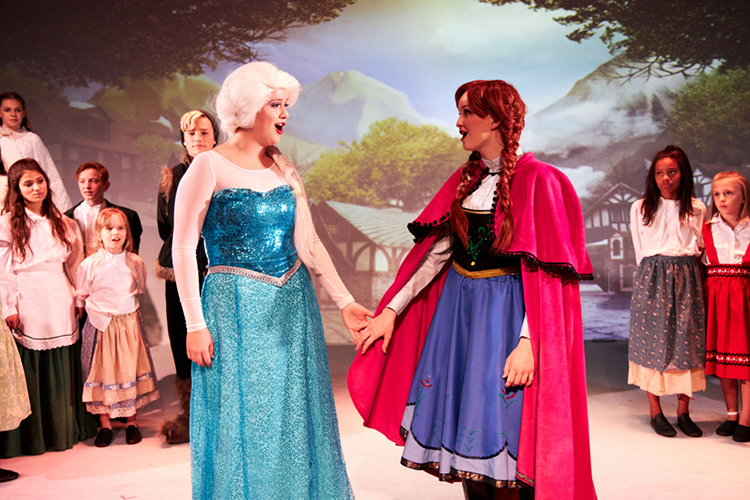 It Takes a Village
Hammond acknowledges that when she and her husband founded Musical Theatre of Anthem 12 years ago, she did not anticipate that it would consume as much of her time as it has.
"That is the biggest challenge," she says. "I never leave my work. I work 14-hour days every day because there is always something happening. But I would not trade it for anything because I feel like we have built such a great thing here in Anthem and in the North Valley. We are an arts organization that has filled a niche in this area."
Hammond adds that she would be unable to run Musical Theatre of Anthem without the help of her incredibly creative staff and her wonderfully supportive parent volunteers.
"It takes a village," she says.
Hammond is re-energized each time she sees Musical Theatre of Anthem's students perform on-stage. In fact, even in the midst of this year's COVID-19 pandemic, she found a way to continue offering the theatrical experience to the community.
Students and staff practice social distancing. Students wear regular face coverings during all rehearsals and clear face coverings during all performances. The theater's sound and lighting crew have had to make several adjustments to accommodate the changes but, as with everything else, Hammond insists that providing youth with a creative outlet is well worth the effort.
Next month, Musical Theatre of Anthem will produce its 100th show — "Our Town," which tells the story of the small town of Grover's Corners.
"'Our Town' is all about life," Hammond says. "It is such a significant play of our time that we thought it would be a great show to mark this milestone."
"Our Town" was also selected to honor the memory of Lyle Kishbaugh, one of Musical Theatre of Anthem's founding board members who passed away seven years ago. The show was Kishbaugh's final show with the theater prior to his passing.
Kishbaugh's wife Evon, who not only serves as Musical Theatre of Anthem's box office manager but also sits on its board, started a scholarship fund at the theater in her husband's name. The fund enables the nonprofit performing arts organization to provide scholarships to participants who have financial need and might otherwise not be able to participate.
Evon is sponsoring Musical Theatre of Anthem's production of "Our Town," covering royalties, production staff, set, prop and costume costs. She has also pledged to match donations up to $10,000 leading up to the show. Therefore, the nonprofit performing arts organization has set a goal to get 100 families or businesses to donate $100 each by Dec. 3.
It is all in an effort to not only celebrate Musical Theatre of Anthem's 100th show but also empower it to continue its service to the community for many years to come.
Hammond's ultimate goal is for Musical Theatre of Anthem to foster a lifelong love of the theater and the arts in its participants, its audiences and the community.
"I want to see it go on forever," she says.
"Our Town"
Dec. 3–6 | See website for times | Musical Theatre of Anthem | 42201 N. 41st Drive, Suite B100, Anthem | $13+
623-336-6001 | musicaltheatreofanthem.org