A Mission of Patriotism and a Message of Hope
Writer Joseph J. Airdo
Photo Courtesy of Rudy Lizarraga
Col. Thomas H. Kirk, Jr. does not feel like a hero.
"My goal was to fly 100 missions but I ended up only flying 66 and a half," says Kirk, a retired United States Air Force colonel fighter pilot who served 28 years on active duty — five and a half years of which were spent in a prison camp. "It cost me a lot of time, a lot of effort, a lot of hurt and a lot of pain. And I did not get to finish my mission."
A lot of people would argue that Kirk is indeed a hero, though. In addition to being a veteran of both the Korean and Vietnam conflicts, the Anthem resident has continued his mission by sharing his story with young people thereby strengthening the future leaders of America with a better comprehension of history, a fortified set of values and a sense of patriotism.
"I recognize that my story is an incredibly interesting and demanding human interest story," Kirk says. "I think that what I have to say is very viable and very important with respect to the history of our country. Our country has — certainly in my lifetime and throughout history — been a beacon of light, freedom and goodness that the world has needed. It is the greatest country in the history of mankind."
It is that gratitude for and pride of the United States that keeps Kirk not only humble but also committed to sharing the story of what he calls not only the worst period of his life but also the best thing that has ever happened to him.
With God's Help and Your Own Strength
On Oct. 28, 1967, Kirk was leading a military operation against an opposing armed force as an F-105 pilot near Hanoi, North Vietnam.
"I was 38 years old," Kirk says. "I was a young lieutenant colonel at the top of my game with 17 years of training. I had had a combat tour in the Korean War and I was blessed to be leading the largest raid of the Vietnam War at that time. I joined three groups of airplanes to bomb the big bridge in downtown Hanoi."
Seven surface-to-air missiles were fired at Kirk's F-105 aircraft and he was hit.
"I knew that I was on fire and I knew that I was not going to make it home," he says. "But I was hoping to make it about 50 miles south, out into the jungle where they could try to come and pick me up."
As he watched his flight controls burn through with his ship engulfed in flames, Kirk was forced to parachute from the plane.
"I landed in a plowed field and I was captured immediately," he says. "I was unconscious. When I came to, I found myself clustered around by a bunch of Vietnamese men, women and children, all of whom were beating me, throwing rocks at me and kicking me. They were just beating me black and blue."
Kirk suddenly heard some gunfire. He was then blindfolded, bound, gagged and placed on a truck that took him back to Hanoi.
"I was very badly injured," Kirk says. "I could not walk for nearly two months because landing in a parachute unconscious is like jumping off of a 12-foot wall. My knees and legs were all banged up."
Kirk was tortured and interrogated. He did his best to stay strong and keep quiet. But on the third or fourth day, he broke.
"I have no idea what I told them, but I gave them something," Kirk says. "I failed. I could not keep the code of conduct."
Kirk was then placed into a cell and left alone with little food to eat and little water to drink.
"My whole world was taken away from me," he says. "That was the absolute worst period of my life. I was doing what I was trained to do, was shot down and was very badly injured. No one had seen me get out of the airplane so my family did not know whether I was alive or dead. Then I got to the prison camp and endured torture but broke and gave them something. I felt as though I had failed myself and I had failed my country. I wanted to die."
Kirk stopped keeping track of the days as his spirit lay shattered on floor of the cell. But one morning, everything changed.
"I started talking to myself and said, 'Somewhere, you have got to dig deep enough to find the strength, the will and the determination to survive this,'" he recalls. "'The war will not last forever. With God's help and your own strength, you can dig in and you can make this.'"
Kirk spent five and a half years as a prisoner of war at the infamous Hanoi Hilton prison camp. He was released after the war's end in March 1973. For his combat leadership and heroism, he was awarded the Air Force Cross, four Silver Stars, two Distinguished Flying Crosses, seven Air Medals and the Purple Heart.
"I took whatever they threw at me and I came out in good mental shape," Kirk says. "Since then, whenever things in life have gotten bad, it does not take very long for me to go right back to that moment and realize just how blessed I am to go on and make life very positive."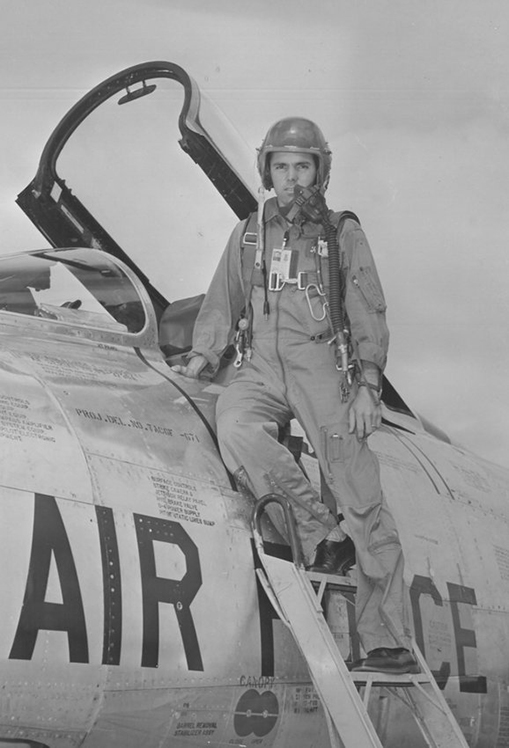 Veterans Heritage Project
Following his retirement from the Air Force in 1978, Kirk made his home in Italy, where he became a certified financial planner. He also taught real estate and business courses for the overseas division of the City Colleges of Chicago.
In 1985, Kirk moved to Madrid, Spain, where he continued his financial planning business. A few years later, he and three colleagues opened and operated a chain of home delivery pizza restaurants.
He moved to Vail, Colorado in 1992, at which time he remained active in his investment advisory business in addition to teaching ski lessons and playing the saxophone with several jazz groups.
In January 2009, Kirk moved to Anthem. Veterans Heritage Project founder Barbara Hatch contacted him about two years later and invited him to join her mission to connect students with veterans in an effort to bridge the gap between civilian and military life. The nonprofit organization aims to recognize veterans' legacy of service, preserve America's heritage and develop students' character and civic responsibility.
"There are about 10 veterans in the area who go into schools, businesses and civic organizations and give talks about their military experience," Kirk says. "The whole thing is based on getting high school kids to tell a veteran's story. The students learn a great deal about history and what veterans have been through. We feel that it helps them get a better command and control of English while becoming better citizens."
Kirk adds that he has learned a lot from his experience as a POW. He could have easily kept the five-and-a-half-year period as a horrible experience, but he instead views it as the best thing that has ever happened to him.
"It makes me appreciate this country and everything that I have been offered," Kirk explains. "And because I enjoy public speaking, I have made it a point to go out and talk about veterans. The fundamental idea is service to the country. That is what I talk about. And that is what Veterans Heritage Project is doing to get more people — especially young people — to understand and support patriotism and love of country."
The Depth of Human Experience
During a fundraising dinner earlier this year, Veterans Heritage Project honored Kirk with its Storyteller Award, recognizing both his legacy of service and his commitment to sharing his story that has, in turn, helped build character in youth.
"I talk about values," Kirk says. "I talk about family. I talk about your duty to get an education, to learn some skills and to try to make something of yourself. Not everybody is going to be a leader, a doctor or a captain of industry. But everybody can do something and can do it well. And we all can do so much better at everything — especially in our relationships with our families and with our friends."
However, Kirk maintains that he is not a hero.
"In just the 10 years that I have been here in Phoenix, I have made 365 talks to all different kinds of organizations all over the state," he says. "No matter the distance, I am happy to go out and do it because I believe that it is something worthwhile. But it certainly does not make me a hero. What it does is get my suffering out in a positive way to try and make life a little better."
Kirk adds that his story carries the depth of human experience — depth that benefits not only the future of our country but also those who need it most in the here and now.
"Maybe part of my mission is to get my story out to people — especially to people who have either lost something or are going through something bad in their lives," he explains. "I believe very strongly that God gives each and every one of us the ability to deal with really bad things in our life. God gives us the ability to grieve but then pick ourselves up and to go forward. I think that is a message that everybody should know."