Writer Joseph J. Airdo
Photography Courtesy of Musical Instrument Museum
[dropcap]T[/dropcap]here is only one place in all of the U.S. that is dedicated to telling the story of our shared connection through music. As Arizona residents, we are exceptionally fortunate to have that place — the cultural crown jewel known as Musical Instrument Museum, which this year celebrates its 10th anniversary of educating, entertaining and enlightening guests — in our own backyard.
"Musical Instrument Museum is alive with the vibrant sights and sounds of humanity and our distinction lies in offering guests an ability to experience the profound and undeniable power of music that has enriched, inspired and changed lives," says April A. Salomon, the museum's executive director.
Over the last decade, Musical Instrument Museum has expanded its global collection to more than 13,000 instruments and objects representing musical traditions and cultures from around the world.
"Since opening its doors in 2010, Musical Instrument Museum has made a tremendous impact economically, culturally and educationally in this community through thousands of programs, performances and exhibits celebrating the world's musical traditions," Salomon says. "Arts and cultural organizations represent the very best in all of us and Musical Instrument Museum is proud to be among those that are bringing joy to people's lives."
One of the many ways that Musical Instrument Museum brings joy to people's lives is by entertaining them at its music theater, which has built a loyal following of music enthusiasts over the past decade. Home to 60 concerts in 2010 — an impressive number in and of itself — the comfortable, acoustically superb theater now showcases 300 performances a year, attracting both emerging and established talent.
Meanwhile, Musical Instrument Museum is also dedicated to education, having served more than 500,000 student participants on field trips — a majority of which include Title 1 schools from around our state.
"More recently, as a result of the [COVID-19] pandemic, a suite of virtual programs for K–12 schoolchildren were developed and educators across the country — along with five international schools — have requested access for their students," Salomon says. "With these high-quality programs and continued outreach, Musical Instrument Museum will positively impact over one million eager young learners who can discover the world's music in an entirely new way."
Home to monthly signature events and special exhibitions like the current Congo Masks and Music: Masterpieces from Central Africa, Musical Instrument Museum also features a store and an award-winning café. But, of course, the highlight of the museum is its regional galleries which have consistently enlightened guests who spend an average of more than 3 hours exploring the world's diverse cultures through a musical lens.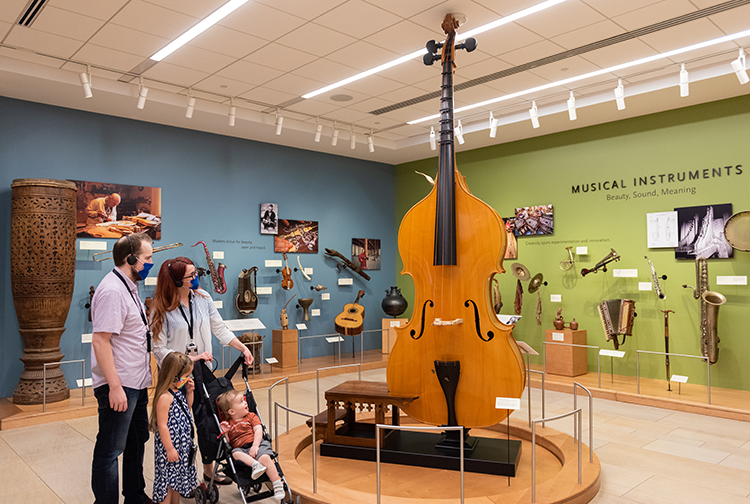 Traveling the World Through Music
David Wegehaupt joined Musical Instrument Museum's team in January 2009 — 15 months prior to the museum's opening — as a part-time curatorial assistant. He was attending graduate school at Arizona State University at the time, working on a master's degree in music performance as a saxophonist.
"I had learned of Musical Instrument Museum from a presentation given at my ethnomusicology class," Wegehaupt says. "I immediately knew I wanted to get involved. I had spent the previous year studying in Paris and had spent a lot of time exploring the many wonderful museums in that city. Learning that an ambitious large museum about music was to be built in my hometown, I just knew that I had to get involved."
Wegehaupt immediately contacted the museum's leadership to inquire about internships. There was no internship program at the time but, a few months later, someone contacted him to interview for a curatorial assistant position to help with the massive project of getting the museum ready to open in April 2010.
Wegehaupt eventually left Musical Instrument Museum for a few years to pursue performing opportunities but returned in 2017 as the museum's associate curator for the U.S., Canada and Europe. Since then, his favorite acquisition that he stewarded has been a Hardanger fiddle — an iconic Norwegian instrument made in 1907 by luthier Olaf G. Helland.
"[It] has just about everything we look for in collecting an instrument," the associate curator says. "Aside from the traditional ornate decorative elements — inlaid fingerboard, painted body and lion head scroll — the Hardanger fiddle differs from a violin in that it has four sympathetic strings, facilitating interesting tuning possibilities and a unique, bright sound."
Wegehaupt initially wanted to become involved with Musical Instrument Museum more than 10 years ago because he knew that it could be one of the best institutions in Arizona, allowing visitors to encounter music and instruments that they have never heard of — like the Hardinger fiddle. That is also why he continues to work at the museum today.
"Visitors to the museum have an opportunity to travel around the world through the power of music, to learn about cultures and see the many ways music is used in all cultures for entertainment, for rituals, for celebrations and more," Wegehaupt says.
He especially enjoys seeing young children fill the galleries on field trips as they express fascination and excitement about all kinds of music.
"Our education and public programs teams do a great job connecting with local students and communities, involving local musicians in weekend programming and making [the museum] accessible and beneficial to the musical community — from young students to professional musicians," Wegehaupt says.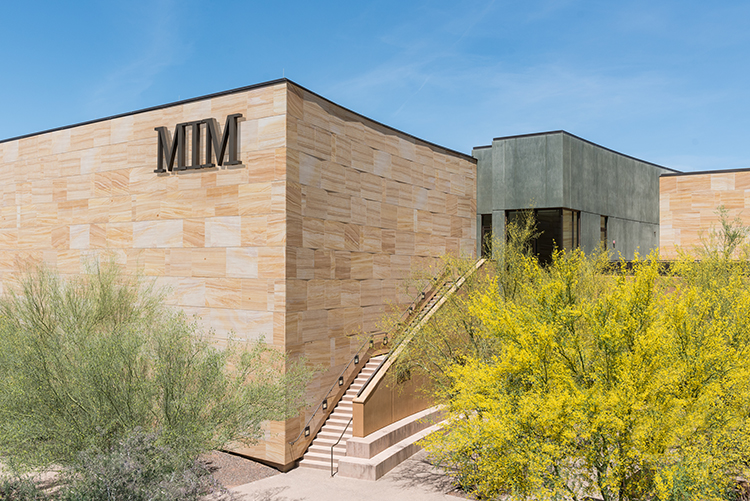 Retaining the Soulfulness
Behind Each Treasured Piece
Daniel Piper, Musical Instrument Museum's curator for Latin America and the Middle East, joined the museum's team during the summer of 2011. He brought with him a background as an ethnomusicologist, a multi-instrumentalist musician and an arts administrator.
"I was interested in Musical Instrument Museum's broad cultural mission, bringing engaging content to the public and working directly with musicians, instrument makers, researchers and collectors in many different countries and local music cultures," Piper says.
The curator adds that the experience working at Musical Instrument Museum has given him a much greater appreciation for the value of material culture.
"The design, the specific materials, the idiosyncratic elements and the history of any single instrument the museum collects and exhibits embodies something of the essence of a particular place, time, local culture and even the individual person who played or made the instrument," Piper explains.
He says Musical Instrument Museum's significance extends far beyond just our community because the experience of immersing oneself in the museum's galleries helps to create in the visitor a deeper understanding and appreciation of our common humanity across countries and cultures.
"We begin to see beyond conflictual differences, embrace diversity and value culture itself as a basic human need," Piper says.
One of his favorite parts about working at Musical Instrument Museum is the opportunity to travel the world to personally acquire instruments from musicians who are cherished in their respective cultures. He especially enjoys spending time with each instrument owner, who shares with him the story and passion behind the instrument before releasing it to the museum.
"We hope to retain in the experience of our exhibits some of the soulfulness of the people behind each treasured piece," Piper says.
The Ultimate Celebration of Music
Rich Walter, Musical Instrument Museum's curator for the U.S., Canada and Europe, joined the museum's team in October 2014. Since then, his role has expanded into new geographic areas and familiarity with a far greater range of instruments and musical traditions.
"My background includes study and work in archaeology, anthropology, ethnomusicology and folklore," Walter says. "With those personal interests, Musical Instrument Museum is definitely a one-of-a-kind environment because it inherently combines matters of music and material culture at the core of our mission — and I am constantly learning more about topics that genuinely interest me."
Walter's work at Musical Instrument Museum has gifted him with an ever-present reminder that people are passionate about music and musical instruments. He uses that as healthy motivation to always put forward his best effort on behalf of that collective passion. He has also come to the compelling realization that excellence exists everywhere in the world.
"Innovation, creativity and virtuosity can be found everywhere and applied to any given tradition," Walter says. "So, it is exciting to learn more about how those different communities or traditions define excellence, and [to] seek out examples of musical instruments that help reflect that in a variety of ways."
Even having been engulfed in the museum for more than six years now, the curator remains fascinated to see how a relatively small number of concepts — a tuned string, a percussive surface or a pipe with finger holes — have been developed into a seemingly endless variety of musical instruments, whether they are made humbly or extravagantly.
"Because we are a museum, it is always most satisfying when we can display instruments that have the best qualities of musical sound, playability and artful construction," he says.
Walter is continuously inspired by each new acquisition, particularly because it will represent a meaningful improvement to Musical Instrument Museum's collection. He is especially proud to see how the museum's collection and galleries have matured quickly over time.
"We recently acquired an original-condition, authentic 16th-century Italian tenor cornetto," Walter says. "It is visually striking and quite a rare historic instrument and will provide new dimension to our portrayal of Renaissance-era European music."
Walter adds that the acquisitions that involve exceptionally positive relationships are among his favorites.
"We were thrilled to accept the generous donation of Roberta Flack's own Steinway piano," Walter says. "That developed out of mutual respect. We are always proud when artists of such high status recognize Musical Instrument Museum as the ultimate celebration of music and want to contribute to our collections. In return, they are excited to have their careers represented side by side with musical peers from around the world. It is a joy to create new exhibits driven by that sense of pride and connection."
Just Getting Started
Walter says that as a singular resource for anyone who loves music and is excited to discover authentic instruments from around the world, Musical Instrument Museum's significance lies in its ability to open up so many ideas of human experience — from expression and heritage to aesthetics and identity — through the accessible entry point of music.
"I love observing guests who are simply looking at instruments when they begin their visit, and then before long start to discuss their own family histories, travel experiences or comparisons between music they discover in different regions of the museum," he adds. "It is rewarding to know that Musical Instrument Museum's galleries often evoke so much more than music — and the whole experience frequently leaves people with a different appreciation of talented people from distant parts of the world."
Salomon says Musical Instrument Museum's high-performance culture and founding principles have been the cornerstones of the museum's success as it strives to be nothing short of the best museum ever.
"The team's commitment to delivering an exceptional guest experience drives the decision-making process," she adds. "[With] a consistent focus on improvements — from exhibits to items in the museum store to technology and more — we want our audiences to be blown away every time they visit."
The executive notes that Musical Instrument Museum's guest-friendly offerings have fostered repeat visitation from patrons over the last 10 years. She anticipates that trend will continue as the museum expands its collection and offerings even further.
"As Phoenix's No. 1 attraction welcoming more than 3 million guests so far, we are just getting started," Salomon says.
Musical Instrument Museum
4725 E. Mayo Blvd., Phoenix
480-478-6000