Writer Joseph J. Airdo // Photography Courtesy of Arizona Musicfest
Chances are, you heard legendary recording artist Johnny Mathis' voice an awful lot last month. The 87-year-old music icon's renditions of "It's Beginning to Look a Lot Like Christmas," "Sleigh Ride," "When a Child is Born" and "Winter Wonderland" are arguably the definitive versions of those tunes.
However, with a career that spans from 1956 through the present day, Mathis' music extends far beyond the holiday season with 79 original albums under his belt — and counting. In fact, the chart-topping sensation continues to release music today, after a staggering 67 years in the industry.
Mathis is without a doubt one of the best examples of a superstar. And this February, Arizona Musicfest is bringing him to the Valley.
"Johnny Mathis is now the fastest-selling concert in Arizona Musicfest's history," says Allan Naplan, the nonprofit organization's executive and producing director. "We sold well over 1,000 tickets on the first day that they went on sale to the public.
"And that makes perfect sense. He was the third-best-selling artist of the 20th century with 350 million recordings sold worldwide. His appeal is so far-ranging. It is just so special to have an artist of this caliber. We love celebrating legends at Arizona Musicfest. We also love celebrating nostalgia. And you get both of those things with Johnny Mathis."
The Voice of Romance
The fourth of seven children, Mathis was born in 1935 in Gilmer, Texas. As a small boy, he and his family moved into a basement apartment on Post Street in San Francisco. At age 8, his father, Clem, purchased an old upright piano for $25. When it did not fit through the family's front door, Mathis stayed up all night, watching his father dismantle the piano, move the pieces into their small living room and reassemble it.
Clem then taught his son the song "My Blue Heaven," which became the first of many.
"My dad was my best pal," Mathis says. "He sang all of the time around the house. They were all of the standard songs that were popular at the time in the 30s, 40s and 50s. My mom and dad are the reasons that I sing."
Mathis began singing in the church choir, school functions, community events and amateur shows in the San Francisco area. He was also a successful track and field athlete. In the same week that he was offered a chance to compete in the U.S. Olympic Trials, he received an invitation from Columbia Records to record his first album in New York. One year later, he appeared on "The Ed Sullivan Show" and was officially launched into stardom.
Over the course of his extensive career, Mathis has recorded supremely popular hits like "Chances Are," "It's Not for Me to Say" and "Misty," had three songs inducted into the Grammy Hall of Fame, received five Grammy nominations and achieved 50 hits on Billboard's Adult Contemporary Chart. He ranks as the all-time No. 6 album artist in the history of Billboard's pop album charts and, in 2003, was given the Lifetime Achievement Award from the Academy of Recording Arts and Sciences.
He is also referred to as the voice of romance.
"I don't know where all that stuff comes from," Mathis says, humbly. "All I do is sing the songs that my dad taught me when I was a kid. Singing is so personal. And it brings us closer together. So it is very meaningful to me. I get a lot of wonderful feelings and happiness from it. Fortunately, my vocal range has stood me in good stead all of these years and I have been able to continue to do what I love."
Naplan makes up for Mathis' modesty, acknowledging the power and appeal of the icon's music.
"There is just something about his voice," Naplan says. "It is just so comforting and soothing that you feel like snuggling up with your loved one. Mathis' voice has a unique mellow timbre and sweetness that, when combined with lyrics about love, is a recipe for the greatest love songs of all time."
Mathis admits that his music brings back memories to audiences of the period in which they were recorded and the significant life experiences that may have occurred during that time — a first date, a proposal or a wedding. That is one of the reasons he makes it a point to always include those iconic songs in his repertoire.
Naplan adds that while Mathis has had many original hits, he is also famous for recording his own signature versions of others' songs.
"Years ago, it was not uncommon for a song to be recorded by five or six different legendary artists," Naplan explains. "Each one would record their own signature version of it. It is an interesting element of that era of music-making that we just do not see anymore. A Taylor Swift song is a Taylor Swift song. Johnny Mathis could take the No. 1 song on the Billboard chart of that day, do his own rendition of it and make it a hit all over again."
Mathis is also known for singing in other languages of the world — a trend that the music artist started when he first began touring.
"When I had a hit record, the record company wanted me to travel," Mathis explains. "They wanted me to go to Germany, France, Italy, etc. And they would ask me to sing some of the songs in the language of the place I was going to. Well, that was easy for me because I had gone to school with people who spoke a lot of different languages — German, French, Italian, you name it. So I took lessons in those languages, never realizing that later on in life it would send me in good stead."
Therefore, audiences can expect to hear a little bit of it all when he performs Tuesday, Feb. 21 at Highlands Church in Scottsdale. An avid tennis player until the late 1960s, when a good friend turned him on to his now life-long love of golf, Mathis is especially looking forward to his Arizona concert as it may afford him the perfect opportunity to hit the green.
"Arizona is one of my favorite places in the world," says Mathis, who at one time even hosted his own golf tournament, The Johnny Mathis Seniors PGA Classic. "I have always been an outdoors kind of guy. And Arizona is golf heaven."
The Breaking of Records
It should come as no surprise that Mathis' concert is sold out. However, Naplan says that there are plenty of other exciting concerts from which audiences can choose during Arizona Musicfest's winter season — which kicks off Jan. 6 with a performance from The Modern Gentlemen, four vocalists who were handpicked by the legendary Frankie Valli to join The Four Seasons.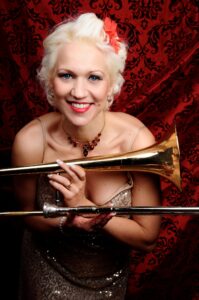 Naplan is especially eager for Gunhild Carling's Jan. 14 performance, which he describes as "a great vaudeville act but in our contemporary times."
"Not only is she a great talent, but she is also a hugely entertaining artist," he explains. "I believe that this will be one of the most entertaining concerts people will have ever attended — not just through Arizona Musicfest, but in their entire music-attending lives. Gunhild is a true phenomenon. She plays 11 instruments and will at one point even play three trumpets at the same time. That is often the finale of her concert. She is a tap dancer, a singer and a real character."
February will bring the first of two weeks this season devoted to Arizona Musicfest's Festival Orchestra.
"We have, as always, an all-star ensemble coming to perform as well as some really special guest artists," Naplan says.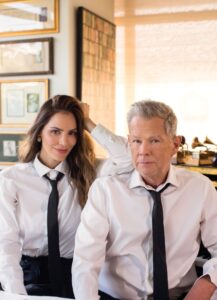 February also sees the arrival of a concert pairing 16-time Grammy award-winning musician, composer and producer David Foster with acclaimed singer, television and Broadway star Katharine McPhee.
"Before we had announced Johnny Mathis, David Foster and Katharine McPhee had already become our fastest-selling concert," Naplan says of the Feb. 18 performance. "We thought that was remarkable. Then Johnny Mathis came along and blew that record out of the water.
"Those two shows are certainly leading the pack this season. In fact, we have added a second performance of the Kat and Dave show [to meet demand] and that, too, has sold exceedingly well. That is true of quite a few of this season's concerts. It is the first time that we have added second performances due to such strong ticket sales.
"This has been a historically strong season. We are about 1,000 tickets ahead of where we were at the same time last year. If that holds up, we will once again break records at Arizona Musicfest — which has been our annual trend."
Naplan adds that a number of this season's concerts have already sold out while several others are headed in that direction. Therefore, he strongly encourages audiences to reserve their tickets sooner rather than later.
Other artists on Arizona Musicfest's winter roster include award-winning singer-songwriters Shawn Colvin, Marc Cohn and Sarah Jarosz on Jan. 20; star of stage and screen Jason Alexander on Jan. 23; and Black Market Trust on Feb. 7.
The Power of Music
Of course, the more tickets that Arizona Musicfest sells, the more good the nonprofit organization can do in our community. Sales benefit a variety of music education programs, which are provided at no charge to area schools. Funds are also used for valuable performance and scholarship opportunities for youth as well as dynamic music enrichment programs for adults.
"We have more than 160 Music Alive events this year," Naplan says. "That is our lifelong learning and creative aging series. We call them informances because they are part performances and part lectures/discussion groups where music lovers can come together to share their love of music and dissect what music of all genres can be.
"And it is so gratifying. We are so proud of what we are doing in the community. There are so many ways to experience the music that you love through Arizona Musicfest. It really has become a wonderful community of music lovers."
Mathis shares Naplan's beliefs about the transformational power of music as well as his values around utilizing the arts to bolster individual lives and the community in general.
"Nothing gives me more gratification than singing in a situation where a lot of the money is going to help young, aspiring children and others in different aspects of society," the music icon says. "I have, on many occasions, sung for people who do good things for the general public. I come from a large family, so I know what it is like to not have the money to do something. I get a big kick out of being able to, in some way, meet the needs of the general public through my music."
Johnny Mathis
Tuesday, Feb. 21 // 7:30 p.m. // Highlands Church // 9050 E. Pinnacle Peak Road, Scottsdale // $87+ // azmusicfest.org