Writer Joseph J. Airdo // Photography by Loralei Lazurek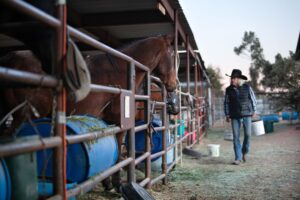 Jim Gath has saddled up into several careers over the course of his life. In his 20s, he was a decorative water display fountain tycoon. In his 30s, he co-founded and helped to make USA Today the large, successful newspaper that it is today.
In his 40s, Gath produced a post-season college football bowl game, a huge turn-of-the-century celebratory event in downtown Phoenix and outdoor concerts as well as devised marketing and promotional campaigns for many of the mega-hotel/resorts along the Las Vegas Strip.
"It was a busy and heady time," Gath says. "And I was miserable. In my early 50s, I was so miserable that I drank myself out of my marriage, my home and my career. I ended up in rehab. While there, I realized that, through all that I had done, I still — as Bono sang — had not found what I was looking for."
However, he would soon find it… in horses.
"Down several different trails I rode, spending stints as a wrangler at a kids' day camp, a caretaker of a barn full of lesson horses, a trail guide and a riding instructor," Gath explains. "I got three of my own horses, having found that they were losing their homes. I gave riding lessons on them, both in LA and in Cave Creek — where I also served as the de facto manager of a boarding facility."
Gath searched for and found a horse property and, with the assistance of a few generous family members, he opened his own boarding facility in Cave Creek. Rancho Tierra Madre would soon be home to 11 boarded horses as well as 13 of his own — including 10 of which had come Gath's way after losing their homes, sustaining racetrack injuries or facing other challenges outside of their own control.
"One day, I was lamenting to a friend of mine — a horse rescuer — that I was upside-down, having more of my own horses than paying customers' horses," Gath says. "She said five words that changed everything: 'Jim, you're all they've got.'"
Having hit him like a God shot, Gath's friends' words evoked images of his 13 horses, who had been jettisoned from their lives and left with nowhere to go until they came to live with him. He suddenly realized his true calling in life.
"As St. Francis of Assisi wrote, 'It is in the giving that we receive,'" Gath says. "At that moment, with me standing next to the arena fence on a sunny day, with a gentle breeze on my face and my phone in my hand, Tierra Madre Horse Sanctuary was born."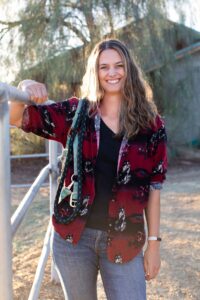 Living in the Moment
In June of 2009 — about four years after Gath founded Tierra Madre Horse Sanctuary — Alexis Roeckner Ferri arrived at the nonprofit ranch as a 17-year-old high school student tasked with having to complete 100 hours of community service.
"It was the summer before I started my senior year," Ferri says. "All of us were instructed to find a nonprofit where we could volunteer, write in a journal about our experiences and eventually present to the school about our project."
Ferri admits that she did not feel particularly thrilled about having to complete a community service project.
"Honestly, at 17, it was hard for me to feel anything at all," she adds. "At that point in my life, I had endured five long years of emotional and psychological abuse at home, four major family moves in four years, three new schools, two undiagnosed mental illnesses — anxiety and depression — and one single thought that consumed me to the point of almost no return: that maybe I was better off not being alive."
However, horses changed all of that for her — just as they had for Gath years earlier.
"I walked through the gates of Tierra Madre on my first day to volunteer and the horses I met there blew my soul wide open," Ferri says. "Here were horses who had been abused like me; who had faced challenges in their lives. Some of them had been thrown aside because they got old. Some of them had gotten their hearts broken. Some of them had survived unimaginable trauma.
"And, yet, here they were loving — loving — their lives. Each and every one of them had their own personality and their own story. They lived in the moment. With horses, there is no past and no future; only the present. And at Tierra Madre, they lived the happiest lives imaginable."
Ferri thought that, if the horses could go through hell and still find joy in everyday life, then it was entirely possible for her to do so as well.
Ferri found her experience at Tierra Madre Horse Sanctuary to be so inspiring and transformative that she blew well past the initial 100 community service hours with which she was tasked and, over the past 13-and-a-half years, has held every role imaginable at the nonprofit ranch — from volunteer coordinator and administrative assistant to ranch manager and executive director. Until recently, she was on its board of directors and, as of June 2022, she now holds the title of chief executive officer.
"Over the years, I have seen us blossom from a small ranch with a handful of supporters and a couple of good volunteers to a full-scale operation with professional programs, a board of directors with incredible expertise, hundreds of donors and supporters, community partnerships and a solid team of more than 50 volunteers," Ferri says. "I have seen the ranch become a safe place for humans as well as the horses — hence why we changed our name to Tierra Madre Horse and Human Sanctuary four years ago."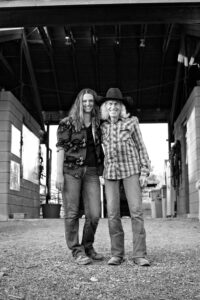 Changing the World
Ten years ago, when Ferri was in college and struggling to decide what to do with her life, she recognized within herself a desire to change the world. It is a feeling that she believes she shares with many people.
"We want to fix all that is bad and bring forth the good; to help; to spread happiness, purpose and joy," Ferri says. "There are so many problems that need solutions. Even within the equine industry, there are problems of a massive scale. Horse slaughter takes place with regularity across the border. Horses are shipped there daily from the U.S. Abuse, neglect and cruelty to horses occur everywhere."
Feeling overwhelmed, Ferri asked Gath, "If I can't fix everything, then what is the point of doing anything?" Gath's response changed her entire outlook.
"He said that we can't save the whole world; it's too large and too vast for any one person to fix everything," she says. "But we can each do something with our individual corner of it. That is how we make a difference. That is how we change the world."
Tierra Madre Horse and Human Sanctuary is Gath and Ferri's corner of the world.
"The future is bright here," Ferri says. "We will continue our work saving horses and giving them the best lives they could have ever imagined. We will continue to be a safe place for the groups of people who frequent our ranch — young adults with autism, children with special needs, individuals in recovery and so many more.
"Just this summer, we launched a powerful team-building program that is bringing us revenue and equipping groups of people with the tools they need to succeed. And there is more to come — more work in the equine welfare advocacy community; more opportunities for humans to experience the healing power of horses; more partnerships; more donors; more volunteers; more ideas to bring to fruition; more experiences to be had; and more lives to be saved."
Ferri notes that saving one horse may not change the world, but it will change the world for that one horse. The same is true for humans.
"I am living proof [of that]," the chief executive officer says. "Far from the lost 17-year-old I once was, I see my corner of the world now and know what I want to do with my life. It is an honor and a privilege to be a part of Tierra Madre."
"Every now and then, when I share my story, somebody will tell me how rewarding it must be that I get to save horses. I always tell them the same thing: Every single day, horses are the ones who save me."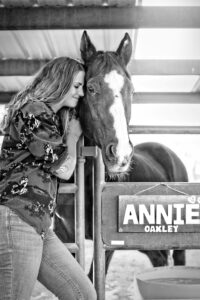 Giving & Receiving
Eighteen years after his revelation and the conception of Tierra Madre Horse Sanctuary, Gath thinks back to the scores of horses who found their forever home in his nonprofit ranch; horses that had been abandoned, neglected, injured, abused or otherwise abandoned.
"We have made them happy again," Gath says. "We have made them healthy again. We have made them all feel and know the love that they may or may not have received in their precious lives. We have celebrated their successes. And we have helped them through their tough times; through sickness and health; through long days and even longer nights. We have laughed with them a lot. And we have cried far too often.
"And they, in turn, have given back in ways that they probably do not even know."
Gath adds that many people of all ages, shapes, sizes and backgrounds have come through Tierra Madre Horse and Human Sanctuary's front gates only to realize that they are being helped by its four-legged family members.
"As our horses came through the gates with their challenges, so, too, have people have come through them with theirs," Gath explains. "To watch those people with those horses — helping each other to heal, to share secrets, to smile, to laugh and to dance — is just about the most satisfying thing this ol' boy could ever experience.
"So, yeah, I found it. I found what I was looking for. Through all of those decades and all of those things that I have done in life, I finally found it. And St. Francis was right."