Writer Rebecca L. Rhoades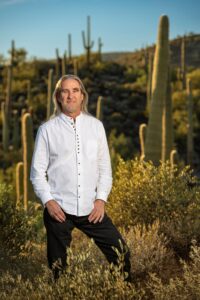 "I believe that we live in a time when people are more conscious of their surroundings, and they have more time and interest to spend on their environment," says Mark Tate.
An architect for more than 40 years, Tate has seen plenty of changes in the custom home industry, from the misguided trend of faux Tuscan design that dominated the Valley in the 1990s and early 2000s to the market downturn of the late aughts. But even he admits to being surprised by the recent surge in new builds, second homes and modern renovations.
"The pandemic made a lot people think about what they were doing both short and long term," he says. "Architecture took off in ways that we never really imagined. We had more work under construction last year than at any other time."
Spaces for Living
As the owner of Tate Studio Architects in Cave Creek, Tate is one of the top designers of luxury residences in the Southwest. He's known for creating homes that not only are timeless in their style and harmonize with their environs but that are an extension of their owners — unique, personalized abodes meant for living, and living well.
Clean, modernist lines; minimalist natural materials; and open, airy rooms that blend seamlessly with outdoor spaces are hallmarks of his work. Stacked stone, steel and concrete are softened by warm wood accents and walls of windows that overlook the desert landscape and distant mountain vistas. Expansive hardscapes, manicured gardens and azure pools add the perfect finishing touches. Tate refers to the overall affect as "living in the view."
"We want to really live in the environment," the architect explains. "Everyone here wants to be outside as often as they can. It's a great place to open a house and extend it out into a patio. We don't want awkward spaces with tiny little seating areas. It's about engaging the outdoor space with the inside."
With homeowners spending more time in their houses during the past couple years — doing everything from working to homeschooling to entertaining — many reached out to Tate to design, or redesign, their living spaces. Some reside full-time in cold climates and want a second home in sunny Arizona. Others are looking for places to escape the Valley's scorching summers. And then there are those who live across the nation but have fallen in love with Tate's architectural philosophy.
"An interesting thing happened to us during the pandemic," Tate says. "We now have projects all over the country, in North Carolina, Utah, Idaho, Colorado, Texas. I think it's an indication of how well our style and our approach are received."
The architect credits much of this growth to the internet.
"The internet is the great equalizer," he says. "Folks who are interested in design or who want to work with an architect can go online and find design services in a way that they couldn't really do 20 years ago. The digital environment has been a game changer for us."
Tate estimates that his firm receives two or three calls each week from out-of-state homeowners. And no matter where the client lives, he makes sure that each one receives personal, attentive service. His team of 10 is involved in every project to some extent, ensuring that there's always someone available to answer questions or address concerns.
"What we hear the most is that we listen to folks," Tate says. "Finding the right design solution for any given individual is about understanding their needs and understanding what their environment is — and then finding out what story they want to tell. Every house that we do is different. Our style really is about listening to our clients."
He talks about a current project in Colorado, a 3,500-acre ranch that sits on rolling grasslands set against the towering mountains, and about a home in North Carolina on 35 acres of 100-foot-tall majestic oak trees.
"It's a very different dynamic from the desert," Tate notes.
He shares about another house that's special to him and his staff. More than two years in the making, the contemporary abode in North Scottsdale's exclusive Boulders community features midcentury-influenced aesthetics, copious open spaces that welcome in the area's distinctive desert terrain, and gardens by renowned local landscape designer Donna Winters.
And finally, he mentions a recent renovation for new owners of a home he designed years ago.
"I love to see folks build on what we've done," Tate comments, noting that one of the elements added was a stunning light fixture in the main stairwell by glass artisan Dale Chihuly. "We create a blank canvas that will facilitate someone's lifestyle, and then they can come in and personalize it with art that they like."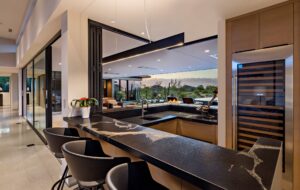 Coming Full Circle
For Tate, art is more than a simple decorative element. After more than four decades, the architect last year returned to Arizona State University and completed his degree in sculpture. In 1981, when Tate was a senior at ASU, he had three kids; he and his wife, Lisa, now have nine.
"I ended up leaving school in the early 80s and had to make a living for real," Tate recalls. "But when the pandemic hit, I decided that I was going to go back and finish.
"It's kind of like I've come full circle. I started out in art and had to make a living, got into architecture, and turned my architecture into art. Now that that's going well, it was time to get back to where I started. So I'm very excited. I'm looking forward to spending more time on my artwork."
Tate's early forays into the art world included jewelry making, woodworking and marble cutting. His current interests are bronze and iron casting.
"There's something very primordial about casting metal," he says. "You're standing over a furnace of molten metal, and it's very mesmerizing, very hypnotizing. It's also very focused because you're dealing with a dangerous material."
Captivated by the saguaro cactus, Tate recently has been casting the boots, or scar material, of the iconic desert plant. When a saguaro is damaged, for example when a bird creates a nest cavity inside the cactus, the flesh of plant forms a hard callus, known as a boot.
"When the saguaro dies, the shell, just like a skeleton, remains," Tate explains. "My art is about preserving these shapes and textures forever."
Tate hopes to have a show of his works in spring at his gallery that's adjacent to his architecture studio. Opened in early 2020, just days before the COVID shutdown, the gallery has been on hold due to the increased demands on his practice. But Tate looks forward to reopening it and showcasing not only his own art but also that of folks, like him, who have returned to the creative passions of their youth.
Tate also currently building his own personal house, which will include a foundry. He and Lisa purchased 15 acres of land just five minutes outside of Cave Creek, and the architect designed a modern metal dwelling that he calls the "barndominium."
"It's sort of Arizona ranch house meets Nordic architecture," he notes. "Very clean lines, lots of shaded canopies and patios — a very simple structure. It will be different from anything else that exists in Cave Creek, or anywhere else for that matter."
As he looks forward to the next chapter of his life and career, Tate remains appreciative of every opportunity, whether it's architecture or art.
"If I were to add up, in terms of how many hours a person works in a lifetime, the amount of time I've spent practicing architecture, I should have retired when I was 47," he says. "But if you love what you do, it's never work. And I love doing this. I feel very fortunate."