Writer Sue Kern-Fleischer
Photography Courtesy of Mark Gardner
[dropcap]O[/dropcap]n the surface, Jason Napier appears to be like any other artist who is passionate about his work.
A self-taught artist, Napier studies his wildlife subjects to make sure the anatomy of each sculpture is correct. He enjoys the challenge of creating work in a variety of sizes. But like his rich, colorful patinas that he creates for each bronze, there's much more to this masterful artist.
Underneath the surface of Napier's modest, easy-going demeanor, there's a skilled sculptor and brilliant alchemist whose ability to create beautiful bronzes has captured the attention of collectors worldwide.
Lucky for art enthusiasts, Napier is one of 140 artists participating in Arizona's largest and longest-running artist studio tour, Hidden in the Hills, during the last two weekends of November. Coordinated by nonprofit organization Sonoran Arts League, this year's 24th annual, free, self-guided tour takes place at 35 socially-distanced, private studios throughout the scenic Desert Foothills communities of Cave Creek, Carefree and North Scottsdale.
Not only is this Napier's first year participating in the popular studio art tour, his whimsical bronze jackrabbit, "Weedeater," graces the cover of this year's four-color artist directory.
"Jason's contemporary wildlife sculptures are uniquely recognizable, collected and revered around the globe," says Jane Boggs, a gourd artist and studio host who serves as the event's co-chair. "We're thrilled he is participating in Hidden in the Hills, especially since his art is so uplifting. You can't help but smile when you see his work."
Fascinated with the Foundry
Napier, a Scottsdale resident, grew up on the Oregon coast in a small town with several lumber mills. He credits his father — a millwright — with teaching him how to work with his hands. But art was not of interest to him until he got a job in a foundry, thanks in part to his wife, Danielle.
"Danielle was my high school sweetheart," Napier says. "There's really no me without her. I was chasing her around. When she got a job at an art gallery, I took a job in the foundry below. We were just teenagers, and I started out by sweeping the floor and helping to pour bronze. Eventually, we came up with the idea of conducting tours of both the foundry and the art gallery. That opened a lot of doors for us."
Napier became fascinated with bronzes and worked every job in the foundry. He began sculpting wildlife, a subject he loved since he was a child. But his true aha moment came when he learned how to create patinas.
"Many people don't realize what goes into creating patinas for sculpture," Napier says. "In fact, some people mistakenly think patinas are painted onto the surface. It's actually a complex process involving chemicals and heat. As an artist, it's my responsibility to know how the patina will affect color, depth and texture. It becomes even more complicated when I work on small sections of sculpture. I liken them to small canvases."
After the patina is applied, a sealer is applied to the sculpture and a slow oxidation process changes the color. Over the past three decades, Napier has experimented with different patinas, always thinking of how to marry design and color.
"My patinas have evolved over the years, just like my work has," he says. "When I have a vision for a piece, I grab my armature and my hands just know what to do. But I'm always thinking ahead about the patina."
Today, Napier is best known for his fanciful, larger-than-life and table-top sculptures of wildlife. In addition to winning prestigious art awards, he was the 2014 featured artist in the nation's No. 1 ranked arts festival, La Quinta Arts Festival in California.
Napier's private and public installations feature everything from an astonishing bronze sculpture bench of two ring-necked pheasants set in Michigan's Tapper Gardens to beautiful huskies outside a Watertown Hotel in the UW (University of Washington) District to a lifesize stallion on a prized cattle ranch in the Alberta Foothills of Canada.
'Weedeater' Wins Hearts
Like many of his sculptures, nature inspired Napier to create "Weedeater" — a whimsical bronze jackrabbit that graces the cover of this year's Hidden in the Hills artist directory.
"Danielle and I were hiking up Granite Mountain when we saw what we thought was a coyote," Napier says. "But as we got closer, we realized that it was a big jackrabbit eating what looked like a dead desert daisy. He had such big ears and long legs that we couldn't help but laugh. I immediately knew I had to sculpt him."
The artist will showcase medium- and large-sized limited editions of "Weedeater" during Hidden in the Hills. The sculpture was among more than 100 pieces of diverse fine art entries submitted for consideration of the studio tour's cover art during an online juried selection process.
The event's co-chair and mixed media sculptor/studio host Joanie Wolter says Napier has a distinctive style that exudes motion and expresses the playful spirit of every subject.
"We had many wonderful entries, but 'Weedeater' won our hearts for this year's cover art," Wolter says.
Napier, who will exhibit and sell his work at Mark Lewanski's Glass Studio 12 in Scottsdale, says it is an honor to have his work featured so prominently during the art tour.
"Danielle and I were thrilled to learn that 'Weedeater' was chosen as this year's cover art, especially since the Hidden in the Hills artist directory has become a collectible over the years," Napier says.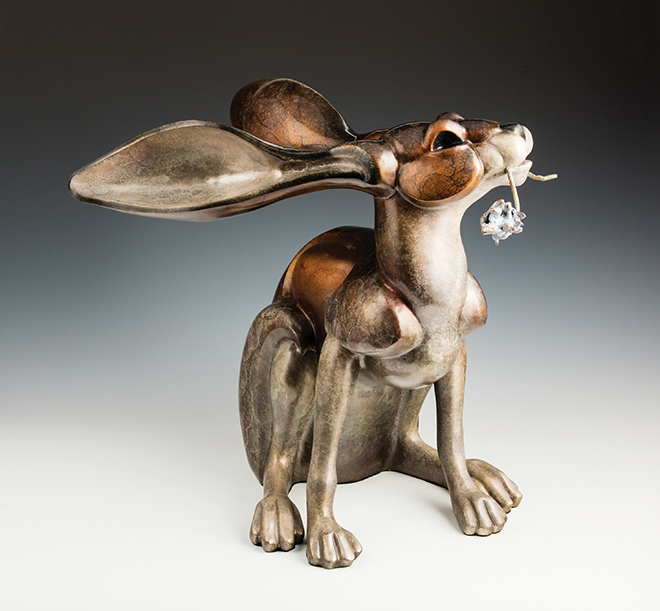 A Phoenix Rising
Napier will also unveil several new pieces during the studio tour, including "Ascension" — a sculpture that depicts the Phoenix, a mythical bird with fiery plumage that lives up to 100 years. His inspiration for the piece came from a close client who is a retired veteran facing daily challenges of living with lifelong injuries and pain.
"She shared an amazing story with me about how this mythical bird lives within her and motivates her to rise every morning and continues to renew her strength," Napier explains. "Capturing the action of this Phoenix rising was crucial in telling this story of inspiration that is applicable to so many."
The patina color had to be dynamic on this symbolic bird and Napier found himself struggling to settle on just one palette.
"I knew I had to showcase the bird of fire in striking colors of reds and yellows, but the vision of vibrant blues and greens had a hold on me," Napier says. "Thus, two patinas were born that are completely different in feeling and I am excited to see how they engage patrons' reactions."
The Hidden in the Hills Artist Studio Tour will be Napier's first big art event since the start of the COVID-19 pandemic earlier this year.
"Many of our shows over the summer were canceled," Napier explains. "So Danielle and I are really looking forward to meeting art tour guests and sharing our passion for beautiful bronzes and uplifting art."
24th Annual Hidden in the Hills Artist Studio Tour
Nov. 20–22 and Nov. 27–29 | 10 a.m.–5 p.m. | Private studios throughout Cave Creek, Carefree and North Scottsdale
Maps and artist directories available online and at Sonoran Arts League's Center for the Arts
7100 E. Cave Creek Road, Suite 144, Cave Creek | Free Admission | 480-575-6624 | hiddeninthehills.org