Writer Shannon Severson
Photography Courtesy of Tobias Nolan
[dropcap]I[/dropcap]n Malcolm Gladwell's landmark book, "Outliers," the author describes the paths of people who rose to incredible career heights through a combination of dedication to their sphere of expertise and being in the right place at the right time.
"Success is not a random act," Gladwell writes. "It arises out of a predictable and powerful set of circumstances and opportunities."
The career trajectory of artist John Bell fits Gladwell's theory perfectly. What began with a passion for drawing hot rods as a kid in northern New Jersey eventually led to gigs in some of the most iconic movies of the late 20th and early 21st centuries — earning him an Academy Award nomination and a British Academy of Film and Television Arts award — and jobs at the forefront of video game design.
With a wealth of artistic ability, creativity and willingness to venture into new frontiers, Bell's latest chapter will bring him to Grace Renee Gallery in Carefree for a showing of his paintings that are representations of natural forms with colorful style and midcentury modern influence.
Enjoyment and Exploration
Although Bell lives in Bend, Oregon, his latest artistic endeavor was inspired by an Arizona artist.
"I read Ed Mell's book ['Beyond the Visible Terrain: The Art of Ed Mell']," Bell says. "I got inspired to paint by first doing plant drawings. I really love the forms in succulents and cactuses. The lines were architectural and almost automotive. I was doodling line drawings and over three to four years they evolved. The forms just began taking on a life of their own. I decided to try painting them in the spring of 2019."
Bell took his collection of 2-inch doodles on notebook paper and began enlarging them and experimenting with oil paint — a new medium for him.
"I started small — just 10-by-10 inches — and decided I will paint small until I feel more confident," Bell explains. "Now I have works as large as 20-by-20 inches and will grow from there."
This art was primarily for his own enjoyment and exploration, but Bell has always made a habit of reaching out to those whose work he admires. In this case, he wrote to Mell and was surprised when a call from the legendary Arizona artist turned into a long conversation about all of the things that the two men had in common.
When Mell extended an offer for Bell to be part of a show at Ed Mell Gallery in November 2019, the artist could hardly believe it.
"For him to invite me to be part of that show just floored me," Bell says. "It was amazing. I brought two to be hung and two additional paintings. I sold all four the first day. When I returned home, it just started pinging. I was so encouraged that people were responding to my art."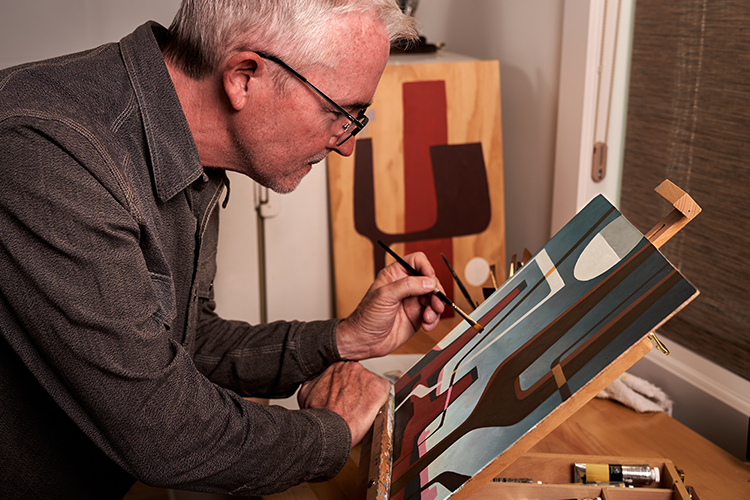 Architectural and Automotive
The public appeal of Bell's talents stretches all the way back to those New Jersey days of his youth when he and his two brothers would beg their dad, a Columbia Records marketing executive, to drive them to the nearest drag racing strip — 45 minutes away.
"We fell in love with the cars, the colors and the noise," Bell says. "I started drawing these cars all the time."
Bell began corresponding with Kenny Youngblood, whose artwork was in all of the hot rod magazines at the time. He'd ask questions about design details and techniques and Youngblood would handwrite 5- to 6-page letters back with tips and advice.
Soon, Bell and his photography-loving brother were traveling to tracks every weekend to sell his drawings and his brother's photos — often to the drivers themselves.
Bell's father, Bill, who became a well-known artist himself after retirement from Columbia, had a chance encounter on a business trip to Los Angeles in 1975 that would change his son's life forever.
Bill loved to strike up conversations with just about anyone and was soon telling a fellow bar patron of his young son's talent for drawing cars. The man suggested that Bill encourage his son to apply for the Transportation Design program at Pasadena's renowned Art Center College.
Bell did just that and was accepted, not quite realizing what a rarefied opportunity he had secured.
"On the first day, all the students sat in a big room and we were asked to raise our hands if we were from the U.S., Asia, Europe, Latin America, etc.," Bell says. "I watched all the hands go up and I'm just some kid from New Jersey while people have come from all over the world to study here."
Film and Freedom
After graduation and a couple of years at the General Motors Advanced Concept Studio in Detroit, a conversation with a fellow Art Center College graduate led him back to the West Coast for a job in advanced concepts at Atari in San Jose, California. That move — and more of Bell's smart letter-writing, which included work samples — eventually led him to jobs at George Lucas' Industrial Light and Magic in San Rafael, where he worked on storyboards for "Star Trek IV."
"The Industrial Light and Magic art department at the time was me and three other guys," he says. "We were concept artists and there were maybe 15–20 people doing the job for the whole industry. The effects were brand new. I got lucky and got into it and stayed for 15 years."
It takes years from concept design to finished film. It's an art that takes patience, creativity, flexibility and teamwork.
One of the highlights of his time at Industrial Light and Magic was working on Robert Zemeckis' "Back to the Future II" and "Back to the Future III," on which Bell had quite a bit of freedom to design his futuristic vision that became cultural icons — the hoverboards, street architecture of the fictional town of Hill Valley.
"The production designer, Rick Carter, and I hit it off," Bell says. "My trip to Los Angeles for a couple of weeks' work turned into several months. Rick told me to give them my take on whatever I found interesting or wanted to focus on, then they would come back to me with specifics for items and elements of the concepts. The chemistry in the studio was just great. We got along famously."
That work earned him an Academy Award nomination and a British Academy of Film and Television Arts award for visual effects. It cemented his role in film history.
"To this day, I get letters and emails asking, 'Do you have any 'Back to the Future' artwork you can sell?'" Bell says. "There are fan clubs across the globe. If only I had a little forward vision, I would have gone into the dumpster to grab some of the hoverboards they threw away from the set."
Bell went on to work on the first line of visuals for "The Rocketeer." He worked on "Jurassic Park" with Carter and Stephen Spielberg, then on "Contact" and "Willow" with George Lucas.
He had gigs with Dreamworks for "Antz" and "The Penguins of Madagascar," did freelance work on "Cars" and Cars 2," had a stint designing shoes for Nike and was behind the visual artistry of "Rango" and "Pirates of the Caribbean IV." His storyboards were even the source of the most dramatic scenes in the Academy Award-winning film "The Revenant."
It's almost as if Bell has lived a charmed existence, never missing out on being in exactly the right place for the right opportunity — or so it seems. Bell recalls the time he passed up a job working for Pixar on a new type of animation for a movie called "Toy Story."
"I went to visit and was shown around Pixar," Bell says. "It was all brand new computer graphics and I wasn't so sure about it. I said, 'I don't think I'm interested.' I shot three toes off my foot with that one mistake. I wish I'd had some forethought."
Life and Leisure
After several lifetimes' worth of great movie industry work experiences, Bell was ready for a more low-key lifestyle. His home in Bend, Oregon provides that.
He's working as a senior concept artist for Sony on a top-secret AAA video game while enjoying the slower pace of life and finding new inspirations for his paintings. He's also been thinking about partnering with a woodworker to create wall reliefs of his works.
"Since we moved up here, the color palette has changed," Bell says. "The colors I use in my paintings have adapted to the colors I'm living around — the Ponderosa pine and sagebrush. It's a different thing and it will be exciting to see where it goes."
If the past is any indication of the future, Bell will continue to bring his vibrant ideas to life, rendering the familiar on canvas in colorful new ways.
The Art of John Bell
Grace Renee Gallery | 7212 E. Ho Hum Road #7 | Carefree | 480-575-8080 | gracereneegallery.com