Writer Shannon Severson
Photography Courtesy of Jeff Beck
[dropcap]U[/dropcap]ntil the 17th century, clothing did not have pockets.
Men and women alike carried small bags or pouches — often attached to their waists — that were decorative and communicated the status of the wearer, much like jewelry. For women, handbags are also the story of independence and progress. Their use grew in frequency as women began to venture out into the world without personal escorts.
Today, the handbag is an accessory that most women carry, many as a very personal style statement. The color, material, texture, stitching and fastening materials all contribute to the look and value. However, there does tend to be a sameness, even among the most well-known luxury brands. The challenge arises to find something stylish, durable and uncommonly beautiful.
Seattle's Patricia Raskin founded her handbag company, Anne Sylvain, to create one-of-a-kind, investment-worthy bags –– pieces of art to carry every day and for special occasions. She also makes belts, wallets and home accessories.
Raskin's pieces will make their Arizona debut next month at Grace Renee Gallery in Carefree.
Artistic Pursuits
While Raskin sold her first bag in 2012, the origin story of this refined brand began partly out of necessity.
"As a successful professional, I had the income to spend on what I wanted, but I wasn't finding what I was looking for in a beautiful handbag," Raskin says. "There are so many attractive bags, but I was frustrated by the homogeneity and relatively poor quality of what was available — even at very high prices.
"To invest in a beautiful handbag, I wanted something that's truly unique; I didn't want to walk into a room carrying the same bag as so many others. I was also tired of spending a lot of money on a bag, only to have it fall apart in a year. I love beautiful things and I've always been hugely focused on quality in the things that I buy and the things that I bring into my life — whether that's art, fashion, furniture or relationships."
At first, it might seem unexpected for a successful intellectual property and business attorney to leave her law practice for a career in designer fashion. But Raskin says artistic pursuits come naturally to her.
"I've been an artist since I was a kid," Raskin explains. "Making art has always been a big part of my life. My grandmother, Anne Raskin — who is the 'Anne' part of my business name — was a prolific artist. She had a heavy influence on me and my art."
Anne Raskin was a painter and sculptor whose work was exhibited in galleries and museums across the United States. The other part of the name, Sylvain, is a nod to her grandfather, Silvan Galpern, a Manhattan lawyer and entrepreneur who instilled in her that concept of looking for — and now producing — work of utmost quality.
"I remember, from a really young age, traveling with my mom to visit my grandfather in New York City," Raskin says. "We would go out shopping together and he and my mom taught me a lot about quality and examining things for quality. We all carry bags and wallets every day. We want things to last, but also to be beautiful. When I founded Anne Sylvain, I wanted to create something of quality that is not only beautiful and unique, but also premier quality crafted to last forever."
The Business of Fashion
Raskin began her new venture by sketching out designs and extensively researching materials and sourcing. She flew all over the country and contracted with various potential manufacturers to produce samples in quantity as one-offs were not a possibility. All the while, she was assessing not just quality of product but also of potential business associates.
"Everywhere I went, people told me different things," she says. "I learned a lot about how integrity and the lack of integrity plays out in the business of fashion."
After a few years, she found a third-generation, family-owned workshop that fit all of her requirements. With fewer than 20 highly-skilled employees, the company crafts every item by hand — one piece at a time — in an extremely time-intensive process. Their services were in such high demand by some of the best-known, domestically manufactured brands that Raskin soon realized that it was they who chose her.
"I wanted to support American manufacturing," she says. "I wanted to be close enough to my manufacturing source that I could monitor quality, know who was making my bags, understand how those workers were treated and to produce the product in a way that aligns with my own personal dedication to quality and sustainability."
The extremely high-value materials that Raskin decided upon using would make her grandfather proud. While she didn't at first envision using alligator, ostrich and python, these are the materials that will last a lifetime. Along with durability, the naturally occurring beauty of each type of leather pattern is different from bag to bag.
"One of the differentiating factors of Anne Sylvain is that we use high-quality, unusual, sustainably-focused sources," Raskin explains. "I focus almost exclusively on leathers that are hand-finished in an artisanal way. For example, many of my leathers are hand-painted; some are hand-buffed. They are pieces of art even before they are made into a handbag."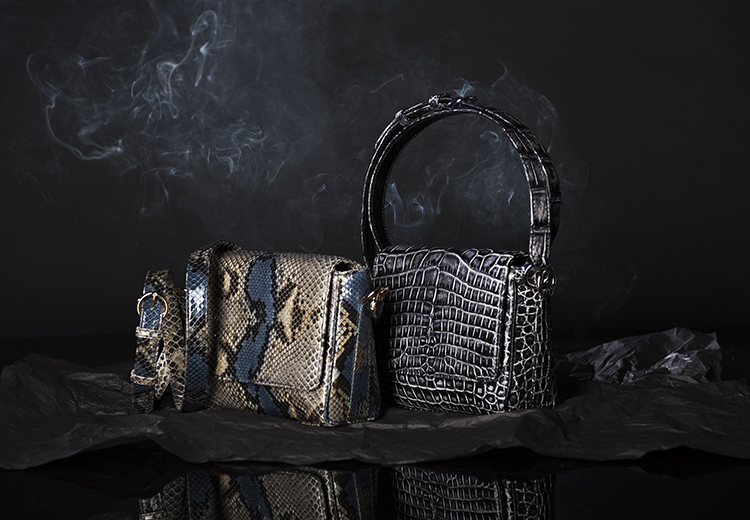 Models of Sustainability
The sources that Raskin uses are models of sustainability: alligator from the southeastern U.S., ostrich from South Africa, python primarily hand-finished in Spain and lamb leather from the U.S. All leather suppliers have been researched to ensure their commitment to best sustainability and quality.
Then the finishes come into play: American alligator, so valuable that it is sold by the centimeter, shows off its unmistakable, mirrored finish or is carefully sanded to create a sueded effect; the raised pattern of ostrich leather; and python enhanced by artisans with painstaking precision.
"My Spanish python suppliers are renowned for their special finishes," Raskin says. "For example, they hand-paint with gold to augment the natural beauty in the leather, which is in itself a piece of art. Sometimes I want to frame what comes into my studio and not make a bag from it; just put a frame around it and hang it on the wall."
As one might imagine, what is inside the bag is just as important to the Anne Sylvain brand as what's on the outside. Each one is lined with high-quality leather, often in a fun, contrasting color.
"It's really important to me that the inside of the bag be beautiful for the woman who carries it," Raskin says. "When you look inside and you see that beautiful, colored interior, it's something just for you. When clients order bespoke bags, they may have their initials or favorite numbers stamped inside. All of that creates an experience of a luxury bag that you can't find when just purchasing one from a store."
Bespoke bags are in huge demand. Raskin works directly with the client to help them select from a rainbow of interior and exterior colors and textures. Many of her brand devotees own more Anne Sylvain handbags than Raskin herself. It's indicative not just of the product's quality, but of the personal relationships she has built with her patrons.
"I'm so blessed to have these women in my life," Raskin says. "They're like-minded, artistically focused and quality-focused. Their personal styles differ from San Francisco to Boston or Texas to Wisconsin, but they all appreciate the details and what goes into each bag, artistically. Part of the fun of being a handbag designer is the privilege of creating something that makes people happy."
Anne Sylvain Debut
Thursday, Dec. 3–Saturday, Dec. 5 | 10 a.m.–5 p.m. | Grace Renee Gallery | 7212 E. Ho Hum Road #7 | Carefree
480-575-8080 | gracereneegallery.com