Writer Joseph J. Airdo
Photo by Kaelyn Loes
[dropcap]J[/dropcap]anelle Loes believes that social media has created a community in which we all share only the most perfectly curated images from our lives — highlights that do not tell the full story. Comparisons to these apex moments are not only inevitable but also detrimental to the self-esteem of anyone who sees them since they are impossible to live up to, pushing us apart in the process.
"That is why I like songwriting," says Loes, noting that she loves raw, introspective storytelling. "The cool thing about songwriting is that you can write about some of the more difficult things and be more honest about them. In my music, I try to be honest, genuine and relatable. I think that people really appreciate being able to see the realness and connect to that."
The award-winning singer-songwriter who lives in the Desert Ridge area is preparing to release her sophomore album early next year. Her introspective narratives speak to the heart through a distinctive style that fuses elements of jazz, pop and contemporary music.
Poetic, bold and convincing, each of Loes' songs seeks definition from life as she reflects back upon her own experiences while aspiring to help others gain clarity and comfort of theirs through commonality.
Among Loes' many achievements are a win at the 2016 Tucson Folk Festival Songwriting Competition and placement within the top ten of the 2017 Rocky Mountain Songwriting Competition. Moreover, her music has been featured in a number of films and TV shows — including the Polish soap opera "Julia," the Spanish film "Una Pistola en Cada Mano" and the Austrian documentary "Somewhere Else Tomorrow."
A Musical Journey
Loes has been interested in music throughout her entire life. Growing up, she admired her four older sisters, all of whom were involved in music and played the piano. She, too, took up the piano at 4 years old but switched to the violin and flute upon entering elementary school.
As with anything in life, Loes' musical journey was a process of exploration. And when she entered sixth grade, she finally found her niche in the guitar. It was at that early age that she also started songwriting and playing open mic nights. When she transitioned to high school, she also transitioned to more formal shows and competitions.
"I started working on my first album ["Here and Now"] when I was about 15 years old," says Loes, noting that she won the Chicks with Picks Songwriting Competition in 2010. "Through that, I won the opportunity to record demos for a couple of my songs and I ended up meeting a producer. I released the album in 2011 during my senior year of high school."
Loes acknowledges that starting a music career while still attending junior and senior classes at Horizon High School was a lot of work, but she is incredibly grateful for every moment of the experience.
"It was really exciting," she says. "All of my spare time was spent writing and working on music but it was really cool to be able to put out an album that quickly and connect with people in the community."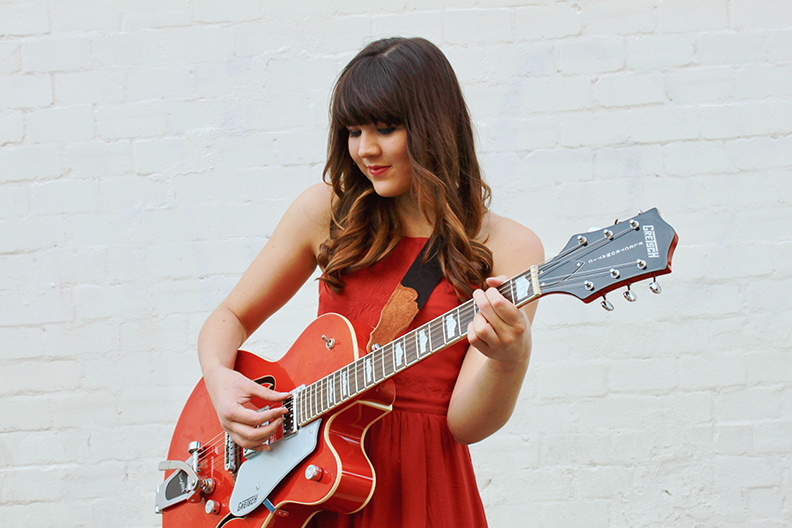 Finding the Light
After graduation, Loes entered Arizona State University's digital culture program through which she studied both music and computer programming. All the while, she continued performing and writing music, yet another chapter in her musical journey that will culminate with the release of her sophomore album "Stranger."
"I think that there is a difference in maturity between what I wrote when I was younger and what I am writing now," Loes says. "I maybe had a more optimistic view of the world back then. As I grew up, I went through and experienced more things. So a lot of the songs on this album are about more difficult topics."
Loes adds that tackling difficult topics and being a downer are not the same thing, though.
"As a writer, I always try to find the light, the positive or the lesson," she explains. "I always try to have my music have some sort of positivity so that my listeners can feel comforted in whatever they are going through."
Loes had been looking forward to releasing "Stranger" this fall but restrictions resulting from the COVID-19 pandemic — including an extended studio closure — led to her having to postpone the full album's launch with final tracks until early next year. However, true to form, the singer-songwriter has even managed to find the light in this most unprecedented situation.
"This year has been a much more unpredictable time to release music than anticipated," she explains. "[But] because of the extended launch, I will be releasing more singles in the months leading up to the album release — which will be a great opportunity to share more backstory on the tracks and spotlight more individual songs."
Catalysts for Emotions
Loes' first single from her sophomore album hit digital music retailers and streaming services in March. Titled "Criminal," the song addresses what it feels like to be viewed through a lens of criticism, always having to work extra hard to disprove another person's harsh judgments, stereotypes and assumptions.
"It talks about being in a relationship and having that frustration of always feeling like you have to prove yourself and contrasts that with the metaphor of actually being a criminal who is on trial," Loes explains.
"Criminal" reaches beyond just romantic relationships with a storyline that can be interpreted to reflect relationships between friends, family members and even professionals.
A second single was released in May. Titled "The One You Call Your Love," the song — which Loes described as a retro Beach Boys-influenced duet with Minneapolis-based singer-songwriter Kevin Steinman — is a narrative about two people who are too embarrassed to be open with their emotions.
"I think that some people are just more reserved and no one wants to be the person who cares the most," Loes says. "So the song is a subtly flirtatious duet about two people in a relationship who are not sure how the other person feels because they are not being open with their feelings themselves."
Loes adds that, like the majority of her music, the song has a positive spin. She also says it is filled with ragtime piano and big background vocals.
"It has a completely different feel from 'Criminal," she says. "It is fun to have that contrast between the two songs."
Loes released a third single — "Rough Sketch," a rock-tinged song that centers around standing up for your self-worth and choosing to be unshaken by ill-intentioned criticism from others — in September, showing even more range in her music.
Later this month, Loes will release her sophomore album's title track "Stranger," which discusses how people have many sides and how we often only see a small piece of the puzzle.
"The song touches on how at times when we see someone in a new light it can uncover disappointing truths," the singer-songwriter says. "This can be the catalyst for a strange mixture of emotions as you try to learn from the past and face new revelations while still grieving the memory of the person you once saw."
A fifth single — "Leverage," a sweetly sinister tango written from the perspective of a blackmailer — is due out in November.
Resilience and Other Lessons
Loes had intended to promote her singles through a series of intimate concerts at various venues across Arizona but social distancing measures put a temporary pause on those plans. However, that did not stop Loes from continuing to connect with the community.
In fact, the singer-songwriter's weekly live performances via Instagram allowed her to expand that connection to fans all around the world — proving that social media, when used correctly, can pull us together instead of push us apart.
"It is sad to not be able to connect with people in the community face-to-face, but it is cool to be able to connect with people all over the world at the same time and respond to all of their comments," she says.
Loes says that songwriting has helped her to not only be more resilient but also to learn from her experiences.
"Anytime I am writing, I put a lot of thought back into whatever occurred or whatever inspired the song," she explains. "That process has helped me learn a lot about myself."
She adds that performing her music has helped her to become more extroverted and to construct stronger connections with other people.
"I also think that both writing and performing have helped me to become a better listener," Loes says. "As an artist, I am always thinking about other people's experiences and how people will relate to my songs."