Writer Joseph J. Airdo
Photography by Chris Loomis
[dropcap]J[/dropcap]udith G. Wolf knows that art is one of the most effective tools for healing on our planet. That is why for the past 30 years, she has not only been using poetry and music to make moving statements about the shared human experience but also finding ways to utilize art to improve the lives of some of our society's most vulnerable members.
"I've always been interested in emotional development and healing and find when we connect as humans, particularly through the arts, amazing healing occurs," Wolf says. "We have such universal emotions and experiences, and whether you are a new father, a widow, or a young child trying to fit in, somehow we've all been there."
The Arizona Chapter of the National Society of Arts and Letters earlier this year awarded Wolf its top honor — the Medallion of Merit. The award recognizes the poet for her lifetime commitment to the arts, which includes developing young visual and performing artists and showcasing their work to inspire confidence, promote expression and achieve recognition from the community.
"I couldn't quite believe it," Wolf says of the moment she found out she had been selected for the award. "It is a statement of credibility. It is not easy for poets to get out there. This helps me to have many more people know about my work. And it is also nice to be acknowledged."
The Greater Arizona Chapter of the National Society of Arts and Letters is a volunteer-led, nonprofit organization of arts patrons, advocates and professionals who assist promising artists though competitions, financial assistance, master classes and career opportunities. More than 350 deserving artists in Arizona have, together, received more than $250,000 from the chapter since its founding in 1966.
Other 2020 honorees include arts advocacy organization The Herberger Theatre Center, arts advocacy individual Mollie Trivers and arts educator Dale Dreyfoos.
The Healing Power of Art
Wolf has had an interest in the arts throughout her entire life. She initially tried her hand at painting but eventually determined that her work could never compete with that of her mother and sister — both of whom are artists — and decided to tread a different path.
She earned a doctorate in educational psychology and pursued work in education research, which is where she spent the majority of her career. However, she maintained an interest in the arts — particularly in music — and eventually found herself in the position of executive director for the Greater Buffalo Opera Company in New York.
More than 20 years ago, Wolf moved to Phoenix and maintained her involvement in the arts through work with choral, symphonic and opera organizations. She also sought to use art to make a dramatic difference in the lives of children.
In addition to serving on several organizations' boards of trustees — including HonorHealth Foundation, The Metropolitan Opera National Council Auditions and Arizona Opera — Wolf is president and CEO of Young Arts Arizona, a nonprofit organization that she co-founded in 1998 that seeks to improve children's lives through the visual arts.
Young Arts Arizona serves children in medical facilities who have severe and life-limiting illnesses, conditions and injuries, as well as with children who are disadvantaged, homeless, abused, orphaned, detained, mentally and learning disabled. The organization teaches art, thereby encouraging children to creatively express feelings around their challenging situations.
"While they are making the art, it is freeing their creative spirit," Wolf explains. "For example, when the children in hospitals are making art, they are not thinking about the fact that they may be in pain or that they may have an IV drip. It allows them to come outside of themselves a little bit and have some enjoyment."
Young Arts Arizona exhibits the artwork that the children create in 41 galleries in theaters, hospitals, courtrooms and other public buildings across Arizona.
"Knowing that their art is going to be exhibited helps the children feel good about themselves," Wolf says. "It helps to validate themselves as meaningful people in the community. And that is our goal — to help make kids feel good about themselves."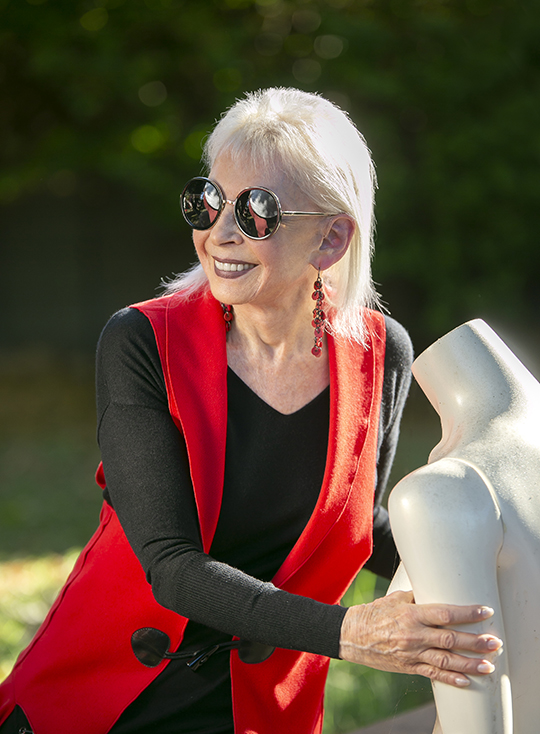 From Melancholy to Euphoria
Along her journey helping to heal others, Wolf also found her own niche in the arts — one that uses words instead of a paintbrush. To date, she has four published poetry collections: "Tidbits — A Pleasing and Not So Pleasing Morsel of Life," "Otherwise: Poems About Life," "Weeping Shadows" and "I Hate Being in Love Alone."
"Each one is about different stages and feelings in life," Wolf says. "These are things that just pop into my head. Some artists just start with a blank canvas and begin painting. That is how my poetry is. It just comes into my head and I start writing."
Her latest poetry collection — "I Hate Being in Love Alone" — speaks to the range of emotions experienced after a partner has passed and the strength required to carry on. With glimpses into the daily existence of grief, Wolf paints imagery of deeply intimate moments as a spouse seeks to move forward alone.
The collection also touches the core of life, love lost and the future which follows. As with all of her work, Wolf hopes that each reader is able to find a connection to the poems in some way, shape or form and gain some cathartic insight from the perceptions, truthfulness, humor and heart contained within them.
Wolf has also seen her poetry set to music on multiple occasions. Last year, composer Kenneth Fuch used Wolf's "Otherwise: Poems About Life" as part of his "Spiritualist" album — a collaboration that went on to win a Grammy Award for Best Classical Compendium.
"Bringing the musical component to my work is the most gratifying," Wolf says. "Either through a song cycle or an operatic aria, when a feeling or idea is underscored with a musical melody that has tremendous ability to evoke what I'm trying to express. From melancholy to the heights of euphoria, this is the most powerful connection an artist can make."
The poet has a lot to be proud of and can now add the Arizona Chapter of the National Society of Arts and Letters' Medallion of Merit to her growing list of accomplishments. However, she remains humble. She also remains committed to using art to make the world a better, more understanding and ultimately happier place.
"The role of art is to transform our experiences and to transport us to new places," Wolf says. "It is for enjoyment and relaxation. And it is to help counteract all of the bad stuff that is going on in the world. Art makes people happy.
"It has certainly helped my sense of humor a lot. That is for sure. I am pretty self-aware. You have to be in order to open your soul and put it on paper."