Writer Shannon Severson
Photography by Joanne Wastchak
[dropcap]A[/dropcap]t just 18 years-old, Brody Wurr has the ability to delight an audience just as easily as he can strike up a conversation about music, literature or philosophy. His accomplishments in acting, singing, dancing and musicianship have taken him from Phoenix to Los Angeles and Nashville — with plenty of bright opportunities on the horizon.
Standing out from the crowd hasn't always been easy.
"I started as a dancer at age 6," Wurr says. "It's out of the ordinary. People don't really like 'different.' Some kids are raised on that mentality and even some adults. I remember one year I had a history teacher who encouraged the bullying I experienced from other students. I changed schools a lot because of those situations."
Now a senior in high school, Wurr has been homeschooling to fit his schedule of acting, voice and instrument lessons and practice. Wurr plays guitar, piano, bass and ukulele. His love of traditional jazz music plays a heavy role in his own blend of rock, jazz and pop.
Switching to homeschool strengthened and invigorated his learning experience, as well.
"There's a quote I like from Elon Musk about there being a difference between schooling and education," Wurr says. "Since I left public school, my education has shot through the roof. I don't want to be a passenger in my own life. The philosophy I've been reading has me thinking about that a lot recently."
Natural Talent
One might say Wurr's drive to steer his own ship comes naturally. He's the youngest of three boys who all love music. His father, Phil, is a Phoenix Fire Department captain who spent his own youth traveling the world with his family's band.
Wurr's parents have always supported their children in whatever they have wanted to pursue. The family even moved to central Phoenix to live closer to acting opportunities.
Wurr began acting when he was 11 years old. His mother, Kristen, signed him up for a summer camp production of "Charlotte's Web" at Musical Theatre of Anthem and he fell in love with acting. Moreover, having a dance foundation in hip-hop, ballet and tap gave him a huge leg-up.
Wurr began acting when he was 11 years old. His mother, Kristin, signed him up for a summer camp at Musical Theatre of Anthem and he fell in love with acting. Moreover, having a dance foundation in hip-hop, ballet and tap gave him a huge leg-up.
"My mom always tells the story that when I came home from the first rehearsal, I told her, 'I know what I want to do for the rest of my life,'" Wurr says.
That experience also connected him with a group of lifelong friends who share his passion for the arts. They've acted, danced and sang together for years. They have even formed their own rock band.
"It was nice to find my crowd," Wurr says. "I got to have 'bro-ish' relationships with people who didn't want to beat me up. When we started the band, I was just singing. But then it really started picking up when I began playing guitar and that began my passion for playing music and songwriting."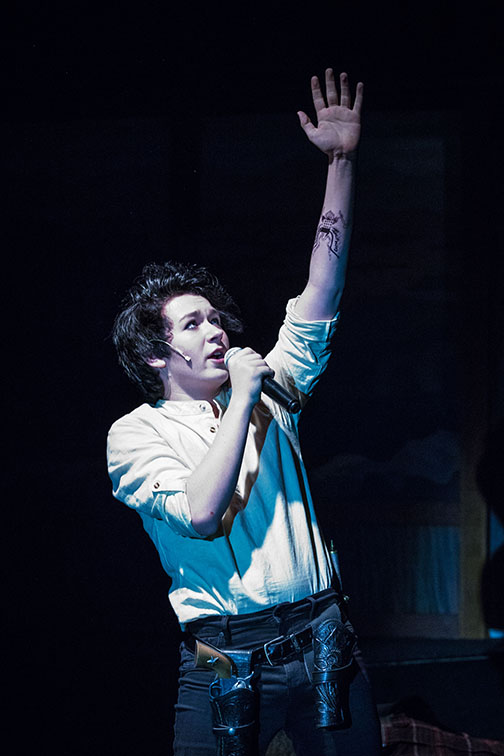 Dreams Come True
Wurr's talents have propelled him to increasingly prominent venues and the momentum has surprised even him.
He recalls attending a 2016 production of "White Christmas" at Arizona Broadway Theatre. As he watched the actors play their parts, he envisioned that he might someday be on the same stage as an adult. That dream came true much sooner. The following year, he landed a supporting role as The Artful Dodger in Arizona Broadway Theatre's production of "Oliver!"
Wurr's first lead role came in Spotlight Youth Theatre's 2019 production of "Bloody Bloody Andrew Jackson."
"That show was so much fun," Wurr says. "It was pure rock 'n' roll."
"Bloody Bloody Andrew Jackson" was named Outstanding Production of the Year by National Youth Arts Awards, which also gave Wurr its award for Outstanding Lead Performance in a Musical. Wurr also received the award for Best Actor in a Major Role by ariZoni Theatre Awards of Excellence.
Earlier this year, Wurr entered the Arizona Young Artists' Competition at Herberger Theater Stage West — a concert-style event where high school and college performers vie for top honors in acting, classical and musical theater voice and dance. Wurr bested 46 other singers to win the Judge's Choice Award in the musical theater category, earning a $1,500 scholarship to further his education. It was Wurr's first-ever competition.
"As we narrowed down the competitors, Brody was in the mix of the top four very quickly," says Mark Feary, who is the Arizona Young Artists' Competition's vocal coordinator and also serves as musical director of Valley Youth Theatre and music faculty at Grand Canyon University.
"His technique is solid and I think he's a really great communicator. His material choices were good for the competition. I think Brody has some good things that are going to line up for him. He understands what he's doing. He's very comfortable in his own skin and performing in front of people."
Opportunities Await
When the COVID-19 pandemic hit this spring, the performing arts scene ground to a halt.
Ever-resourceful, Wurr has maintained a schedule of virtual acting and voice classes and just recently returned to in-person tap classes. He has been reading more, listening to favorite podcasts like "Philosophize It" and helping his father with small construction projects around the house — including a new floating bookshelf for the library he's amassing. He even recently landed a job at a downtown coffee shop.
Foremost, Wurr has used the unplanned break from the stage to hone his music skills. Wurr and his brothers, Grady and Sean, have been recording their own music on rudimentary equipment. They are planning for an upgrade soon. It's a bit of family history repeating itself as well as one more avenue to explore and one more adventure to be had.
"I've wanted to do music for a while," Wurr says. "I was fully engulfed in theater and had begun pursuing it a little. Now that theater is gone, it's given me the opportunity to put music at the forefront. That's something I can see myself doing in the future. By no means do I want to stop doing theater because I absolutely love it. But while theater continues to be on hold, there has been time to pursue music."
Through the contacts he's made with his instructors — particularly his voice coach, Jason Catron — Wurr visited Nashville twice to do some songwriting. It was another dream come true.
"There's a movie called 'Waking Life' about a man who goes from dream to dream discussing ideas," Wurr says. "That's how it was in Nashville. Every person I met began with a long conversation about philosophy, religion or society. I loved it.
"I worked with Kipp Williams, who is part of the music industry there, and we began with a game of chess. He said something that stayed with me along the lines of, 'Not taking advantage of the opportunities given to you is called laziness.'"
There's no laziness in this young man. As day-to-day life continues to be unpredictable, there's something that can be counted upon — seeing and hearing much more of the talented Brody Wurr.