Gedion Nyanhongo – Carving Serene Beauty
Writer Sue Kern-Fleischer
Photography Courtesy of Gedion Nyanhongo
In Zimbabwe, there's a Shona tribe proverb, "Kumhanya hakuzi kusvika," which loosely translates to, "Running is not getting there."
The wise proverb teaches an important lesson about taking time to set a clear direction, something acclaimed stone sculptor Gedion Nyanhongo does daily.
For this masterful Shona artist, it is an honor to work with indigenous stone mined in Zimbabwe, and it is imperative that he give each stone ample time to reveal its purpose. Because Nyanhongo's sculptures focus on all of the things that collectively make up the bigger picture — life, love and the sensations that define us all — he never rushes the process.
Nyanhongo is one of 140 artists participating in Arizona's largest and longest-running artist studio tour, Hidden in the Hills, during the last two weekends of November. Coordinated by the nonprofit Sonoran Arts League, this year's 24th annual, free, self-guided tour takes place at 35 socially-distanced, private studios throughout the scenic Desert Foothills communities of Cave Creek, Carefree and North Scottsdale.
All of the artists are eagerly anticipating the studio tour, particularly at a time when many arts and entertainment events have been cancelled due to the COVID-19 pandemic. A guest artist at Toni Perrin's Studio 7 in Carefree, Nyanhongo will unveil new, breathtaking sculptures outside in Perrin's spacious courtyard.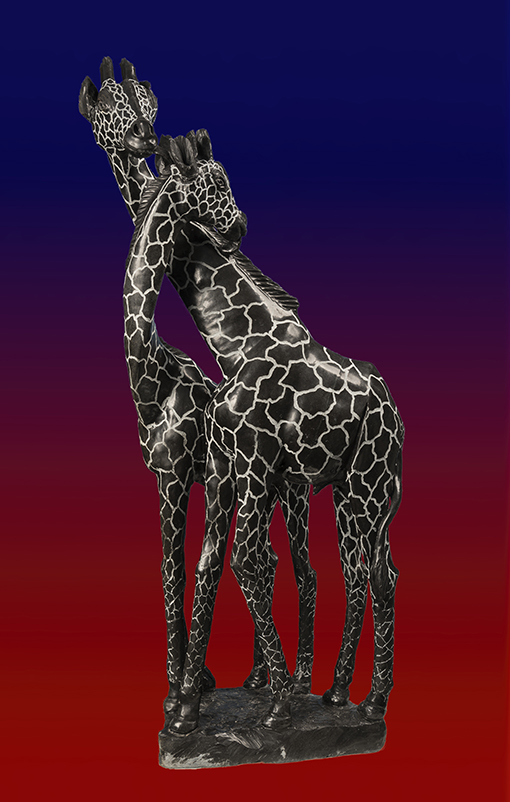 Learning from the Best
Nyanhongo grew up near a quarry in Nyanga, Zimbabwe, Africa. He was the sixth child and first boy in a large, loving and artistic family. From a young age, he was influenced by his father, Claud Nyanhongo — a prominent artist among the first generation sculptors who were pioneers of the unique Zimbabwean Shona sculpture movement that began in the late 1950s.
"My father was my greatest mentor," Nyanhongo says. "I was always in his studio, watching him closely and asking a lot of questions. Whenever I would question why he was carving or chiseling a certain way, he would tell me that the stone was speaking to him."
Nyanhongo also learned important life lessons from his father, who passed away at age 86 in May 2019.
"My father was a multi-talented man who left so much for humanity," says Nyanhongo, noting that his father taught his nation's members self-reliance through art and agriculture. "He worked many jobs and had a good heart. He believed in passing the torch so that our village would be better than it was."
After high school, Nyanhongo approached his father and told him that he wanted to be an artist. His father instructed him to learn skills that he could fall back on to make a living, so Nyanhongo enrolled in college to study auto mechanics.
"After college, I approached my father again to tell him I was serious about working as a professional artist," Nyanhongo says. "He told me to pick one medium and become the best in the world."
Although Nyanhongo had some experience working with metal and wood, he ultimately chose stone as his medium.
"Stone outlives everyone, and I love that," Nyanhongo explains. "There is a living force in every single stone, wherever it lives. There's a special reason for that stone to be in that area. Stones also have a special significance to Zimbabweans."
Nyanhongo's father arranged an apprenticeship for his son with internationally-acclaimed sculptor Joseph Ndandarika.
"That was a turning point in my career as I learned different styles and techniques from another master sculptor and mentor," Nyanhongo says. "After that, I developed my own style — which is influenced by both my father and Joseph, but is distinctly mine."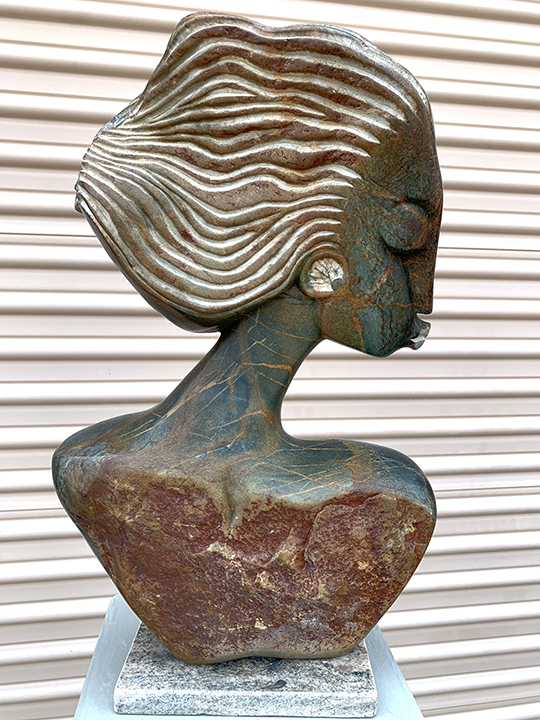 A Special Respect for Each Stone
Nyanhongo draws inspiration from nature and humanity. Using opal stone, springstone and Zimbabwe (Nyanga) stone, he hand-carves one-of-a-kind sculptures that take on the form of whimsical animals, people, spirits and plants as well as some abstract objects.
"I love the challenge of working with stone," he says. "I take my time to connect with it and make sure I understand what it wants to be. These stones are thousands of years old, waiting to unleash their feelings. Even before I put my chisel on one, I want to be sure of its purpose. I flip it over, turn it around, turn it sideways and upside down, looking at hidden angles and clues for what it wants to say to the world."
Once a stone reveals its purpose, Nyanhongo gives it his full concentration, working only by hand with simple tools — never machines.
"When I start working with a stone, I dive in and sometimes I lose track of time," he says. "It's as if the stone is swallowing me up and taking me on a special journey with it."
Nyanhongo's career took off with a debut exhibition in 1989 at the Mabwe Gallery in Harare, Zimbabwe. He has since shown his works in solo and group exhibitions around the world — including England, France, Germany, Holland, Hong Kong, South Africa and the United States. His sculptures are also on permanent display at the Hartsfield-Jackson Atlanta International Airport and the Phoenix Zoo.
Making a New Life in Arizona
By January 2007, Nyanhongo had a family of his own. They started a new life in Arizona with much to celebrate.
"We had the best welcome ever," the artist says. "It was my most successful year in sales and exposure, with exhibitions at Sky Harbor Airport, the Phoenix Zoo [and] the Desert Botanical Gardens, and shows at Zuva Gallery in el Pedregal."
One year later, everything changed with the global economic shock of the Great Recession. Art sales declined dramatically and Nyanhongo took various jobs just to survive. However, he kept his entrepreneurial spirit alive and came up with innovative ways to market his art.
"At one point, I was working as a discount cab driver," Nyanhongo explains. "I made pamphlets that showcased my work. When I dropped tourists off at hotels, I'd give them a pamphlet and invite them to tour my studio."
As the economy strengthened, demand for Nyanhongo's work increased to the point where he was even able to open a gallery in Sedona for a short time.
Celebrating Love
Since the start of the COVID-19 pandemic in March, Nyanhongo has been taking precautions with visitors to his Phoenix studio. He hopes that guests of the Hidden in the Hills Artist Studio Tour will find his soulful sculptures to be a soothing relief.
"My sculptures celebrate love — especially family love and the spiritual power it provides to promote peace in my art," says Nyanhongo, noting that he will be demonstrating during the artist studio tour. "I've had ample time to focus on dynamite, beautiful pieces ranging in size from very small and tabletop sculpture to large, monumental pieces. I'm excited to unveil these new pieces and share my Shona culture and art with guests to our studio."
24th Annual Hidden in the Hills Artist Studio Tour
Nov. 20–22 and Nov. 27–29 | 10 a.m.–5 p.m. | Private studios throughout Cave Creek, Carefree and North Scottsdale
Maps and artist directories available online and at Sonoran Arts League's Center for the Arts, 7100 E. Cave Creek Road, Suite 144, Cave Creek
Free Admission | 480-575-6624 | hiddeninthehills.org