Ominous Limbs – Beautiful Branches
Writer Joseph J. Airdo
Photography by Dave Theroux
An image of a leafless tree often conveys an incredibly eerie mood. Frequently associated with Halloween, the sight of a dark trunk of wood with bare branches twisting into the sky closely resembles a large, ominous creature with fingers or tentacles reaching up in preparation to capture you.
There are very few inanimate objects that are as intimidating., Even in the absence of dark clouds and shadows, leafless trees send shivers down the spines of most onlookers. Of course, movies like "The Wizard of Oz," "A Monster Calls" and even "Guardians of the Galaxy" have not helped their image.
Leafless trees also suggest something far less spooky but still linked to this time of the year.
After the hottest Phoenix summer to date ever on record, a chill can finally be felt in the air as autumn descends upon us. Green leaves change color and eventually fall off their branches completely, leaving behind an inevitable symbol of the season.
This year, however, leafless trees take on an entirely new meaning. Whether it is truly dead or simply awaiting new growth in the spring, leafless trees encourage us to see the world around us in an entirely new light.
Photographer Dave Theroux acknowledges the menacing and gloomy connections leafless trees possess, but he is also able to see past all of that to bear witness to their inherent beauty. His artistic angles reveal the enchantment of these trees as he also captures their unique textures and fascinating shapes.
He also often spots new growth sprouting nearby or a glimmer of green hiding on the top of seemingly dead trees, illustrating that life always finds a way.
These are undoubtedly very strange times. The COVID-19 pandemic has changed the way that many of us live. Social distancing and face coverings appear to be the new normal — at least for the time being — and 2020 gives off quite a grim appearance.
But that is all a matter of perspective. Just look at the many persevering businesspeople and benevolent ways that our neighbors have helped one another as featured throughout this issue of Images Arizona.
Dire as it may seem, there is beauty in this situation — just as there is beauty in leafless trees. We hope that Theroux's breathtaking work featured in this month's photo essay inspires you to see both.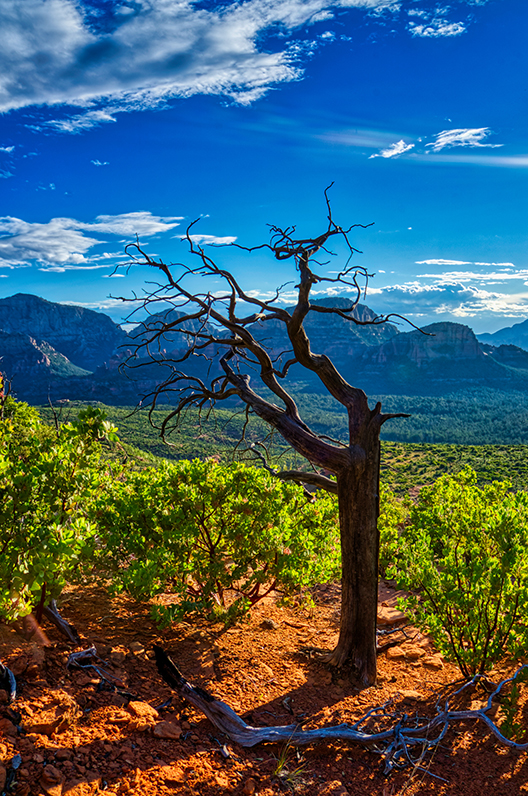 About the Photographer
Sedona resident Dave Theroux is never without his camera.
"Anytime my wife and I go hiking or travel, I always have my camera with me," says Theroux, noting that he often explores Arizona's beautiful desert land. "I need to take pictures while I am out there. For me, it is just part of the hike."
Theroux first became enamored with photography when he was just 12 years old. He particularly enjoyed black and white photography and spending time in the dark room back when he was still shooting on film.
As a teenager, he contributed to his high school yearbook and even entered his work into a few contests. He enjoyed the artform so much that he took several courses on the subject upon entering college.
After graduation, Theroux pursued a career as a software architect — something that he says has had a slight benefit on his photography.
"It helps with understanding the software that is involved in processing images after they have been taken," he says.
As Theroux was encountered with life's other obligations, his interest in photography began to ebb and flow.
"I would pick it up and take a lot of pictures and then put it away and forget about it for a while," he explains. "Then I would eventually come back to it again."
Two years ago, Theroux and his wife moved from New Hampshire to Sedona — a move that has had a profoundly positive impact on his photography.
"It is very different living here than living on the East Coast," says Theroux, noting that the weather and climate lend themselves to plenty of exploratory hikes. "Moving to Sedona has rekindled my interest in photography. It is hard not to take pictures here. There is just so much to see and so much to photograph."
Although the 56-year-old has dabbled in some astrophotography, his interest lies — as it always has — primarily in nature and landscape photography more than anything else.
"I enjoy going out into the desert outside of Sedona toward Lake Powell, Page, and Petrified Forest [National Park]," Theroux says. "The Grand Canyon is, of course, spectacular as well, although difficult to photograph just because there is so much of it. Since my wife and I have been out here, we have been slowly exploring as much as we can."