Joye DeGoede – A Leap of Faith Leads to Artistic Adventure
Writer Sue Kern-Fleischer
Photography Courtesy of Joye DeGoede, Heidi Huston and Greg Bubb
There's quite a party going on in painter Joye DeGoede's studio. Party guests include a zebra eating sweet treats, two monkeys eating cupcakes and a pair of donkeys enjoying a bottle of tequila.
DeGoede's party guests — which also include bears, bobcats, horses, cows, bunnies, flamingos and hummingbirds — come to life in a whimsical collection of oil paintings that she affectionately named and trademarked "JoyEful Party Animals."
But it hasn't always been a party for DeGoede, who also paints colorful florals, architecture and landscapes, as well as portraits, figures and still life paintings. Early in her career, she was much more serious about her subject matter and message. Now she expresses her creativity fully, embracing the positive aspects of life.
DeGoede is one of 140 artists participating in Arizona's largest and longest-running artist studio tour, Hidden in the Hills, during the last two weekends of November. Coordinated by the nonprofit Sonoran Arts League, this year's 24th annual, free, self-guided tour takes place at 35 socially-distanced, private studios throughout the scenic Desert Foothills communities of Cave Creek, Carefree and North Scottsdale.
DeGoede will be a guest artist at Joanie Wolter's Cuvee Art Studio 13 in North Scottsdale. Wolter, a mixed media artist who serves as the event's co-chair, says it has been a particularly challenging year for artists due to the COVID-19 pandemic.
"We're excited to move forward with the league's signature event, especially at a time when art can bring so much joy and healing to the world," Wolter says. "We're taking extra steps to ensure the safety of guests at each studio. Other than masks and extra sanitizer, it will be business as usual with our talented, diverse artists sharing their beautiful, creative art."
Valuable Lessons
DeGoede grew up in Provo, Utah at a time when art was not offered in her school.
"I was very creative as a child and I was fortunate in that my parents recognized my passion for art," DeGoede says. "I began taking art classes from the acclaimed painter Carol Harding when I was 11 years old. My mother would drive me 45 miles to her studio in Pleasant Grove every Thursday until I was 18."
Harding — a realism painter — became DeGoede's mentor, teaching her valuable lessons about painting landscape, still life and figurative oils.
Later, while attending Westminster College in Salt Lake City, DeGoede found another mentor in her art teacher — renowned painter Don Doxey, who is best known for his photo-real western still life paintings.
"I was fortunate to grow up in an area that was hot in the arts, but we didn't know it at the time," DeGoede says.
DeGoede graduated from college with a Bachelor of Science degree in fine art with an emphasis in medical illustration. She also holds an associate degree in commercial and graphic art.
Her decision to study medical illustration paid off as she credits her knowledge of anatomy with her success painting people and animals.
"I never paint something I don't know," DeGoede says. "If I'm not familiar with a subject, I become obsessive studying it."
After college, DeGoede aspired to work full-time as a professional artist. However, she moved to Arizona in 1983 and, a decade later, she was a single mother working as a teacher at Northwest Community Christian School.
"I thought I had to kiss my art dreams goodbye," she says. "But even then, I never stopped creating. I would get up at 4 a.m. or stay up until 2 a.m. drawing or painting. During most lunch hours, I would draw with pencil, pen and ink. I was struggling to make ends meet but I never gave up on my art."
DeGoede continued to teach elementary and secondary school, moving from her first job at the private Christian school to Deer Valley Unified School District in 1997. She transferred to Cave Creek Unified School District in 2001. She also remarried and began devoting more time to her art, becoming a member of the Sonoran Arts League in 2000.
The serene desert gave DeGoede inspiration for her paintings of flora, fauna and landscapes.
Solace in Art
In 2007, DeGoede's life took a dramatic turn when her husband passed away. Although her grief was heavy, she found solace in her art.
As time progressed, DeGoede found herself looking within, questioning her career choices and struggling to make a change. Seeing firsthand how precious life was made her realize she wanted to pursue her passion for painting full-time. The fear of making a change was almost paralyzing.
After working 18 years as an art teacher and painting in her free time, DeGoede knew that she needed to focus on one career path and put her soul fully into it. She always knew that art was her life's purpose, but she also knew that leaving her teaching position would be a huge risk.
Torn by what to do, she sought advice from her aunt Joye — her mother's twin sister after whom she was named.
"Aunt Joye and I always had a special bond," DeGoede explains. "When I shared my desire to pursue art full-time, she said, 'Honey, take a deep breath, go pour yourself a scotch and let's talk.'
"That conversation prompted me to create a fun, uplifting painting for her of a little rabbit with a glass of scotch. I named the painting, 'Hop Scotch' and posted a photo of it to Facebook. It sold before I could send it to her and I knew I had made the right choice."
DeGoede left her teaching position at the end of the school year in 2012. With a refreshed outlook on life, her art took an unanticipatedly fun turn.
"My works juxtapose reality with fantasy, inspiring the viewer to see the fun in the mundane and the vast opportunities for joy in our everyday world," the artist says. "I love painting the surrealistic mixture of animals imitating human habits and in their natural habitat to bring empathy to wildlife conservation."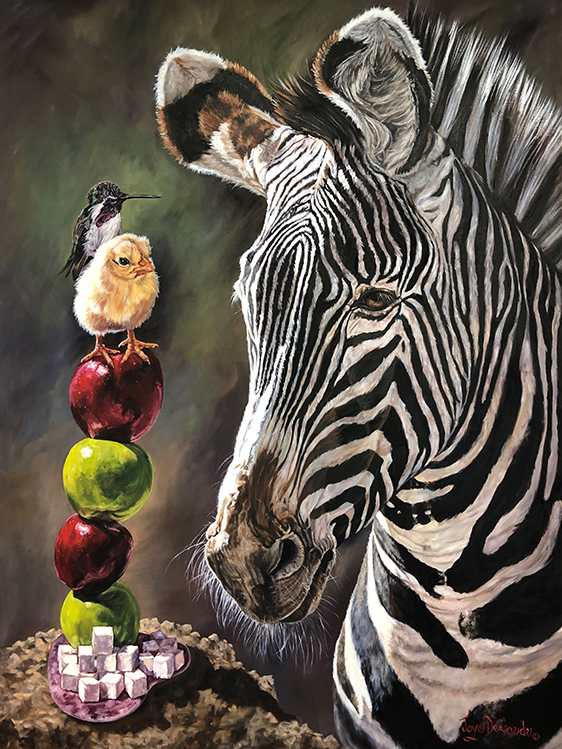 Joyeful Rabbit Trail
DeGoede's decision to focus on her art full-time has taken her on a global adventure she never could have imagined. She is now the head artist-in-residence at the Sonoran Arts League's Gallery at el Pedregal.
In 2019, DeGoede was invited by the U.S. State Department's Arts in the Embassies program to display her paintings in a three-year exhibition at the U.S. Embassy in Montenegro. Her paintings — including Governor Jan Brewer's official oil portrait — are also in the Arizona Governor's Office's permanent collection.
DeGoede is also one of just three artists who were invited to participate in the Phoenix Zoo's Art on the Wild Side exhibit, which runs through 2021.
The artist's work has been so well-received that she rented a studio in the Troon area of North Scottsdale.
"I usually have 25 to 30 paintings in progress at all times and some of the canvases are very large," DeGoede says. "My partner, Greg, has been very supportive but it became obvious that I needed more room."
Normally this time of year, DeGoede would be traveling to prestigious shows across the country. However, most of the events have been cancelled as a result of the COVID-19 pandemic. It's one reason why she is eagerly anticipating Hidden in the Hills.
"I'm looking forward to unveiling new paintings during the art tour," she says. "I hope my work will shake up the way we see and appreciate the everyday life around us. Life is too short not to laugh, smile and enjoy our time here. I haven't strayed from my original artist statement, which invites people to join me on a 'Joyeful rabbit trail.'"
24th Annual Hidden in the Hills Artist Studio Tour
Nov. 20–22 and Nov. 27–29 | 10 a.m.–5 p.m. | Private studios throughout Cave Creek, Carefree and North Scottsdale
Maps and artist directories available online and at Sonoran Arts League's Center for the Arts | 7100 E. Cave Creek Road, Suite 144 | Cave Creek
Free Admission | 480-575-6624 | hiddeninthehills.org