Writer Joseph J. Airdo
Photography Courtesy of Arizona Game and Fish Department
[dropcap]A[/dropcap]rizona is currently home to 35 native species of fish — 34 of which have been identified as species of greatest conservation need in our state and 20 of which have been federally listed as threatened or endangered.
Although these incredible creatures have adapted amazingly well to many things over the years — most notably periods of drought and flash floods — their populations have recently seen sharp declines as a result of climate change, human impact, non-native fish predation and habitat loss and alteration.
Conservation is obviously vital.
"There is certainly conservation through the lens of recovery efforts of less common species," says Andy Clark, who serves as the statewide sportfish program supervisor for the Arizona Game and Fish Department. "But there is also conservation through a sportsman's viewpoint, where we encourage things like catch and release and habitat enhancement projects."
Clark says that it is important for people to understand the economics of conservation efforts — particularly how recreational opportunities ameliorate what the Arizona Game and Fish Department can accomplish.
"We have got the Endangered Species Act, which is a great piece of legislation but is typically underfunded," Clark explains. "There are activities that many agree are necessary [to the conservation of our native species of fish], but it is very difficult to find funding to do those activities. If you incorporate recreational opportunities, you then get some funding as well as some acceptance from a larger group of people who appreciate those species for more than just being on an endangered species list."
In other words, providing fishing opportunities at Arizona's lakes, creeks, rivers and streams is an essential component to conservation of our state's native species of fish for future generations.
Catch and Release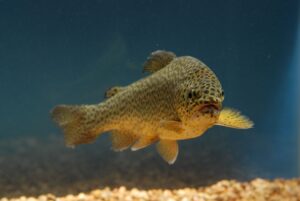 Two such native species are the Gila trout and the Apache trout — both of which are not found anywhere else in the world but in the desert southwest waters of Arizona and New Mexico.
"Those two species are very unique," Clark says. "Folks from all over the world like the idea of only being able to catch these fish here. There is something special about going to where a species lives, enjoying its habitat, catching one, looking at it up close, taking some pictures and releasing it back into the stream. That is a very satisfying endeavor for people."
The Arizona Game and Fish Department cultures and stocks Gila and Apache trout where appropriate — including in waters near the White Mountains and throughout the central mountains of our state, where they were historically found.
"We have also branched out into some other places to which they were not historically found but they can provide an added recreational benefit while not impacting other threatened or endangered species as much as a rainbow or brown trout might," Clark adds. "It is all about having that recreational opportunity so people appreciate catching the native trout in addition to the non-native trout."
Enhancing and promoting native trout fisheries for the Gila and Apache trout promotes awareness and provides funding for things like habitat enhancement projects. Such projects see the Arizona Game and Fish Department add or modify existing habitat structures to increase shading of an area thereby decreasing the temperatures of those waters and creating more pools in which fish can populate.
"The roundtail chub — also known as the Verde trout — is another species that is endemic to the Colorado River system," Clark says. "Roundtail chub are very sporty fish. They readily take lures, are not hook shy and can be quite aggressive so they are a lot of fun to catch. It is just another example of a native species whose numbers have dwindled over the years and one that our department has really tried to promote appreciation of."
Clark adds that catch and release opportunities have been extremely popular in largemouth bass, rainbow trout and other trout fisheries for many years.
"Anglers understand that there are more anglers than there are fish," he explains. "So if you were to harvest everything you caught, we would run out of fish pretty quickly. And it is expensive to raise and stock fish continually. Catch and release makes people feel like they are contributing to the conservation of fish species as well as to the preservation of their favorite fishing places."
One place where catch and release fishing is especially important is Becker Lake, located near Springerville. Stocked with trout that grow to more than 20 inches in length, the lake is designated as a blue ribbon fishery and allows only artificial flies and lures with single-point barbless hooks.
All About Balance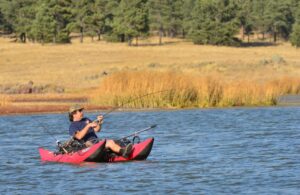 Of course, there are some places where harvesting your catches is permissible — such as lakes around Arizona's rim, some of the desert impoundments in the Salt River chain of lakes, Lake Pleasant and Bartlett Lake.
"In those areas, it is certainly fine if people want to take a few fish home and enjoy them on the dinner table," says Clark, noting that largemouth bass, bluegill and channel catfish are among the species that are stocked frequently or have very healthy populations. "It is all about balance."
Therefore, as much as fishing as a recreational activity is encouraged, it is important to research the regulations of any given body of water prior to heading out with your pole. Fortunately, the Arizona Game and Fish Department has made it easy, listing management plans for more than 100 of Arizona's lakes, rivers, creeks and streams on its website.
Clark says that those management plans encompass six different regions throughout the state — each of which possesses unique experiences for anglers.
"The fishing opportunities mimic the diversity of our state," Clark says. "For example, Southeast Arizona has got a lot of sky islands, grasslands and big mountain ranges that spring out of nowhere. The lakes in that area are surrounded by big oak trees and there are some really special feels to them. The scenery and therefore experience that you get there is much different than you might enjoy in the White Mountains, where it is all about conifers at a higher elevation with alpine-type meadows and flowing water."
Moreover, the Arizona Game and Fish Department also operates a community fishing program that ensures that recreational fishing opportunities are never too far away for any resident, utilizing city park lakes and ponds across Arizona.
Uniquely Aquatic
Ultimately, Clark hopes that residents are aware of just how extraordinary Arizona is when it comes to aquatic species so they are encouraged to keep it that way for future generations.
"When you look at the largemouth bass fishing tournaments that get all of the notoriety on TV, a lot of that originated in the southeast part of the country where lakes are no more than 8- to 10-feet deep. When you fish in Arizona, you have got reservoirs that are several hundred-feet deep.
"Arizona is a very unique place to fish for the same types of species but with different techniques and environments. People here can catch a world-class flathead catfish or striped bass at 70+ pounds. We also have a very unique population of 5- to 6-pound redear sunfish in the lower Colorado River. That is not the size you see normally throughout the United States. Those are extremely large, unique, trophy-type fish."