Writer Shannon Severson
Photography Courtesy of FLINT by Baltair, Trevor Turk, Joanie Simon and TJ Perez
[dropcap]C[/dropcap]ocktails can be simple, containing just two perfectly measured ingredients, or they can be complicated affairs with ingredients that require all manner of muddling, juicing, chopping and even setting aflame. Scaled-down or over-the-top, a quaff is that much more special when the surroundings — and company — are on the sophisticated side.
Here in the Valley, high-style spots with heavy design inspiration are attracting patrons and becoming a hallmark of our food and beverage scene. In these spaces, every color, fabric, texture and finish is intentional, and each drink is crafted to delight the eye and the palate.
FLINT by Baltaire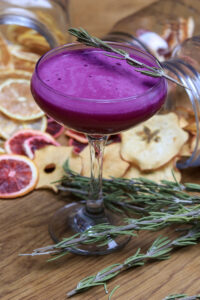 Located in the Biltmore neighborhood, FLINT by Baltaire is two experiences in one, with indoor-outdoor spaces on the main floor — which also features executive chef Scott Paget's menu of wood-fired dishes inspired by the Coastal Mediterranean and Middle Eastern regions of the world — and a rooftop bar with picture-postcard views of Piestewa Peak and city lights.
This spot is a concept launched by the success of Baltaire Steakhouse in Los Angeles and, while the menu at FLINT is almost entirely unique to Phoenix, that airy, hip midcentury vibe and wide-open space lend a breezy elegance that definitely hints at its California roots.
"FLINT has wood finishes, walnut shutters that draw open and create a seamless transition to the outdoors," says Amber Jamal Eckerlund, the director of marketing for Alliance Hospitality Group. "The spaces are open and inviting. We utilize a lot of brass finishes and our suspended brass backbar in our interior is an eye-catching centerpiece."
Olive green is a prominently featured color that reflects the Mediterranean concept and there are olive trees on the terrace whose tendrils are placed in vases on the tables. The kitchen and wine room are glass-enclosed so guests can see all the goings-on of the talented culinary crew.
Upstairs, the rooftop bar is decorated in sophisticated speakeasy-style with tufted banquets, bentwood bar stools and crystal chandeliers illuminating it all beneath the night sky. Best of all, the outdoor space has a retractable roof so it's comfortable year-round. While the seating may be all-season, the bar offerings change with the weather.
"We really focus on fresh, seasonal ingredients," explains general manager Tim Hass. "We utilize produce and fresh herbs — many great local products."
Two unique offerings include the Aguita de Melon with Mezcal Naran, rum, Cointreau, thinly sliced cantaloupe, pineapple and lemon and Drop the Beet, a brilliantly purple-hued cocktail with Gray Whale Gin, beetroot, fresh ginger, lemon and yogurt for creaminess.
Hass says his team is responsible for creating the cocktail recipes together and customers enjoy chatting up the bartenders about what is on the menu or in the works. There's a great sense of pride amongst the bar team, almost all of whom have been in FLINT's employ since the beginning.
FLINT will celebrate its two-year anniversary this October and anticipates hosting a slew of private events, along with a special New Year's Eve coursed dinner and rooftop party with a live band sponsored by Veuve Cliquot.
FLINT by Baltaire
2425 E. Camelback Road, Phoenix
602-812-4818
flintbybaltaire.com 
Zinqué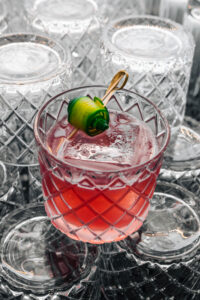 Zinqué is a French-inspired restaurant and bar with a charming entry patio shaded by the spreading arms of a leafy-green tree and a warming fireplace for when the weather turns cool. Plenty of outdoor seating invites leisurely enjoyment of cocktails, wine and small plates.
"It's a casual, come-as-you-are, day-to-night place for locals to gather, work and socialize with delicious, approachable food and drink in a beautiful space," says co-owner Kristin Dossetti. "Meant to feel like a chic friend's home-away-from-home, Zinqué has warm wooden tables, eclectic artwork, a hand-wrought iron storefront, charred cedar and cozy banquettes."
Zinqué's interior is dark and cozy, mixed with bright, warm natural lighting and lots of greenery that make the space very inviting. All around are spots to gather by twos or in groups of friends or soon-to-be friends. The signature cocktails here are unique, proprietary recipes developed with special attention to the quality of ingredients, visual presentation and flavor profiles designed to pair with the food and ambiance.
"We have created recipes using our in-house infused spirits with flavor profiles including kiwi, passion fruit, pomegranate, basil, and cucumber, to name a few, and added our Zinqué twist to classic cocktails such as the Old Fashioned or Espresso Martini," Dossetti explains. "So, whether you want the smoky flavor of mezcal balanced with raspberry and hibiscus, the sweetness of passion fruit paired with dill, a spicy Fresno chili margarita or Green Chartreuse mixed with kiwi, we have a cocktail for you. We even created color-changing infused gin."
The upbeat, hip vibe of Zinqué is upscale but not fussy. Dossetti says the restaurant prides itself in its food, service and ambiance that can be experienced in different ways throughout the day.
At 7 a.m., Zinqué opens with an early morning menu offering cappuccino, croissants and other Parisian pastry and coffee delights. Their casual lunch menu has become a favorite for both shoppers and guests who utilize it as a cozy, remote non-work-from-home space. Evening offerings lend themselves to date night or special occasions and Saturdays and Sundays are brunch-ready with mimosas on hand from 10 a.m. until 4 p.m.
This fall, expect live music on Saturday nights and a special late-night menu.
Zinqué
4712 N. Goldwater Blvd, Suite 110, Scottsdale
623-745-9616
lezinque.com 
MercBar
MercBar began its life as a legendary watering hole for the well-heeled in New York City's SoHo neighborhood. When owner and renowned entrepreneur John McDonald found out there was a space open in his hometown of Phoenix, he jumped at the chance to open a Western outpost. It was 1996, the height of "Sex And The City's" popularity and its accompanying resurgence of cocktail culture.
His business partner in the MercBar — New York native Rick Phillips — looks back on McDonald's leap as a huge risk, but one that paid off and gave the pair a chance to reimagine the Manhattan location's Adirondack ski lodge look into something a little different for Phoenician clientele.
"We went for a more midcentury desert vibe initially," says Phillips referencing the wood-paneled ceilings and walls. "It was unintentionally New York. We did that organically. When people come here, it's a great compliment to hear them say, 'I don't feel like I'm in Phoenix. Great design you don't notice, you just feel. If you just walk into a room and have a good feeling — exciting, interesting, cozy — you've achieved something with your design."
A pre-pandemic remodel actually worked in the bar's favor as McDonald and Phillips updated the space, adding new and more furniture to create a denser and more intimate — as opposed to just cluttered — space.
"We wanted to fill up the spaces and not have blank walls, corners or nooks," Phillips explains. "We filled it with art, plants and fun objects. We set up the room to have vignettes so each group has their own little living room-style vignette."
McDonald and Phillips have created a decidedly upscale, sophisticated bar with a dress code, doorman and no attitude. The expectation is that patrons who take the time to dress for the occasion will appreciate exactly what MercBar has to offer: a space that evokes metropolitan luxury, a warm glow of lanterns, candles and gold-hued accents illuminating oversized chairs and banquettes in pale pink, deep blue and rich red.
"We're not trying to be for everyone but we're also not trying to be for a particular demographic or age group," Phillips says. "There are young people who get it. They dress stylishly and they feel good. It's aspirational, it's not about a luxury brand. We're about the total ecosystem — the drinks, the great music, the consistency of product."
At the bar, patrons can enjoy seasonal and classic cocktails. Beverage director Casey Wallin's summer favorites include the Wild Strawberry Spritz with Aperol Apertivo, Champagne, Wild Strawberry Giffard Fraise De Boise, lime juice and club soda and Thread The Needle, which contains Botanist Gin, Don Ciccio and Figili Finocchietto (fennel), Suze Apertivo and Cocchi Americano.
On the horizon for MercBar is an expanded food menu, a private membership club aspect with reciprocity in other cities and a subscription program for wine and spirits that will include community-building events like classes and tastings. Reservations are recommended.
MercBar
2525 E. Camelback Road., Phoenix
602-508-9449
mercbaraz.com 
Toca Madera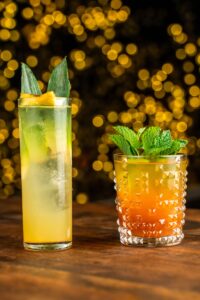 Some of the most memorable experiences are those that transport you from the normal, everyday routine into an environment that is fascinatingly foreign by comparison. Toca Madera is a modern Mexican restaurant and lounge that feels like you've stepped into a richly crafted treasure box.
"Toca Madera's creator, Tosh Berman, has implemented an acute attention to detail for each and every aspect of the restaurant," says Charity Johnston, vice president of operations for Noble 33, the hospitality collective behind Toca Madera. "You definitely see it in the design. There's a symbiosis that makes it so beautiful and intriguing."
Wood, leather, stone and even rope lend texture that flows from one room to another, accented by sculptural brass fixtures and art in the style of Mexico's Dia de los Muertos holiday that honors ancestors of the past. The restaurant celebrates the occasion in grand style every Nov. 1. But Johnston says any occasion is made more enjoyable by the thoughtfully curated environment, food and drinks.
"Toca Madera means 'knock on wood' in Spanish and we use a lot of wood — maple and dark oak, their lines flowing into other materials are very intentional," Johnston says. The wood in the ceiling pieces almost looks like a wave. It's visual interest that carries through and influences how your eye sees the room. We pour our all into everything."
Every sense is employed as you take in the scene — a beautiful skylight allows natural light by day. As the sun dips low, the ambiance adjusts, flames light up inside glass fixtures, the overhead lighting dims and the music changes. Johnston describes it as a metropolitan feel, but one that gives a sense of being somewhere else.
"It feels like you're stepping into a really cool place in Mexico City or Europe," she explains. "It's dark and dim and very sexy. It holds your attention. You come for two hours and stay for four. A lot has to do with design and decor, but also our food, beverage and service."
Dan Whitfield, vice president of marketing, says the environment and Dia de los Muertos style carries through into the carefully crafted "farm to glass" cocktails on offer. The signature Los Muertos cocktail encapsulates the aesthetic and was created to mimic a woman wearing a flower crown and the customary face makeup of the holiday.
Hand-selected Reposado Barrel-Select El Tesoro Tequila is the foundation of this cocktail, colored black using activated charcoal in the agave syrup. Fresh lime and blood orange juice add a bittersweet tinge and even the simple syrup is infused in-house with Hibiscus flower. The garnish is a lime wheel topped with a crown of edible flowers. To finish, a sugar cube carved into a skull is set aflame and cinnamon is sprinkled over the top to produce a shower of sparks.
"People taste what they see — with their eyes, nose and mouth," Whitfield says. "Every detail matters. You can't just have something that looks good and has amazing theatrics if it doesn't taste good. The look of the cocktail paints the picture and serves as entertainment value. The proof is in the taste."
The Toca Madera team prides itself on the captivating beauty of the restaurant and its commitment to excellent service, entertainment and interactive elements — such as a nighty DJ who is sometimes accompanied by live musicians and overhead aerialist performances.
Toca Madera
3736 N. Goldwater Blvd., Scottsdale
480-930-4357
tocamadera.com