Writer Shannon Severson
Photography Courtesy of Bravada Yachts, Arizona Game and Fish Department and Mark Laverman
[dropcap]W[/dropcap]ater is healing. It hydrates, cleanses, and soothes the body, mind and spirit. Here in the desert, the presence of water is especially welcome and our Valley is fortunate to have lakes overflowing with active options for the whole family that build indelible memories.
Some enjoy lakes now and again, but others truly live the "lake life," arranging their time and talents around water sports and recreation. There are even those who choose to live on the water part- or full-time.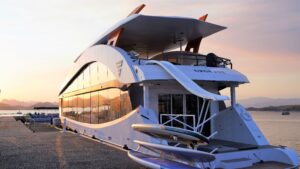 Bravada Yachts makes luxury houseboats in Tolleson and their creations can be found floating on the waters of Lake Pleasant and Lake Powell with more being built for use on Roosevelt Lake and Lake Mead.
What makes these houseboats different lies beneath their beautiful exteriors and finishes. The materials used in every aspect of their construction make a difference in resistance to deterioration and overall ease of maintenance.
"Team Bravada puts a heavy, laser focus on building safer and more comfortable vessels while leveling up the architectural design," says Robert Gutierrez, president of Bravado Yachts. "Our team of designers, engineers and fabricators looked at the materials currently used in the industry and asked, 'Why?'
"[W]e determined we could make them stronger, lighter and reduce common problems that most houseboats have like mold, mildew, rotting wood, low R-values [insulation strength] and low fire ratings. We have solved these problems and with the Volvo Penta partnership, we've seriously improved performance and handling over older Bravada vessels."
Most recently, Bravada's designers launched the Atlas V-Series on Lake Pleasant with the "Upgrade," an 80-foot custom vessel with four bedrooms, 2.5 baths, two kitchens and a waterslide. It's the first million-dollar houseboat on this particular lake. The company has plans to expand its offerings in the near future with wake surf boats and mid-range day cruisers.
The growing demand for luxury lake craft like these is emblematic of the growing popularity of time spent on the many sparkling clear waters across Arizona.
Lake Pleasant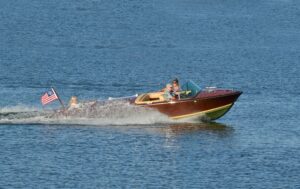 Just off Carefree Highway in the far reaches of northern Peoria, Lake Pleasant Regional Park spans 23,000 acres for recreational uses including camping, boating, fishing, wakeboarding, kayaking, paddle-board yoga, scorpion hunting and nighttime stargazing by Tony La Conte's Stargazing for Everyone.
Scuba diving is even a popular attraction, with Lake Pleasant being known as one of the top spots for inland scuba diving in the West. Far beneath the 10,000 acres of water, at depths of up to 260 feet, lies the original Waddell Dam along with rock walls, canyons and old structures.
Two marinas serve visitors, both with ample parking. Pleasant Harbor Marina is closest to Carefree Highway. Diners can enjoy meals and entertainment at Dillon's Bayou Restaurant and Bar. There's also a general store and options to rent all manner of watercraft, have a go at hydro-flying or enjoy the giant waterslide.
If you'd rather let someone else take the rudder, there are daily boat cruises and evening dinner cruises. On October 9, the Peoria Country Fest will take over the lake with live performances, bull riding and food trucks.
At Scorpion Bay Marina, there are similar rentals for all manner of boats and water toys as well as hiking options and dining at Scorpion Bay Grill. Even if you don't have your own houseboat, Scorpion Bay plans to introduce overnight experiences in "floating cabins" for the ultimate lake escape.
Pleasant Harbor Marina
40202 N. 87th Ave., Peoria
623-235-6130
pleasantharbor.com
Scorpion Bay Marina
10970 W. Peninsula Blvd., Peoria
928-501-2628
scorpionbayaz.com
Bartlett Lake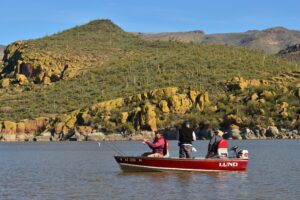 Bartlett Lake boasts 2,815 acres of water surface for boating just 17 miles northeast of the town of Carefree. Surrounded by mountains and teeming with wildlife, desert plants and a stunning display of wildflowers each spring. The marina here is a family-run operation led by Bryan Church, who has taken on the care of this treasure, making improvements that increase accessibility for visitors to enjoy.
In addition to boat and jet ski rentals, there are opportunities to tour around under your own steam by renting a stand-up paddleboard or kayak. If you've got a crowd to entertain, a two-story 45-foot pontoon yacht can carry 20 passengers for a floating party.
Onshore, there is space to picnic or camp. If you're not in the mood to cook, there are two dining options. Oar House serves up soft-serve ice cream, sandwiches, salads, hot dogs and burritos. The Cove At Bartlett has a more expansive menu, including catfish sliders, the Bartlett OG burger and an artichoke with parmesan aioli and chili butter.
Something especially unique about Bartlett Lake is its Bartlett Lake Marina Boat Club, a lower-cost alternative to boat ownership. Private membership entails a yearly fee for the use of 14 boats at the marina that range in type from pontoons to Sea-ray boats. The club takes care of things like insurance costs, slip fees, maintenance, repairs and storage.
Bartlett Lake
20808 E. Bartlett Dam Road, Tonto National Forest, Carefree
480-221-0503
bartlettlake.com
Saguaro Lake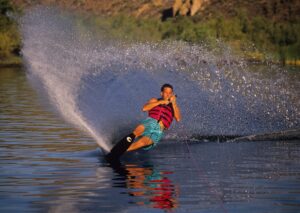 Formed by Stewart Mountain Dam in 1930, Saguaro Lake is the last of the Salt River reservoirs to be built. The 22-mile shoreline is rimmed by mountains and canyon walls and has a bounty of its namesake cactus scattered all around the landscape.
Saguaro Lake's north end has Butcher Jones Beach, a day-use area with picnic areas and a nature trail. You might be surprised by the white sand beach, ready for building sandcastles or a tan. Swimmers splash in the crystal blue water that some compare to the hue of Caribbean waters. If you're lucky, you may even catch a glimpse of the wild Salt River horses that roam the area.
The Butcher Jones Trail begins near the beach and is an easy to moderate 4.9-mile round-trip hike with minimal change in elevation. It's a very popular trail and a great way to see various lake river vistas, a marshy inlet and many desert plants and trees.
Most of the water activity centers around the Saguaro del Norte Recreation site near the dam, which includes the Saguaro Lake Marina. Like the other lakes in the area, there are spots to launch your own boat or rent one for the day, picnic tables and a restaurant — Shiprock Restaurant, which features an all-you-can-eat fish fry each Friday evening as well as a seafood-centric menu.
If you'd rather take a cruise than hike, fish or manage a boat yourself, Desert Belle Cruises has a 50-year tradition of delighting passengers with its double-decker, air-conditioned cruise. Options include an 80-minute narrated cruise that focuses on the wildlife and desert flora and fauna and a live music sunset cruise. Both options are offered year-round. From October through June, Desert Belle Cruises also offers a wine and music cruise with $5 wine specials and an Arizona craft beer and live music cruise.
Saguaro Lake
14011 N. Bush Highway, Mesa
480-986-5546
saguarolakemarina.com
Canyon Lake
Canyon Lake is the smallest of the Salt River reservoirs at 950 acres of water when full, but it has a personality all its own. Yellow bass, walleye, rainbow trout and panfish swim beneath the water and bighorn sheep, deer and javelina can occasionally be spotted amidst the rock formations and steep canyon walls that border the winding fingers of the lake, which create many secluded spots to refresh and relax.
Canyon Lake is also a popular spot for picnicking, fishing, scuba diving, camping, swimming at the Laguna Beach area, bird watching, wind sailing or skimming across the lake on Jet Skis and wakeboards. Canyon Lake Marina and Campground has all the usual marina services as well as campsites and RV sites. Tortilla Flat Campground also offers campsites year-round.
The lakeside Well Done Grill at Canyon Lake is a family-operated restaurant that serves up burgers, salads, crab cakes and a best-selling pulled pork sandwich along with a full bar of cocktails and beers on tap.
The history of boating on Canyon Lake stretches back to 1925 when the 35-foot S.S. Geronimo could carry 50 passengers with its 35-horsepower engine and a cruising speed of about 15 mph. More recently, the Dolly Steamboat cruise company has been navigating the lake's waters since 1983. Today, it transports 142 passengers, is 103 feet long and is powered by twin 225-horsepower John Deere marine diesel engines with air-conditioned options.
Passengers can choose from a 90-minute, six-mile Canyon Lake scenery cruise, a two-and-a-half-hour twilight dinner cruise or an astronomy dinner cruise during which an expert presentation on the solar system is given beneath a sky full of stars that are visible from the deck.
Canyon Lake
16802 N.E. AZ-88, Tortilla Flat
480-288-9233
canyonlakemarina.com