Writing Without Words
Writer Amanda Christmann
Photography Submitted by Cathy Hegman
Brushes, palette knives and stories left untold beckon Cathy Hegman into her studio.
Holding a paint-splattered palette and a wash brush, she stands before a blank canvas, listening to its whispers as blended layers of pigments begin to fill the space. Her studio becomes a creative kitchen of sorts as she experiments with wax, gels and other binders, adding depth and detail to complicate the plot.
As the hours go by, a woman emerges from a muted scene. She is shrouded in a haze and her featureless face leaves a Mona Lisa-like mystery surrounding her expression. Hegman is in no rush. She leaves the woman from time to time to think about who she wants to become, then returns to listen and fulfill her requests.
To refer to Hegman as a painter is a misnomer. She is better defined as a writer who uses hues and texture as her language. Through her work, she is colorfully narrating a memoir with muted landscapes and ambiguous figures in starring roles, employing contrast and harmony as ongoing themes.
For 33 years, Hegman has made creating contemporary figurative art her full-time vocation. As an internationally recognized artist and a teacher, she approaches her work with a nearly palpable sense of serenity that becomes the foundation for surreal landscapes and figures.
"Events in my life are often the basis of my paintings," Hegman says. "Almost everything I've ever painted is tranquil. I want my work to illuminate a feeling of peace and balance."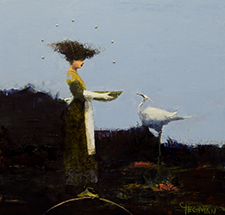 To Ennoble Beauty
Hegman's perspective draws unmistakable parallels to the work of American writer and painter Susan Fenimore Cooper. Though more than a century has passed since Fenimore Cooper penned beautiful compositions about the natural world around her, the two share a timeless and intimate love of nature, solitude and quietude.
Where Fenimore Cooper wrote volumes and only occasionally expressed herself with art, Hegman has followed the opposite pattern, painting nearly constantly, but pausing to write every now and again. Still, the essence of their language is the same, and both manage to break through shackles of time and place with illimitable narratives.
In 1850, in "Rural Hours," Fenimore Cooper wrote, "Never forget the difference between things of importance and trifles; yet remember that trifles have also their value."
Whether depicted as an interaction with a bluebird in her painting, "The Gift," or a quiet moment in the garden portrayed in "Zinnia," Hegman echoes this sentiment in her work just as gracefully and poetically.
While Fenimore Cooper wrote about her then-untamed homelands in upstate New York, Hegman's muse is the wilds of Mississippi; its piney woodlands, magnificent wildlife, and unpredictable rivers weave their way into her visual tales. Her subject is nearly always the fundamental relationship between herself and the delicately balanced ecosystem around her.
She paints not to preach or compel, but to ennoble beauty. For this reason, she prefers to leave her characters, often women, anonymous in form so that the storyline is left open to interpretation.
"If you give them an entire face, you're making them something singular. It becomes easier to enter the painting when they remain anonymous," Hegman says. "It's always so interesting to know what others see in my work. I'd much rather hear what they think before I tell them my intent.
"I enjoy leaving out parts that aren't necessary in my work. To me, the figure is used as an integral part of the design of the piece as well as playing a part in the narrative of the painting."
Hegman's oeuvre hasn't always been so unique. In her early artistic years, she tried her hand at painting portraits.
"I wouldn't do that now for love or money," she says with a laugh. "I think everybody evolves. In the beginning of my painting journey, the more realistic I could make my paintings, the better I thought they were. Now I find it's more about emoting feeling rather than replicating in my art that compels me."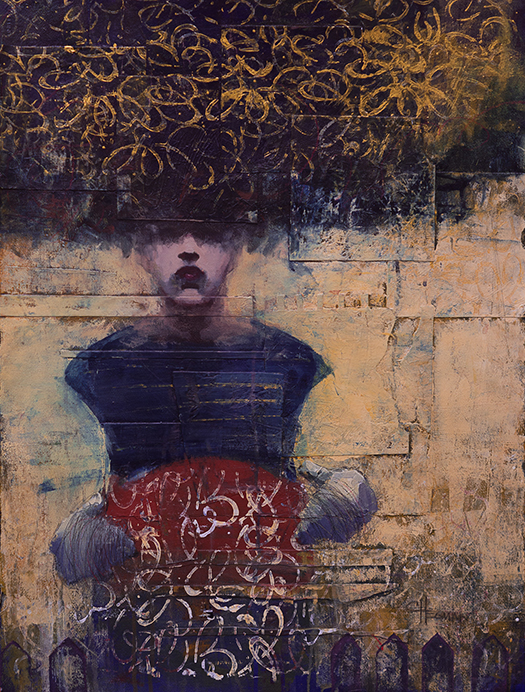 Purposefully Enigmatic
It's difficult to characterize Hegman by her medium; she's not simply a watercolor, oil or acrylic painter, or even a mixed media artist. She dabbles in a little bit of everything, and she enjoys the process of learning just as much as she revels in putting the finishing touches on a piece.
"I work in all mediums," she says. "For a long time, I used to do pure watercolor. I started adding other mediums because I couldn't get the textures I wanted. Now, I work in oil, acrylics, watercolor, cold wax, mixed media … I've just never found one medium that I loved more than the others. They all have inherent qualities that I've grown to love."
Hegman concerns herself with value, or tonal variants, in her images. She checks her work by photographing it in black and white.
"I will always photograph my work as I am painting it in black and white to see the values more clearly," she explains. "If everything is in the same value, nothing is really important. Black and white lets me know that my design is clear and that it's cohesive."
An apt illustration of her perfection of this is a painting called "Red Flags," on display at Grace Renee Gallery in Carefree. Figures of three women stand together in boldly striped dresses, their faces indistinct and their wild hair flowing like billowing clouds.
In white-gloved hands, each is holding a red flag that is somehow, remarkably, the most unnoticeable element of the picture. The contrast between the darker and lighter elements is so vivid that even a color as bold as red is nearly muted.
Another signature component of Hegman's paintings is the idea that people are part of, and not separate from nature. They're often indistinguishable in her work.
"For the last eight years, I have painted predominantly figures in landscapes, usually painting them as one, in order to show the codependency of the two," she explains. "People are formed by their environment and the environment is shaped and changed by people. It's all so intricately entwined."
An example of this is another gorgeously compelling piece called "Isolate," which leaves the boundaries between a woman and the surrounding scene to the imagination. Foreground becomes background and background becomes facade.
Like many of her other works, the only certainties in this piece are the pout of lips, the shadow of a nose and the spark of curiosity this purposefully enigmatic painting inspires.
Hegman's studio provides her with a glimpse into the deepest corners of her mind, and she continues to explore and evolve as an artist.
"Lately, I'm starting to bring in more flowers," she says. "I'm kind of doing an homage to them because they keep showing up in my work.
"When I first started painting, my mother always told me she wished I painted more with flowers. All these years, flowers have not interested me. But for some reason, I did a painting and worked flowers into it. When I saw it, I thought, 'Look at this!' Now, flowers are finding their way into more of what I'm doing."
What she is doing, whatever it may be, is resonating with people from around the globe. She has been featured in exhibitions and galleries in the UK and Brazil, as well as across the United States. Locally, a sizable collection, including several smaller works from her Yellow Fashionista series, is available at Grace Renee Gallery.
"I have to paint every day," the artist says. "If I make something recognizable, that's pretty cool. The most any of us can hope for is to find a job that you love and to do it most of your life. I'm fortunate because that's exactly what I do."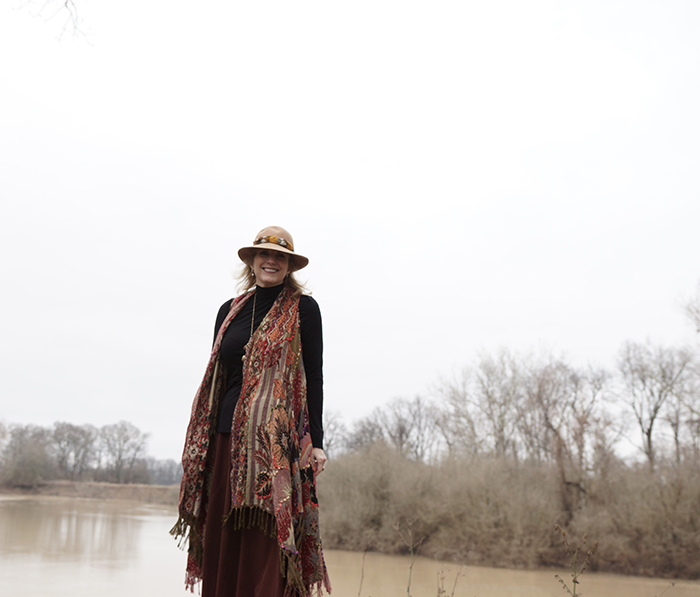 The Art of Cathy Hegman
Grace Renee Gallery | 7212 E. Ho Hum Road #7, Carefree | 480-575-8080 | gracereneegallery.com