Bright Lights in the Anthem Business Community
Writer Joseph J. Airdo
Photography Courtesy of Mike Spinelli Photography
When Travis and Tyler Ringe were in fifth grade, the brothers embarked on their first business venture together — selling odd knickknacks that they had gotten from Oriental Trading Company to their classmates.
"Our father taught us to be entrepreneurs at a very young age," Tyler says. "He instilled that in both of us and I cannot be any more thankful to him for it."
It is through that love for entrepreneurship that the duo has not only built a successful business with ProSkill Services but have also now been named Anthem Area Chamber of Commerce's Business People of the Year.
Travis and Tyler were among several business leaders in the community who were honored during Anthem Area Chamber of Commerce's 17th Annual Business Awards ceremony last month. The winter gala, held at Anthem Golf and Country Club's Ironwood Clubhouse, was a black-tie optional event with all the trappings of a Hollywood awards night.
Attendees enjoyed a cocktail hour featuring champagne and hors d'oeuvres followed by a three-course dinner. After all of the award winners were announced, guests danced the night away. The awards ceremony itself was also livestreamed via Anthem Area Chamber of Commerce's Facebook page, granting the event an even greater audience than in years past.
Anthem Area Chamber of Commerce's Business Person of the Year award recognizes successful business leadership and outstanding involvement among Anthem area businesses. The Business Person of the Year exemplifies innovation, integrity, business accomplishments and chamber involvement.
"We live in an exceptional community," Tyler said during his acceptance speech at the event. "All of you here make this community exceptional. The business owners who are here with us today continue to set the bar for my brother and I to try to compare ourselves to every single day and grow. It has been an amazing opportunity for us to be amongst all of you."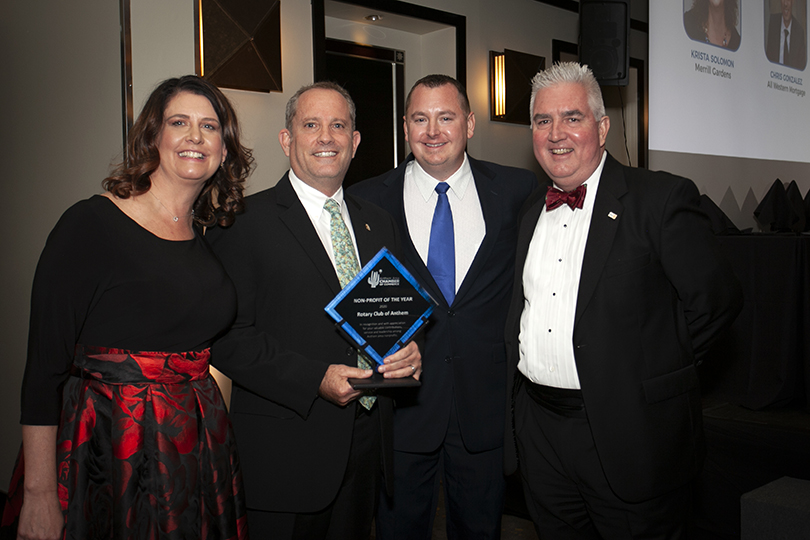 In addition to his fellow business people in the community, Tyler also credited his parents, his brother and their wives for all of their support over the years — especially since starting ProSkill Services in 2009.
"We have been able to grow a team that I am truly in awe of," Tyler said. "Every single day that I get up, I am blessed to go to work with one of the best plumbing and air conditioning teams in Arizona — and I truly appreciate them."
Meanwhile, Travis recognized Eric Twohey of Times Media Group and Manny Chazan of Work Hard Play Hard Marketing — who were also nominated for the award, noting that they had both been great supporters and helped he and his brother market their business. He also took a moment to commend all of his fellow business people in Anthem for traversing such an unprecedentedly difficult year in the midst of the COVID-19 pandemic.
"I think that everyone in this room and on the livestream really deserves an award of their own for Business Person of the Year just for surviving and making it through this year," Travis said. "It says a lot and that is a strong testament to the Anthem community."
Eric Twohey, the president of Anthem Area Chamber of Commerce's board of directors, echoed Travis's sentiments, noting that the Business Awards ceremony's significance was perhaps even stronger this year than in any other.
"We really wanted a win and this night serves as a win of recognizing people," Twohey said. "In any year, it is amazing to receive an award. But because of what a lot of people have been through this very unique year, these award winners are extra special."
Several other individuals and businesses were honored during the ceremony — including Matt Word with Country Financial, who was named Anthem Area Chamber of Commerce's Ambassador of the Year; Christopher Gonzalez with All Western Mortgage, who received the organization's Top Gun award; and Keith and Jeanine Walashek of Amped Coffee Co., who received its Community Impact award for their active community involvement and volunteerism.
Meanwhile, Honor Health received the organization's Economic Impact award for the significant contribution that it has made to the economic vitality of the Anthem area through community investment, job creation, industry growth and business leadership, and Palmcroft Church Anthem received its Commercial Design award for its excellence in transforming an Anthem area commercial space and enhancing the client experience.
New River Group's Barbara Chatzkel received the Leadership in Action award, recognizing her demonstrated leadership in action among Anthem Area Leadership Academy — a 12-month leadership development program that empowers aspiring leaders with the tools, experiences and networks necessary to address local and regional challenges. The program also helps business leaders make a sustainable impact on social, community and economic development.
Anthem Area Chamber of Commerce also named Rotary Club of Anthem its Nonprofit of the Year, for the valuable mission-driven contributions that it has made to the community through service and leadership, and Paul Schickel of Daisy Mountain Fire and Medical its Public Servant of the Year, for his contributions and selfless service to the community that have made a significant and lasting impact.
Finally, Twohey presented Bonnie Smith of First American Title with Anthem Area Chamber of Commerce's Living Legacy Award, which recognizes deserving members who have demonstrated such vision, commitment, sacrifice and made such a significant community impact that their legacies will continue to live on in the lives of those they have touched along the way.
Twohey said that Smith had just such an impact on everyone who has ever felt her warmth and grace as a true ambassador of the Anthem community.
"We would not be in as good a place as we have been as a business community and just as people without [her] in our lives," he explained. "She is a shining light — even in this year when some people have faced the darkest times and real struggle. Anytime I have had any interaction with her, she has been that shining light, that pillar of hope, that amazing strength and that source of positivity."