An Open Book
Writer Joseph J. Airdo
Photography by Carl Schultz
Anne Johnson admits that when she started her career in libraries 13 years ago, she did not truly grasp the significance and complexity of the institutions.
"When people think of libraries, they immediately think of books," Johnson says. "When I first started in this business, that was my perception as well. Then I realized that it is really about people. It is about developing a staff that really loves and cares about people and wants to serve them and make sure that they get the right books in their hands and recommend the best programs to them."
In September, Johnson assumed the position of Desert Foothills Library's new executive director. She hopes to uphold and build upon the legacy of the library's previous leader David Court, who she says turned a repository for books into a bustling community center.
"The people coming into the library are the entire point of the whole business," Johnson says. "It is not the books. That has been my biggest realization and something that I have embraced throughout my career."
The Library Crew
Johnson grew up in northern Virginia, a couple of miles outside of Washington D.C.
"Books were a really big part of my life growing up but I did not start spending a lot of time in libraries until I was in high school," she says. "In college, there were five or six of us who used to study in the same area on the third floor of the university library and called ourselves 'the library crew.' It was then that I started to develop a deep appreciation of the fields of librarianship, research and learning."
After earning a master's degree in English literature from the University of New Hampshire, Johnson aspired to become a college professor. She began to spend even more time in libraries and discovered that she really enjoyed the atmosphere as she performed research and scanned the shelves to behold the volume of information available.
Acknowledging her love of the library and enjoyment of being around other people, Johnson then switched gears and began looking at a career in nonprofit administration.
"A lot of work that college professors do is solitary," she explains. "You are researching, you are writing papers and you are presenting at conferences; that work can be kind of lonely. When you work at a library, it is vibrant and you have the opportunity to be out and about in the community working with other people all day long. And every day is totally different and exciting. You have the opportunity to really dig into who you are serving as you design programs and services specifically for them."
In 2008, despite not having any experience running a library, Johnson got a job as the director of West Pittston Public Library — a small, nonprofit, member-supported library in Pennsylvania.
"I kind of stumbled into it," she says. "Then I got a master's degree in library science and fell in love with the job — especially working at a small, community library."
Johnson spent 10 years at that library, enough time to get plenty of experience — including a complete flood of the facility when the Susquehanna River overflowed in 2011. She later moved to Austin, Texas to accept a position as the deputy director of the Austin Public Library system.
"I went from serving a town of 5,000 people in northeastern Pennsylvania to being the second in command of a 450-person department that served a city of 1 million people with 22 physical locations, managing six major divisions," she says. "So it was a huge change. Whereas I had a lot of freedom in the smaller library, I moved to a city department where there was a lot of bureaucracy and things moved much more slowly."
The experience afforded Johnson an understanding of libraries on both ends of the spectrum. It also granted her a deeper appreciation of smaller, community libraries where one has the opportunity to work among and therefore really get to know their customers.
Library Alfresco
When her husband — an executive with Farmer's Insurance — accepted a position in Phoenix, Johnson met up with an old friend and former graduate school classmate whose parents had retired in Carefree. Having heard that Desert Foothills Library was looking for a new leader, they arranged for her a meeting with departing executive director David Court.
"He gave me a tour and we talked for about two hours," Johnson says. "The library really appealed to me because it reminded me of the one I ran in Pennsylvania. I wanted to be part of something like that again, working for an institution that has a really great reputation in the community."
Johnson — who received the appointment to the position by the library's board of directors — admits that it has been difficult starting a new job during a pandemic, but says the nonprofit organization's outstanding volunteers have been her guiding light to overcome the obstacles.
"We have like 150 volunteers," Johnson says. "I am amazed at the longevity that they have served. Some of them have volunteered at a library for 20 or 30 years."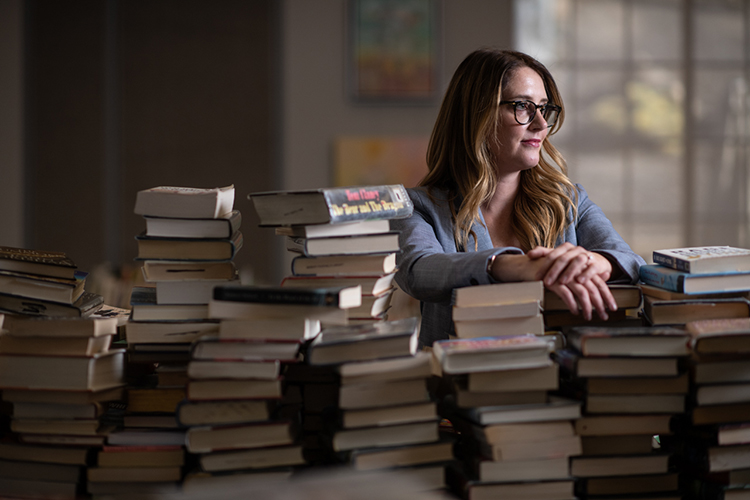 Many of Desert Foothills Library's usual services and programs remain on pause but Johnson and the rest of the nonprofit organization's staff have taken steps to continue to serve the community in a safe albeit slightly different way. In addition to curbside service, the library has opened up its patio for passive programming — fondly dubbing the experience "library alfresco."
"We have sheets of paper with crossword and sudoku puzzles on them and old magazines that people can sit down and read or take home with them," explains Johnson, noting an Amazon Echo is also available for additional assistance and entertainment.
Everything being offered is an effort to invite the community back "to" the library without necessarily inviting them "into" the library out of an abundance of caution for the nonprofit organization's customers, staff and volunteers during this difficult time.
"We have done a lot of virtual programming and have also been promoting our digital and online resources," Johnson adds. "I am currently trying to get funding to be able to open a portion of the library up for people to browse and borrow items in a way that is low- to no-touch."
Johnson and the library's staff have also taken the opportunity of a little more downtime to do a design thinking challenge, reaching out through interviews with community members to gain a better understanding of how they want to use the library upon its eventual reopening.
Johnson especially aspires to attract more use of the library. One way she intends to do so is by upgrading its technology. She is particularly interested in creating an atmosphere that supports remote working — complete with printing services, office supplies and a cafe.
"We are also trying to turn outward," Johnson adds. "It is sometimes easy to get lost within the four walls of your organization and just hope that people come to you. We are looking at outreach opportunities so that we can ensure that we are visible at community events and are partnering with local businesses and other nonprofit organizations."
Love Your Library
In February, Desert Foothills Library will host a month-long "Love Your Library" event, celebrating the stories the make up its past, present and future.
"We are going to do a project where we interview residents from the community who will tell stories about their experience with Desert Foothills Library," Johnson explains. "We are also going to have story contests, themed grab-and-go programs and maybe even a virtual cooking demonstration where people can pick up the ingredients from the library and follow along with a livestream."
Fundraising will also be integrated into Desert Foothills Library's "Love Your Library" event, allowing the nonprofit organization to continue to benefit the community with its presence, programs and services — which Johnson says will only continue to flourish and expand under her leadership.
"I am so excited for the opportunity to work with the board, staff and volunteers to serve the desert foothills community," she adds. "I look forward to continuing David's legacy of focusing on the most important element of library work — the people."
Desert Foothills Library
38443 N. Schoolhouse Road
Cave Creek
480-488-2286