Writer Joseph J. Airdo // Photography by Loralei Lazurek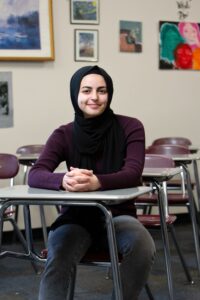 A few years ago, Aishah Alquran and her family moved to Taibah, Jordan, where she attended middle school for two years and experienced an entirely different way of life than that which she was familiar.
"Living in a different country, I was able to experience the cultural norms and traditions such as Jordanian weddings and spending the month of Ramadan surrounded by family," Alquran says. "I experienced the cultural food and became fluent in Arabic."
Although exciting, that different way of life also came at the expense of luxuries that most Americans may take for granted — such as air conditioning and private transportation. However, that only further piqued Alquran's interest, as she became even more curious about the various practices, traditions, cultures and backgrounds of people all around the world.
"We all live on the same Earth," says Alquran, whose family now lives in Anthem. "However, every person has a different way of doing things — such as their daily activities, jobs, food, etc."
Therefore, when Alquran learned that Boulder Creek High School offered a certificate of global studies, she seized the opportunity to dig deeper into the roots of different cultures and countries and gain an enhanced appreciation for the uniqueness present in our world.
Boulder Creek High School's advanced academics department chair Elizabeth Erickson is the current advisor of the program, which is designed to foster students' global awareness and provide them with the essential knowledge, skills and disposition to understand, participate in and contribute to an increasingly globalized society.
Erickson explains that students earn points toward the certificate by attending cultural events and completing projects that they present to their peers, among a variety of other things.
"There is a lot to it," says Erickson, noting that each student must have an unweighted GPA of at least 3.0, take at least two years of the same world language, regularly attend meetings and accumulate at least 200 points in order to receive the certificate. "It is quite demanding."
Of course, that also means that it looks great on transcripts, thereby helping students stand out from the crowd of college and scholarship applicants. However, Erickson says that is rarely the reason students are interested in it.
"It is something that is done for the sake of wanting to learn and wanting to extend your education and go beyond what traditional education gives you," she explains. "It takes a special kind of person to do that. And it provides them with experience and knowledge that they might not get otherwise."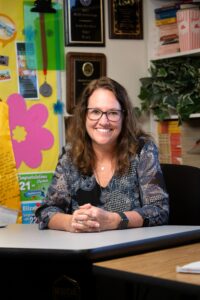 Global Generosity
Erickson says that very few high school students actually have the opportunity to travel and experience other cultures. Working toward a global studies certificate gives them that experience without ever leaving the U.S. However, in some cases, it also provides them with the perfect excuse to do even that.
"There is a group from the school going to Thailand this summer to do community service," says Erickson, calling attention to one of the most significant pieces of the global studies certificate program.
Each student must complete an international community service project, through which they raise money for a particular cause in another country and spend their time or resources toward improving others' quality of life. In some cases, such as the Thailand trip, that project may include traveling abroad.
One of the students who will be traveling to Thailand this summer, senior Alexis Hill, says that several different service projects are planned during their stay.
"We are going to volunteer at an elephant sanctuary and help at an orphanage," explains Hill, noting that she was impressed to learn that there are more than 35,000 temples in Thailand. "While there, we also get to fully immerse ourselves in the culture and environment of a foreign country that none of us have been to. As a part of our tour, we will actually get to tour the inside of a Buddhist Monastery, learning more about certain cultural aspects."
But students also discover through the program that there are plenty of ways that they can simultaneously immerse themselves and help others across the globe from right here in the U.S. For example, last spring, Alquran organized a dental supply drive to benefit families in lower-income areas of Jordan.
With that project having been a remarkable success, Alquran last fall joined forces with three other students to raise $12,000 toward the construction of a well for families in Ariet, Uganda, who have to walk at least five miles for water each day.
"Raising money to build a water well was very rewarding as every person should have access to clean water," Alquran says. "We worked really hard on this project. We planned all of the details and found corporate sponsors. The Rotary Club of Anthem was a great support throughout the project by helping us spread the word to the community.
"It is important to step up as humans and help those in need — especially with a basic living essential. Small acts of service done by others help contribute to a stronger and more connected world."
Boulder Creek High School junior Madeleine Baird agrees.
"I believe that no matter race, gender, orientation or wealth, everyone deserves to stand on the same level and are indebted to basic human rights — such as food, shelter and healthcare," she adds.
Baird was still in the midst of selecting her international community service project at Images Arizona's press time, with organizations like Doctors Without Borders and initiatives like COVAX having made her shortlist.
"I also am thinking about projects that would help with women's rights efforts or running a food drive for areas undergoing famine," Baird says.
"In my research for my project, I have found so many important things happening right now in the world — such as how 134 countries are ranked as a D+ or lower in quality of life and/or protection for LGBTQ+ individuals and how polio, which was eradicated with a national vaccine rollout in America in 1979, is still an ongoing issue in Afghanistan and Pakistan."
Multicultural Mindedness
Of course, the international community service project is only a piece of a much larger puzzle, which results in an entire generation of more globally competent citizens. Even Erickson has found her own awareness expanded.
"I am learning right along with them," says Erickson, who incorporates a cultural project into her advanced placement English classes. "Just yesterday, a student shared a presentation on Uzbekistan. I did not even know that country existed.
"Another student shared a presentation on LBGQT+ rights around the world. And someone else shared a presentation on how colors have different meanings around the world. We learned that wedding dresses in Asia and around there are typically red whereas they are white here in the U.S."
Erickson has even gotten to taste some extremely exotic dishes prepared and served up as part of presentations by students.
"These kids are not afraid to try anything," Erickson adds.
Motivated by curiosity, students reap the benefits of knowing more about their vast and varied world rather than just their own little corner of it. In turn, they learn the true value of giving to others — both abroad and within their community.
Hill plans to pursue a bachelor's degree in biomedical engineering and research in college and use it to improve the world. Meanwhile, Alquran aspires to achieve a career in medicine and Baird hopes to eventually attend art school.
"I was motivated to join global studies mainly by my curiosity about other cultures," says Baird, who attributes that curiosity to the stories that her mother has shared with her about traveling the world when she was a child as well as to her own exploration on YouTube. "The world is a massive place and there are so many wonderful parts that people often miss because they are surrounded by only one culture."