Writer: Rebecca L. Rhoades // Photography by Loralei Lazurek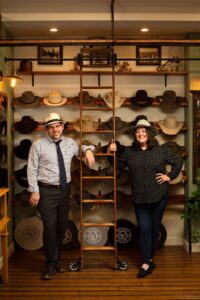 When COVID took hold in March 2020, many small businesses faced multiple challenges, including state-mandated shutdowns, implementation of new safety protocols and supply chain disruptions. Some even ended up closing their doors for good. At Watson's Hat Shop in Cave Creek, however, the phones began ringing — and they never stopped.
"We had customers from all over the country calling us, asking us how we were doing and saying they wanted to buy a hat," says Emily Watson, co-owner of the old-fashioned hattery. "We had so many people reach out who just wanted to support us."
That encouragement and assistance helped propel Watson's through the pandemic. In fact, 2021 saw the highest number of sales in the company's history. Not bad for a company that in 2022 celebrated 10 years of producing handmade, custom-fit, high-quality cowboy hats, fedoras, bowlers, Panama hats and more for men and women.
Watson's is the eponymous brainchild of Eric Watson, who as a young child in Ohio, became obsessed with headwear after spying the iconic fedora that Harrison Ford's character wore in the Indiana Jones movies. While most teens were outside playing sports, Eric spent his free time going to antique stores in search of hats and old hat-making machinery.
After earning college degrees in aviation studies and international studies, Eric went on to flight school, where he met his wife, Emily. Following the recession of the late 2000s, the couple moved to Arizona, where Emily got a job as a flight instructor and cargo pilot at Phoenix Deer Valley Airport.
In 2012, the couple opened their first hat business in a 500-square-foot storefront in the Las Tiendas shopping center. As business flourished, the Watsons were able to move to a larger space. In 2014, they purchased their current location — a spacious corner store in Cave Creek's Stagecoach Village, and in 2017, Emily left the skies and joined her husband full-time in the store.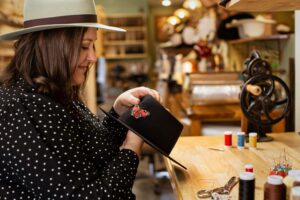 Reviving Craftsmanship
Walking into Watson's Hat Shop is like taking a step back in time. Antique cast-iron machines clank and hiss as unformed felted blanks are pressed and steamed into shape. Hundreds of wood hat blocks — each with a different height, circumference, taper, dent and tip — line shelves behind the workstation.
A table in a small seating nook displays a cylindrical Victorian-era device made up of dozens of metal "pins." This peculiar yet essential contraption, which looks like a steampunk prop from a sci-fi film, takes an exact impression of a client's head.
"When people come in here and see the shop and the vintage machinery, suddenly it's not all about the hat," Emily says. "It's also about what we do."
All of Watson's hats are made from beaver felt, which is durable and breathable. Prices start at $599 for a 50/50 blend of beaver fur and European hare and go up to $1,999 for an 80/20 mix of beaver and mink. The most commonly used felt is 100 percent beaver fur, which runs $999 for a custom hat.
"Beaver is the best fur," Eric explains. "It's stronger, lighter weight, denser and more waterproof than other materials. It also can be cleaned, re-blocked and made to look new over and over again. We have a signature felt, as well, which is made from pure belly beaver fur. It has this natural sheen and velvet feel to it. When it's finished, it just glows and glistens."
While traditional cowboy hats and classic fedoras for men will always be mainstays at Watson's, in recent years, the couple has expanded the business's selection of women's headwear. Like the men's line, the Lady Watson Collection includes Western hats, fedoras, trilbies, bowlers and Panama hats. The styles are the same as they are for men, but they are often crafted from pastel and jewel-tone felts and feature feminine hat bands, floral accents and even jewels. The collection also includes fashionable wide-brimmed sun hats, soft floppy hats and chic bolero hats.
Looking for something a bit more personalized? For the past three years, Emily has been adding her own special touch to the Lady Watson pieces: embroidered designs that are hand-stitched onto the felt hat bodies.
"People think the artwork is embroidered by a machine, but no, I sit there with the hat, and it's in and out, one stitch at a time," she describes.
Eric is quick to sing her praises.
"She has a God-gifted artistic ability," he says. "She draws and paints beautifully, and one day she was like, 'I guess I can paint with thread.' She took the Lady Watson Collection to a whole new level — it's chic and trendy."
Inspired by nature, most of Emily's images are of plants and animals. Threads layered in multiple colors form realistic-looking birds, flowers, cacti and desert landscapes. Just about any image a customer can dream up, Emily can create.
"I've had requests for a tiger's face, deer heads, hummingbirds, treble clefs," she says. "I even did a garden scene where every flower was a different color, and the lacey ribbon I put around the hat looked like a picket fence."
Depending on the size and complexity, this delicate decoration can take up to six months to complete and can add anywhere from $250 to $1,000 to the price of the hat.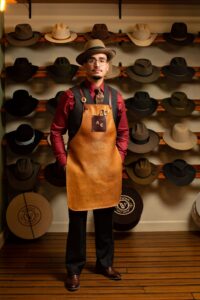 Perfecting an Art Form
Since its early years, Watson's has been a favorite of folks who take brims, crowns and creases seriously, from rough-and-tumble cowpokes to collectors of quality chapeaus.
"We get Christmas cards from customers who love their hats," Eric says. "Some people will call us and tell us personally when they receive their hat; they'll even take photos of themselves with it on and send those to us. What's really neat is when someone will drive or fly here just to get fitted for a custom hat."
As business continues to grow, so does the list of national recognition and accolades. In the mid-2010s, Hollywood came knocking. Watson's was named the official hat maker for the Netflix Western miniseries "Godless." Today, customers can purchase their own version of hats worn by lead characters Roy Goode, Alice Fletcher and Mary Agnes.
The shop also designed headwear for Syfy's "12 Monkeys" and was featured on INSP's "Handcrafted America." And Eric and Emily tease a new historically based TV show currently in production that will showcase their creations.
In January 2022, Eric was awarded the Excellence in Historic Preservation Medal by the Daughters of the American Revolution. The honor recognizes his efforts to preserve traditional hat-making techniques with antique equipment, "ensuring that a piece of American history lives on in each hat that he creates."
"Any craftsman or artist will always have some sort of pride in what they produce," Eric remarks. "But at the same time, you're always trying to be humble."
To keep up with customer demand, the couple plan to open a second facility in their hometown of Tiffin, Ohio, about an hour south of Toledo. Using the same techniques and antique equipment, the hats will be formed in Ohio and shipped to Cave Creek for the finishing touches, speeding up the production process. Currently, it takes eight to nine weeks to make a basic custom hat.
"One thing I learned during the pandemic is that people now are a little more reluctant to wait on something," Eric explains. "They want instant gratification. For a year, we couldn't keep the shelves stocked with hats. This new location will speed things up."
The couple hope to have the Ohio facility up and running this summer.
Whether you're a ranch hand looking for a hat that can withstand the harsh element and everyday wear and tear of the job or you're in the market for a classic heirloom-quality piece that will be handed down through generations, a Watson's hat combines the craftsmanship of the past with a quality that will last long into the future.
"It's our name in that hat, and that means something," Emily says. "We put our heart and soul into each one. I want you to look good, and I want you to be confident while wearing one of our hats."