Writer Susan Kern-Fleischer // Photography Courtesy of Brian Lensink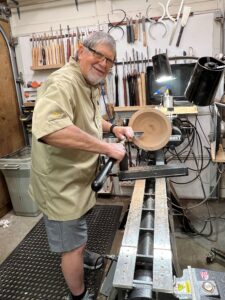 Ahwatukee resident Brian Lensink is one of those people who throws himself into his work.
After graduating from the University of Minnesota with a minor in special education, he pursued a 35-year career helping people with developmental disabilities. During that time, he earned a master's degree in educational administration and served as state director of developmental disability services in Arizona, Colorado and Connecticut, where groundbreaking work was done to transform how services were provided to people with disabilities and their families.
Today, Lensink is an award-winning woodturner who turned his avocation into a thriving profession. Since retiring more than a decade ago, he has shifted his energy to mastering his woodturning skills.
Making his debut at this year's Hidden in the Hills Artist Studio Tour — taking place during the last two weekends of November throughout the scenic Desert Foothills communities of Cave Creek, Carefree and North Scottsdale — Lensink's passion for creating original decorative, functional and artistic utilitarian pieces has earned him many accolades. Moreover, his work is represented by art galleries in several states.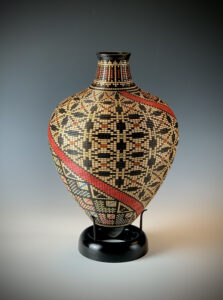 Moved by Mobiles
Lensink grew up in a creative household in Minneapolis, where his mother and grandmother taught him how to sew, knit and make baskets.
"I have been working with my hands and with tools for as long as I can remember," Lensink says. "As a child, I would make things all the time and had my own toolbox. Later, in college, I majored in industrial arts education, where I focused my studies on the areas of graphic arts, woodworking, metalworking and photography."
Though his minor in special education won out when he was faced with making a living, he continued to create art in his spare time.
In 1978, he visited the Calder's Universe Exhibition at the Joslyn Art Museum in Omaha, Nebraska, where he was living at the time.
"It was a life-changing experience for me," Lensink says. "I was absolutely captivated by the work of Alexander Calder and his ingenious designs, whimsical imagination and creative use of materials."
Calder is renowned for his innovative, three-dimensional kinetic sculptures — or mobiles — as well as for his contemporary static stabiles.
"That captivation has never subsided whether the medium is metal or, as now, wood," Lensink adds.
The Calder exhibition inspired Lensink to devote his creative energy and skill to making mobiles, stabiles and other sculptures in motion. For the next 40 years, while still working in his primary career, he created more than 300 unique mobiles in his free time. He began to exhibit his mobile sculptures at art galleries, which piqued his interest in someday pursuing art as a career.
Sculptural Stimulation
One day, Lensink decided to see if he could make mobiles using wood elements. The more he worked with wood, the more fascinated he became with it.
When he retired in 2012, he began working on a wood lathe at a local wood shop, where he started to learn how to shape and hollow out wood pieces. Over the next two years, he created his own 2,200-square-foot studio packed with tools. He joined the Arizona Woodturners Association — for which he currently serves as president — and began learning more from the many talented woodturners in the club.
A few years later, he studied with one of his mentors, Malcolm Tibbetts — a world-renowned wood artist from South Lake Tahoe who is a master of the intricate art of segmented woodturning.
"Woodturning is an art form with few limitations," Lensink says. "By combining components and techniques, you can create just about any shape or size. By arranging different wood species, you can create many types of surface designs. Add carving, texturing and painting and the possibilities are endless."
Lensink uses a variety of woods — some from metro Phoenix's urban forest, including mesquite, ash, African sumac, sissoo and ironwood. On occasion, he will use exotic woods, such as ebony, spalted tamarind, bloodwood and wenge. While he creates many functional pieces — such as pepper and salt mills, salad bowls and platters — he prefers working on artistic and sculptural pieces.
"That's what keeps me stimulated," he explains. "I really enjoy making sculptural designs that no one has ever done before."
Because precision is so important, Lenskink begins by sketching out his design using a computer software program made especially for woodturners. Sometimes, when he's making a bowl, he'll take a half log, put it on the lathe and just start shaping it.
Much of his work is created through segmented woodturning, a woodturning technique where multiple pieces of wood are cut and glued together into rings. The rings are then stacked and glued, creating a rough shape ready for turning. The piece is then attached to a faceplate, put on the lathe and its shape is refined using a variety of turning tools. While the process requires patience and attention to detail, the artist loves the challenge each piece presents.
"Great craftsmanship is seen in the form of the shape and in the details," Lensink says. "When gluing tiny pieces of wood together, it's important to make sure the joints are perfect with no gaps or cracks."
He also needs to have command of the lathe and know exactly how and when to use each of the various woodworking tools.
"A piece might be spinning at 1,000 revolutions per minute, and my mind is always engaged, contemplating the possibilities of my next move," he says.
While the work can be labor intensive, Lensink says that it is also very therapeutic.
"I can be turning a piece for three or four hours and get lost in it," he explains. "There are few art forms that give you this type of freedom."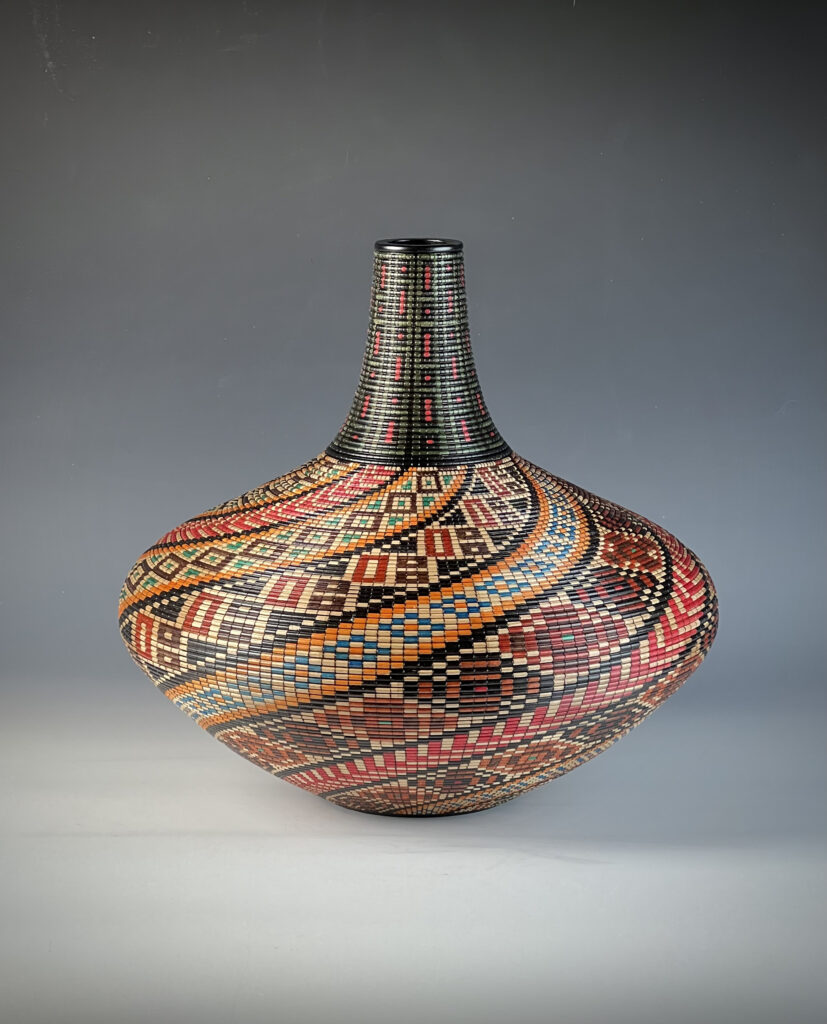 Embracing the Unexpected
From a design perspective, Lensink often likes to use spalted wood, which is wood that has been affected by bacteria.
"The nutrients are extracted from the wood, leaving little black lines," he says.
The artist also enjoys using woods that crack, such as olive wood. When presented with cracked wood, he'll crush turquoise and other minerals so it's granular and then fill the cracks to enhance a piece.
Sometimes while he is turning a bowl, he'll find a surprise in the wood — such as a nail or piece of barbed wire.
"That can create a design opportunity," says Lensink, noting that surprises challenge him to figure out a creative solution to maintain his original design plan.
After shaping a piece on the lathe, he either applies paint, stain or an oil finish. Many of his lighter-colored pieces are intricately painted with India ink using a technique called basket illusion.
"I use maple wood, which doesn't have a strong grain pattern and is a very light color, making it a good canvas for painting," Lensink explains. "The India ink comes in pens with different sized tips on them, so I'll spend a lot of time painting the little squares that I cut into the wood using a beading tool and wood-burning pen. One piece might have more than 10,000 tiny squares that I paint individually."
During the Hidden in the Hills Artist Studio Tour, Lensink will showcase and sell a variety of his decorative vessels and bowls, functional pieces and artistic utilitarian sculptures at Carol Fleming's Terra Nova Studio No. 46 in Cave Creek. Fleming — a talented, deaf ceramic artist — will also be participating in the event for the first time this year.
"Beautiful wood is a magical medium," Lensink says. "People love to touch the surfaces to feel the shape, texture or smoothness of the wood. I create with this art form because it is fun, and I'm looking forward to sharing my passion with guests during the tour."
Experience
26th Annual Hidden in the Hills Artist Studio Tour // Nov. 18–20 and Nov. 25–27 // 10 a.m.–5 p.m. // See website for locations // Free // 480-575-6624 // hiddeninthehills.org