Writer Joseph J. Airdo // Photography Courtesy of Bryce Pettit
Pulitzer and Nobel prize-winning author Saul Bellow once said that a writer is a reader who has been moved to emulation. Bronze sculptor Bryce Pettit strongly identifies with that sentiment, very much feeling the same way about art and wildlife.
"I feel like the beauty of the natural world moves me so much that I have to find a way to express that," he explains.
Having grown up surrounded by nature, Pettit's deep love for the world around him and his desire to create art have always been closely linked. When he entered college, he studied biology and the natural sciences followed by graduate studies in ecology. Eventually, his passion for art became undeniable and he focused full-time on an art career.
"One day, I realized that I could make sculptures of animals instead of just writing papers about them," Pettit says. "It suddenly dawned on me that this was something that I could do for a career. I loved it so much that I thought I may as well give it a shot."
After initially sculpting for a variety of architectural and hardware companies, Pettit followed his innate curiosity to learn the science and industrial mechanics of bronze casting and metallurgy. He began traveling the country, exhibiting his sculptures anywhere there was a willing audience.
Nearly 25 years later, he has had his work featured in a variety of galleries and exhibitions and has even been selected for several large public works — including for the Tulsa International Airport, the Maritime Museum in Ludington, Michigan, the Na 'Aina Kai Botanical Gardens in Kawai, Hawaii as well several libraries and schools.
Exhibited and sold locally at Sue Bickerdyke Interiors Home Furnishings and Art Gallery in Carefree, Pettit's work has amassed a passionate following, with collectors eager to be among the first to discover the artist's latest creations. Sculptures of everything from bees and tarantulas to rabbits and raccoons to bears and even the mythical jackalope tell stories that extend far beyond what meets the eye.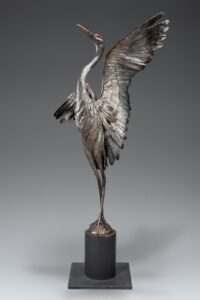 Promises to Keep
"I find the inspiration for my work in the natural world, but my sculptures are not just models of animal subjects," Pettit says. "Each piece has an underlying story and is imbued with feeling and emotion.
"My work is meant to teach and inspire — both about the animals and about ourselves. The amazing diversity of fur and feathers, limbs, bodies, beaks, hooves and claws give me endless elements with which to create. Through its great variety, I feel like I can use the animal form to convey any message."
For example, a rabbit may be used to convey a quiet or fun story while a bear or an eagle may be used to convey a strong or powerful one.
"I use wildlife as a medium to tell all kinds of stories," Pettit continues. "Oftentimes, it is a subject in which I am interested or a personal story that I want to tell. My sculptures are a window into my soul. I pour into the clay my hopes and dreams, my love, my pain, my insights, my understanding. Through my work, I can tell you my story."
Just one of the many stories Pettit has told exists within his sculpture of a sandhill crane — an avian species that migrates across North America each winter.
"They then fly back to their summer breeding grounds," Pettit says. "I love to think about that herculean effort and how they mate for life, keeping their promises to the next generation. That is why I called that sculpture 'Promises to Keep,' a nod to Robert Frost's poem 'Stopping by Woods on a Snowy Evening.'
"Animal migration is such an interesting subject to me. It forces us to think about the earth as a whole. Animals do not just live at whatever address on whatever street; they live all across the world. I love the ideas of connectivity and all spaces being important — which is something that I think we are lacking a lot in our understanding of the natural world."
Therefore, there are always at least three ways in which viewers can appreciate Pettit's work.
"For me, a successful sculpture must always have all three aspects," he explains. "Some people just want something beautiful to add to their home. And I am totally fine with that. They do not need to know the story. They may not even care about the story. There is then a second, deeper level of appreciation, [encompassing an] understanding of the thought that has gone into the artistic composition or subject matter.
"The third, even deeper level of appreciation is the story. For example, I see my sculpture of the sandhill crane as very much a metaphor for the efforts to which I would go for my own kids. People can appreciate and access that appreciation of my work at whatever level they want to."
Pettit would never dare try to force the stories of his sculptures upon people. However, he believes that it is important that each and every piece is created with those deeper meanings.
"The power that any piece of art has to connect with another is derived from its authenticity," he explains. "If you do not create it with all of that deeper meaning, it somehow does not feel right to the viewer. I think that people can sense whether or not something was made with feeling and authenticity. People respond somehow and sense when something was made with care and love."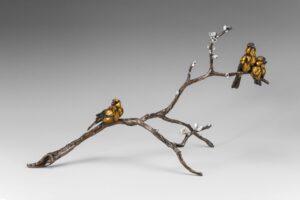 The Flower of One Perfect Idea
In order to continue to gather inspiration for new sculptures — and, therefore, new stories — Pettit spends as much time out in nature as possible.
"I live in the mountains in Colorado and have animals all over — just outside my back door," he says. "I love that. I try to stay in touch with my child-like curiosity and interest in things. I think, as an artist, part of my job is to let myself be led and tell those stories out to the world."
Pettit's education in biology, ecology and the natural sciences has played a big role in his ability to accurately capture and convey those stories.
"Understanding the anatomy of animals — how they are put together and how they move — is very important for me to be able to stylize or manipulate a form or present it in such a way that it creates the feeling that I want," explains the artist, whose home office is decorated with not only his finished and in-progress sculptures but also skulls from a variety of different species.
Although Pettit has sculpted a few human figures, the vast majority of his work has revolved around wildlife — including his piece, "The Flower of One Perfect Idea," which, drawing its title from a Mary Oliver poem, depicts goldfinches on a branch, signifying the beauty of small and simple things.
"With human figures, we bring a whole bunch of baggage to it," says Pettit, noting that subjective qualifiers like beauty or lack thereof tend to interfere with the sculptural message. "With animals, it is one step removed. We can see a sculpture of a fox and identify with the beauty or softness of that without personalizing it too much."
Pettit first sculpts each piece in oil-based clay. Through a process known as lost-wax casting, the clay sculpture is then transformed into a ceramic shell. Molten bronze is then poured into the ceramic shell, creating the nearly completed piece, to which a variety of patina finishes that catch the light and complement the sculpture are applied.
"A lot of sculptors like to choose a single finish, but I prefer to let the piece, message or mood that I am trying to create dictate it," the artist says. "If there is an exciting or fun theme, then I will use brighter colors. If there is something that is meant to convey something quieter, then that will have darker or softer colors. I really let that underlying message dictate the whole thing."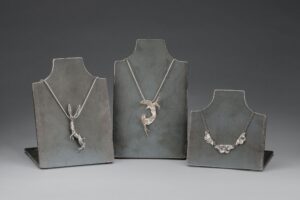 Cloud Nine
Believing that every aspect of one's life should be beautiful, Pettit recently introduced a line of jewelry that gives people an exciting new way to incorporate art into their lives. It started with belt buckles and quickly expanded into bracelets, necklaces and other wearable items.
"For me, jewelry is just small sculpture," says Pettit, noting that pieces are often miniaturized versions of his sculptures — which range from indoor wall and tabletop items to those better suited for one's yard.
One of the items that are exclusive to Sue Bickerdyke Interiors Home Furnishings and Art Gallery and have become something to which people look forward with bated breath each year is a holiday collectible that is unveiled at the its November art night
"Every year, it is a surprise," Pettit says. "I am not going to ruin the surprise of what it is this year but, each year, we create a new collectible that is kind of like a Christmas ornament. Last year's holiday collectible was a peaceful little bobcat that I named Cloud Nine, which was a nod to my cat Clouser.
"Two years ago, it was a quail. And the year before that, it was a roadrunner. We always try to do some sort of theme that relates to the Sonoran Desert. I do not know if anyone would ever let us stop making those. There are a number of collectors who would be very upset."
Sue Bickerdyke, the home furnishings and art gallery's namesake and owner, loves working with Pettit and making the artist's bronze sculptures available to her valued clients.
"Bryce is as nice as he is talented," she says. "His work is full of expression and life. For example, his full-sized sandhill crane stands elegantly in a ballerina pose. Its wings are positioned with grace, one up over its head and the other down [at its side]. Its feathers are fabulously catching the breeze, exaggerating the stunning detail. I do not believe that there is anyone who sculpts bronze feathers better than Bryce."
Pettit says that the feeling is very much mutual.
"Sue is so wonderful to work with," he says. "She creates beauty. It is never just stuff to her. It is never just decorating a home. It is creating a mood and reflecting the person within it. I really relate to that. It is one of the reasons I really connect with her."
Pettit adds that art is enmeshed in every single aspect of his life.
"Whether I am making dinner and trying to present it beautifully or taking a morning walk and seeing a bird fly across the path of the trail in front of me, everything in my life is intertwined with art," he says. "All of that feeds into my sculptures. Everyone talks about a work-life balance, but I cannot do that. I try to incorporate beauty into whatever I am doing all of the time."
Experience
Bryce Pettit // Thursday, Nov. 17 // 4–7 p.m. // Sue Bickerdyke Interiors Home Furnishings and Art Gallery // 36889 N. Tom Darlington Drive, Suite B1, Carefree // Free // 480-595-0171 // suebickerdyke.com