Writer Susan Kern-Fleischer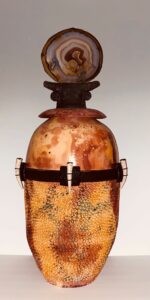 Growing up in Kannapolis, North Carolina, Myron Whitaker never imagined pursuing a career as an artist. In fact, he spent more than 16 years manufacturing 18-wheelers.
One day, Whitaker ran into his high school art teacher, who encouraged him to take a ceramics class that she was teaching at a local community college. The class fueled his passion to learn more and, within a few years, he left his job to work full-time as a ceramic artist.
"When I first started doing ceramics, it was pure fun," Whitaker says. "And then I fell in love with it. I'm really living my dream. When I sit down on the wheel to throw clay, I know that's where I'm supposed to be."
Today, some 14 years later, Whitaker splits his time between Arizona and North Carolina, often traveling throughout the country to participate in prestigious shows and check on his work in various art galleries.
He is best known for his large-scale, raku-fired vessels — such as the one that graces the cover of this year's Hidden in the Hills Artist Studio Tour directory.
"Raku is one of the most exciting and rewarding parts of the ceramic process," Whitaker says. "The anticipation of instantaneously seeing red hot clay pieces evolve into the final glazed and black smoke artwork is the most gratifying part of the journey."
The signature event of the nonprofit Sonoran Arts League, this year's 26th annual Hidden in the Hills event features 174 artists at 47 studios throughout the scenic Desert Foothills communities of Cave Creek, Carefree and North Scottsdale.
Showcasing both nationally recognized and emerging artists, the popular art tour attracts thousands of patrons who appreciate fine art and seek a variety of mediums, styles and price ranges. With the event taking place the weekends before and after Thanksgiving, the tour also attracts holiday shoppers who want to find an original, unique gift.
For art collectors and enthusiasts who return year after year, the artist directory has become quite a collectible. For participating artists hoping to gain more exposure, being selected as a featured cover artist is often an honor that adds more prestige to their professional achievements.
Exhibiting and selling his work at mixed media artist Carlos Page's Studio No. 32 in Cave Creek, Whitaker says that he is honored to have one of his vessels chosen for the cover of this year's directory. Titled "Large Ferric with Agate," the contemporary piece features rich textures and earthy colors.
"Ferric actually refers to the firing process," the artist explains. "It's an acid that I pour over the vessel before firing it. In this case, I used more than 40 pounds of clay to create the vessel, and I decided to use ferric instead of a glaze in order to bring out the earthy colors and give it a primitive look."
The inspiration for the piece — a striking Brazilian agate — sits atop the vessel's handle. A leather band with tusk-shaped ceramic adornments is also a focal point, separating the contrasting textures from top to bottom.
"Before I sit down to throw a piece, I decide which stone or fossil will be a focal point," Whitaker says. "Some people think I create the vessel first, but I need the stone or fossil to guide me as I determine the shape, size, texture and color palette for each piece."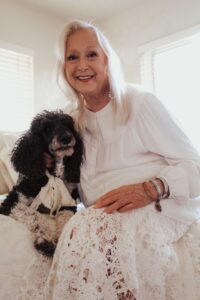 Romantic Realist Paints the Beauty of Nature
Inspired by light, movement and rhythm, watercolor and oil artist Jeanne Bonine's beautiful floral painting "Star Struck" is one of three diverse artworks that will be featured on the back of this year's artist directory.
With more than 50 years of experience, Bonine conveys a sense of strength and beauty in her award-winning paintings of nature. Host of Studio No. 21, Bonine is internationally known for her rich and lush floral paintings. Her larger-than-life oversized oils and watercolors draw tour guests into the essence of her subjects from exotic birds and garden wonders to the majesty of a single rose.
Besides the hidden charm of her property and the artistic touch of her holiday vision, guests will experience more than 60 of her originals and limited edition giclees hung throughout her home and studio. She will also feature her yearly heirloom hand-painted ornaments, new greeting card sets, mini oils on easels, and her coffee table book, "Inspirations of Timeless Beauty."
Bonine began her career selling her paintings in her hometown of St. Paul, Minnesota. Her continual persistence and hard work led her to one-person showings in galleries, exhibition trade shows in New York and Atlanta, as well as three museum showings in Arizona, where she found her true home.
While her early work was ethereal and soft, her paintings have evolved to become bigger and bolder, showing both strength and softness. She also began to write prose to accompany each painting.
"My role as an artist has not wavered in this changing world; it has only strengthened," she says. "Now, more than ever, we have a need for beauty, for peace and for enlightenment."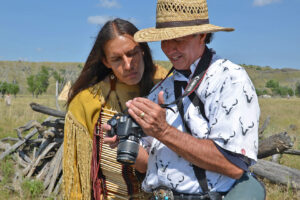 Sharing Stories of the American West
The second of the three artworks featured on the back cover of this year's artist directory, "Chief of the Blackfeet," is a stunning bronze sculpture by Randy Galloway. The piece is modeled after an old black-and-white photo of Chief Weasel Tail, a noted warrior and historian who was renowned for his detailed knowledge of the early Blackfoot life and mythology.
Galloway's Studio No. 33 is in an earthy territorial-style home in the peaceful, magnificent foothills of the high Sonoran Desert in Cave Creek. An award-winning artist and a longtime participant of the Hidden in the Hills Artist Studio Tour, Galloway is best known for bringing the beauty of the American West to life through his artwork.
Born in Carlsbad, New Mexico and raised in Albuquerque, Galloway attended Arizona State University, receiving a Bachelor of Fine Arts in graphic design with a minor in painting. After enjoying a long and successful career in illustration, graphic design, art direction and computer graphics, he decided to return to his first artistic love of painting and drawing.
Galloway's professional art career has included oil, acrylic, watercolor and chalk pastel paintings, as well as various drawing mediums, computer graphics and now sculpture.
Western culture, he says, is part of his soul.
"Being one-eighth Cherokee and growing up in New Mexico surrounded by art created by Pueblo Indians, I have a deep-rooted respect for the Native American culture, and I am fascinated with their ancestral beliefs and the exquisite craftsmanship and symbolic stylization in their arts and crafts," he explains. "Some of my other favorite subjects include ranch life, mountain men, wild west settlers, portraiture, landscapes and wildlife."
Galloway likes to tell stories in his artwork of a "not-so-wild-west." His romantic realist styles are masterfully rendered, insightful, intriguing, clever and rich in detail and color.
A history buff who is fascinated with stories relating to the mix of cultures over 200 years, Galloway says the West provides a never-ending resource of imagery.
"Sometimes I'll read about the West, watch an old Western movie or take a special photo during a reenactment that will spark an idea and then I'll work to create that scene with the hope of capturing the light, drama, atmosphere, reality and emotion of that special moment," he says.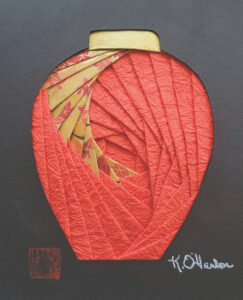 Keeping a Dying Art Alive
Karen O'Hanlon, the last of the three artists whose work is featured on the back cover of this year's artist directory, is best known for designing Japanese Chiyogami and Washi (paper) kimonos created in the same detailed fashion as full-sized traditional robes.
Each piece is unique because they have the appearance of fabric, but they are actually paper. The high-quality papers are made by master craft artisans in Japan using traditional as well as modern tools and techniques.
As a regular visitor to Japan during her career as an international flight attendant, O'Hanlon became fascinated with Japanese paper art.
"I was fortunate to meet and study traditional Japanese paper arts under a master sensei, Yuriko Kodama," she says. "At the time, she was 79 years old, and she taught her specialization of creating three dimensional dolls, known as washi ningo. When I was having challenges, she suggested I concentrate on the kimono. Perfection was the goal, and if the slightest error was made on the kimono, she would take that particular section apart."
It took O'Hanlon, who will showcase and sell her new work at Beth Zink's Studio No. 29 in Cave Creek, five years to master the art of the paper kimono. The exquisite and unique kimonos are constructed using Kozo (mulberry paper) featuring popular designs from the Edo period (1600–1868).
"I use two types of kozo," she says. "One is chiyogami, which is decorated with brightly colored, woodblock-printed patterns. The other is yuzen, which includes patterns based on traditional silkscreen designs derived from the silks of the Japanese kimono."
Several years ago, O'Hanlon expanded her use of Japanese paper by creating ginger jars — such as "Red Autumn," her work that is featured on the back of this year's Hidden in the Hills artist directory. O'Hanlon uses 40–50 folded strips of Japanese paper taped and glued into place over a pattern creating a spiraling design resembling the iris of an eye or camera lens.
Experience
26th Annual Hidden in the Hills Artist Studio Tour // Nov. 18–20 and Nov. 25–27 // 10 a.m.–5 p.m. // See website for locations // Free // 480-575-6624 // hiddeninthehills.org