Writer Joseph J. Airdo // Photography by Fran Booth
More than one century ago, a thousand officers and men of the American Expeditionary Forces came together to form the nonprofit organization known as the American Legion.
Founded on the pillars of veterans affairs and rehabilitation, national security, Americanism and children and youth, posts popped up across the country, providing the men and women who have served the United States of America an opportunity to continue to do so while also supporting one another in the process.
"There is a camaraderie that you have within a post," says Dan Schwerdtfeger, commander of American Legion Post 34. "Those who join the military make up only 1% of the population. It is such a small group. So we need to stick together and continue to watch each other's backs."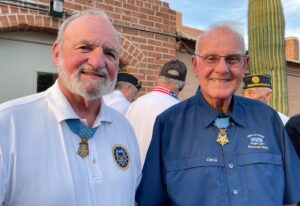 Members of American Legion Post 34, which was chartered on Jan. 2, 1947, have been doing exactly that while simultaneously giving back to Cave Creek and Carefree's charitable organizations for more than 75 years. Schwerdtfeger says that longevity is quite an accomplishment considering many other posts have closed over the years due to declining membership and insufficient financial support.
"American Legion posts are really getting smaller and smaller, because [many younger] veterans do not want to belong to a post," Schwerdtfeger says. "They would rather just support one another through social media — which is kind of sad."
He adds that the brotherhood and sisterhood that American Legion posts provide is not something that can be replicated or substituted via the internet.
"But we have been fortunate because we are located in a unique area as far as Cave Creek being a little tourist town," says Schwerdtfeger, noting that while national American Legion membership has declined by more than 3 million members over the years, American Legion Post 34's membership and financial support actually continue to increase.
"Our post right now has about 500 members and we [organized] one event this past January that raised about $20,000. That was during one event. All of that money is donated to several different charity groups to support veterans."
With a mission to support and advocate on behalf of veterans, active military and their families, American Legion Post 34 consistently reaches out to assist veterans and others in need. Recipients of the post's support include the Veterans Heritage Project and the Marine Corps-Law Enforcement Foundation.
"We support not only those within our community through different crises but also veterans in other communities," Schwerdtfeger says. "Our post last year donated more than $60,000 to the MANA House, [a peer-support organization of homeless and formerly homeless veterans]. Those funds help them to get back on their feet, get a job and get back on the right path."
Schwerdtfeger adds that the same support is extended to every veteran who may have fallen on hard times or is struggling in some way. After all, as much as the general population wants to help those who served our country, no one better understands a veteran's situation than another veteran.
"They still have to put their own boots on, but we help them with counseling, finances, education and anything else that they may need," he says.
American Legion Post 34 is also committed to making the communities of Cave Creek and Carefree better places for all as its members volunteer with and make regular donations to Foothills Food Bank and Resource Center, often speak at schools and even assist with scholarships. It is all in the name of fulfilling their continued sense of duty to their country — which is just another benefit of belonging to an American Legion post.
"When you get out of the service, you feel kind of lost," Schwerdtfeger explains. "Supporting another veteran and others in the community gives you a great feeling of still being in the military."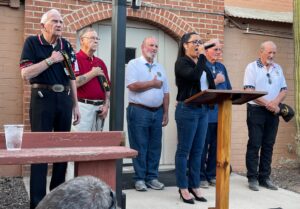 In celebration of its 75th anniversary, American Legion Post 34 will host several exciting educational and themed events throughout this year. Schwerdtfeger says that the post is eager to share its rich history, values and honorable work with the communities it serves.
"There will be nostalgia at every bend as we transport people back in time to places our veterans knew," Schwerdtfeger adds. "While we will share veteran stories throughout the years, we also will showcase the war eras and our veterans' role in supporting freedom. For each event, living veterans will be invited to attend so they can be honored by all in attendance."
Each event will feature a theme that reflects a certain era — be it that of World War II, the Korean War, the Vietnam War or the Afghanistan and Iraq conflicts — complete with entertainment that transports veterans and the community at large back to that moment in time. Schwerdtfeger likens the events to the USO shows that take active service members' minds off of where they are and what they are doing while giving them a little bit of a taste of home.
The events will be celebrations for sure, but they possess much deeper significance, as well.
"We want to honor our past members who are no longer with us and what they started while also celebrating our current members — especially the fact that they are home and they are alive," Schwerdtfeger says.
The commander adds that while the majority of American Legion Post 34's membership is made up of Vietnam War veterans, its members' ages run the gamut. The post's youngest members, having just gotten out of the military, are 21 years old while its oldest members are 95 years old.
"I think that we are down to only two members who are World War II veterans," Schwerdtfeger says. "We want to honor them. It is such a delight to be a commander at this point in time and to watch how this post is flourishing with young members who are coming in to support our older members."