Writer Shannon Severson // Photography by Rob Madden
More than 70 million people in 44 countries and 22 languages have seen "Les Misérables," the powerful musical theater adaptation of Victor Hugo's novel of the same name. The show is the sixth longest-running Broadway production of all time — and now the school edition is coming to Carefree's Sanderson Lincoln Pavilion April 21–30, courtesy of Desert Foothills Theater.
"'Les Misérables, School Edition' is going to be performed as our season finale and it is our biggest show of the season," says director Sandi Carll, who is also Desert Foothills Theater's interim managing director. "We are so excited for it and to be able to perform it at the beautiful Sanderson Lincoln Pavilion outdoors will make it a truly magical evening."
The show is another landmark in a season that has seen the arts come roaring back. Carll says there's an axiom in the theater community that says, "Intermission is over!" Performers are ready to get back to creating great things and Desert Foothills Theater has been doing that all year.
Carll notes that this final production of a very successful six-show season will be the theater's teen performance and has attracted a large cast of the most talented teens in the Valley.
"They've been looking forward to this show for the whole year," Carll explains. "Many will be seniors and this will be their last performance on an Arizona stage before they go on to pursue the arts in different ways.
'"Les Misérables' requires a lot of acting chops and musical talent. This performance will challenge them, but they're excited to have the opportunity to tackle a show that has a rich history on Broadway and as a touring production."
Creating an outdoor set from scratch is a challenge in itself, but "Les Misérables" is a particularly tall task — one that Carll is confident her talented team of designers and set builders will meet and exceed.
"We have a wonderful team that is eager to create the set for the French battle scenes," Carll says. "The big scene in the show that everyone comes to watch is the battle scene. Our focus is finding a way to tell that story in a very exciting set piece — the barricade. That will help us tell this dramatic story and lead to the conclusion as the town goes to battle."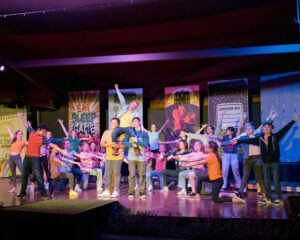 This is the second time that Desert Foothills Theater has concluded its season with a show under the stars at Sanderson Lincoln Pavilion, which has given theatergoers the opportunity to enjoy the surrounding gardens and visit the shops and restaurants that surround the Carefree Sundial. Carll says that 800 people came to watch "13: The Musical," which was the season finale show last year and was extremely well-received.
These end-of-year teen shows feature many young people who have participated in Desert Foothills Theater's youth programs since they were small. This season finale helps set the stage for the theater's program of five summer camp sessions for children ages 7–13 in June and July.
Desert Foothills Theater has considerably expanded its outreach to the community this past year with a successful afterschool theater arts training pilot program at Paradise Valley Unified School District's Grayhawk Elementary School. There is also a new partnership with Notre Dame Preparatory High School, which has a brand new performing arts center on its campus.
Desert Foothills Theater will host its June summer camps at Notre Dame Preparatory High School, stretching the reach of the program beyond the Cave Creek/Carefree area.
"We want to go out into the community," Carll says. "Kids need the opportunity to have an outlet where they can come together, feel joy, be creative and support each other in a different way. Learning how to be in a musical together and taking on the responsibility of learning lines, dances and music is important."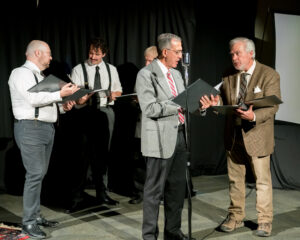 Looking toward the 2022–23 season, Carll says that the future is bright. She adds that the support of The Holland Center, led by executive director Jennifer Rosvall, and community partnerships have been the foundation for keeping a thriving performing arts program in this corner of the Valley. It can be a challenge without a dedicated physical building, but that hasn't stood in the way of producing quality programs, which elevates the community for all ages.
Carll says that Desert Foothills Theater has worked with original artists here in the Valley for different performance pieces and welcomes that collaboration. The program presents many opportunities for community involvement, from volunteering to performing and sponsorships.
"I am absolutely excited to build on the momentum we've enjoyed this year," Carll says. "There is going to be something for everyone in our 2022–23 season. I want the community to know that we've got you covered. We are going to continue our incredible programs. We also have plans for a play and musical for adult performers, shows for teens and a really popular adult workshop for improv that we are bringing back.
"We are here to serve this community in a variety of ways. Desert Foothills Theater has been a staple in town for so long. We want to continue the legacy of quality entertainment — a fun night out is available for everybody."
Experience
Les Misérables, School Edition // April 21–23 and April 28–30 // 7 p.m. // Sanderson Lincoln Pavilion // 101 Easy Street, Carefree // See website for price // dftheater.org