Writer Joseph J. Airdo // Photography by Lindsay Jenks and Austin LaRue
Contemporary artist Niki Woehler uses the hashtag #dowhatyoulove on every one of her social media posts for two reasons — one being a testament to her love of art. However, that was not always the case.
"I hated art as a kid," Woehler says. "I hated it! I used to climb up the window in my art class or ask the teacher to go to the bathroom then disappear for the whole class and come back at the end. That is how much I hated art."
Woehler says that her earliest experiences with art were dominated by rules rather than freedom and creativity.
"They wanted me to paint fruit in bowls and things that I found zero interest in," says explains. "They wanted me to color inside of the lines. I went to Catholic school and there was just no room for coloring outside of the lines. I am one of those people who, if you show me where the lines are, I am going to jump outside of them just about every single time."
Today, it is not uncommon for Woehler to paint for 18 hours straight, producing organic, textural canvas works as well as abstract, high-gloss resin art panels and customized waterproof art installations emphasizing rich color that often resemble stone scattered with minerals.
And although each piece is extraordinary, featuring lines, layers and textures that invade smooth facades as they exchange surface beauty for depth, character, strength and wisdom, it is the exceptional exuberance with which she creates them that is Woehler's greatest contribution to the world.
Turning In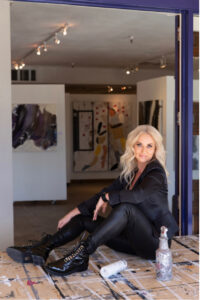 Woehler grew up in Toronto, where her mother was the vice-president of a large advertising agency. From the age of 14, she would often assist her mother with market research of products like potato chips among her peers and eventually decided to continue on that path.
After pursuing a degree in marketing from Sheridan College, Woehler's career delivered her stateside to Arizona where, at age 27, she experienced the devastating loss of a beloved colleague named Michael.
"He had gone to Vegas for the weekend, partied too much, fell asleep at the wheel on the drive home and died," Woehler says. "As I was driving home from his funeral in my little BMW Roadster, I looked up at the sky and said, 'You [jerk]. Today is such a beautiful day. You should be here enjoying it with me. I should not have to be coming home from your funeral."
It was then that Woehler heard a voice whisper in her ear: "Turn in."
"I looked over and saw a Michaels [craft store]," Woehler says. "To this day, I do not know what possessed me, but I pulled [into the shopping center] and went into Michaels. I bought three canvases, a bunch of brushes and a bunch of paints. Why? I do not know. I did not even like art."
Upon arriving home with her art supplies, Woehler created her first painting. She then sought the constructive criticism of her neighbor, Trish, who was an art professor at Arizona State University.
"She came in, looked at the painting, turned and began to walk away," Woehler says. "I asked, 'Is it that bad?' And she said, 'No. It is that good. The only advice that I am going to give you is to keep painting."
So she did. But after two more paintings, Woehler became pregnant with her first child — who, naturally, became her top priority. Before she knew it, she had two more children, one right after the other. She also still had a full-time job in marketing.
"There was certainly no time for painting," Woehler says. "So I put all of my paints and supplies in the garage and did not look at them again for about 10 years."
Looking Up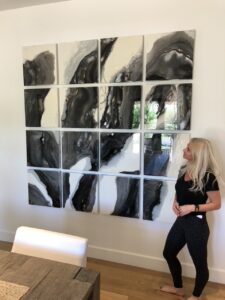 As Woehler's kids got older and required less of her attention, she decided to pull out her paints and put brush to canvas again if for nothing more than creative therapy. It was the first sign of her cognitive shift from seeing art as something from which she needed to escape to something into which she could escape.
In 2012, one of Woehler's ad agency clients discovered her secret hobby and commissioned her to create three custom paintings for her walls. Upon completion, the client offered Woehler a word of advice that would forever change her life.
"She said, 'You are really good at marketing but you are an idiot if you do not paint for a living,'" Woehler recounts.
It was an appealing proposition but one that felt too good to be true. Shortly thereafter, Woehler posted one of her paintings on Facebook — just for commentary — and somebody bought it within one hour.
"I posted another one and the same thing happened," Woehler says. "So I looked up at the sky and said, 'OK. I am paying attention to this. Here is the deal. I will put one more up. If it sells, I will close everything down and be an artist.'"
It was impossible to deny the universe's guidance when the third painting sold, so Woehler followed her passion and devoted herself to painting full-time.
"When I first decided to be an artist, I sold my dining room furniture, had a painting table built and worked out of my dining room for six years," Woehler says. "My kids and I ate around the coffee table every night and, amazingly, they never complained one time. They were so supportive of me and what I was trying to achieve; as were many of my friends who continually encouraged me in moments of fear or doubt — because, as a single mom, I definitely had many of them."
Now, Woehler has her own 3,000-square-foot studio in Old Town Scottsdale. Moreover, her work has been featured in exhibitions in galleries and showrooms across Arizona and caught eyes worldwide. Many top-tier interior designers integrate her work into their contemporary designs and she has also contracted with several top art consultants throughout the United States.
"It has been the most incredible journey," says Woehler, noting that, in 2017, CBRE commissioned a 54-by-6-foot installation for its new offices at The Esplanade in Phoenix and, in 2018, Indeed commissioned a custom logo art wall for its new head offices in Scottsdale.
That journey would have been impossible without the love and support of her children and friends for whom she is eternally grateful.
Making Room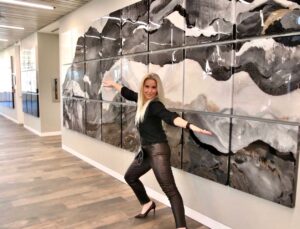 "For me, art is about creating beautiful things that share amazing connections with the people who find it," Woehler says.
The artist describes one such connection tied to a painting in which she used geometric shapes to create human form, inspired by Brian Andreas' poem "Making Room."
"'When I first met her, I knew in a moment I would have to spend the next few days rearranging my mind so there'd be room for her to stay,'" Woehler recites. "I illustrated what, to me, that meant with this geometric character meditating and his thoughts going out the window."
One of Woehler's former high school classmates discovered the painting on Facebook, where the artist had posted it without any description or explanation. When he told Woehler that he wanted to purchase it as an anniversary gift for his wife, who had seen it and fallen in love with it, the artist almost dropped to the ground in disbelief.
"He met his wife during a business trip to Brazil," Woehler explains. "When he saw her, he instantly fell in love with her and knew that he was not leaving without her. She did not even know the meaning behind this painting yet she gravitated toward it. Out of the hundreds of paintings that I have done, that was the one that she picked — and that was their story."
The artist adds that things like that happen all of the time, proving that the universe that guided her to art is still working its impenetrable magic.
"The universe really is magical," says Woehler, noting that her painting inspired by "Making Room" is in fact one in a series of works in which she, using the same geometric shapes, tells the story of her journey with man who, upon meeting, she instantly knew would change her life. "He has been and continues to be my love, one of my greatest supporters, teachers and best friend all wrapped into one."
Remarkably, each and every one of her paintings in the series has, like "Making Room," found a home with kindred people whose stories in some wonderfully miraculous way connect to them.
Dropping Down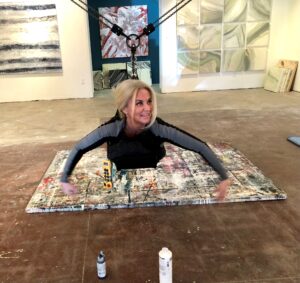 Woehler still has her first paintings — figurative pieces with bright, bold colors.
"The first one that I did was my own version of what a Picasso would be," the artist says. "When I went back to painting, after my kids were older, I discovered the abstract within me. I discovered the use of water and mediums and how you can make paint do amazing things. I almost never paint anything figurative anymore. Now I am mostly pure abstract on canvas. I also do resin work."
Woehler's paintings are inspired by objects ravaged by nature and the participating elements — including water, wind, earth and fire. She believes that the longer something stands the tests of time, the more interesting it becomes.
"I will be walking down the street and see a building where the metal has been rusted, eroded and etched over or a building that has been burned," explains Woehler, who is drawn to the details of the imperfect and intuitively feels when something needs its story told. "The patterns and the patinas that come out are just incredible.
"Or I will be walking through the wilderness and see some bark that is kind of gnarled on a tree and has all of these beautiful, incredible dimensions and texture. Those are the kinds of things that I stop and take photos of. Those are the kinds of things that pique my interest and imagination."
That imagination is larger than life, which poses a unique problem for the 5-foot-2-inch artist.
"I love to do huge paintings but I am vertically challenged," Woehler says. "And everything that I paint has to lay flat because I use a lot of liquid. I saw 'Mission: Impossible' where [Tom Cruise as Ethan Hunt] drops down from the ceiling and thought, 'That is exactly what I need.' But I did not have a space that would facilitate that kind of height until I moved into my studio on Main Street in Scottsdale."
During the COVID-19 pandemic, while all movie productions were paused, Woehler commissioned a team of Hollywood professionals to design and build flying gear — a motorized custom sling that works via remote control — that allows her to hover over enormous canvases as she paints and brings her remarkable vision to life.
That vision can be fully explored Thursday, March 17 during a special artist's reception at Grace Renee Gallery in Carefree, where Woehler's extraordinary work will be on display, including several one-of-a-kind pieces that that artist has made exclusively for the event. She will, of course, also be sharing her personal insight behind each painting — which are reflections of her own incredibly inspiring story of self-discovery.
Stepping Out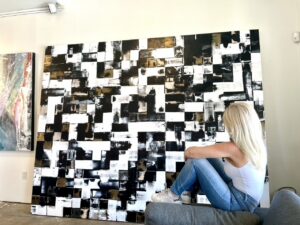 When asked what she would say to herself as a child if she were able to use her flying gear to travel back in time and drop down from the ceiling — "Mission: Impossible"-style — into her Catholic school art class, Woehler briefly pauses, suddenly overwhelmed with emotion.
"Here is what I would tell that girl," she says through reflective tears. "Do not just look at the surface of things. And do not just listen to what people tell you. I would tell her to dive deeper. I would tell her that she is going to find her freedom when she stops listening to what other people say and starts looking for herself."
Woehler adds that being able to convey that same very meaningful message to others through her art has been one of the most beautiful results of her work. It is the other reason that she tags every social media post with #dowhatyoulove.
"I get emails and calls from people who have watched my evolution and tell me that it has given them the courage to step out and try doing something that they love," she says. "I know that this gift has been given to me. I do not take it lightly. It impacts me very deeply. And it is 100% my duty and honor to shine that forward for everybody else — including my children.
"Just do what you love. And do it with passion, with conviction and with faith. Know that when you are doing what you are supposed to be doing, the universe will open all of the doors for you, everything will line up perfectly and it will be just fine."
By taking her own advice, Woehler has seen the universe continue to open doors for her — such as having her art exhibited in a show this month in Luxembourg in conjunction with the VAN GOGH Art Gallery in Madrid. She is also working on a few fun new projects, including painting designer handbags, which will be completed by the end of this year.
Niki Woehler
Thursday, March 17 // 4–7 p.m. with wine and appetizers // Grace Renee Gallery // 7212 E. Ho Road, Carefree // 480-575-8080 // gracereneegallery.com