Writer Joseph J. Airdo
Photography Courtesy of Desert Botanical Garden
[dropcap]D[/dropcap]esert Botanical Garden visitors last month were able to quite literally walk through a beautiful storm of all things Arizona. They could wander around or even directly underneath a cloud of incredible plant materials — including cholla skeletons, yucca stocks, tree branches tumbleweeds and tropical bromeliad and heliconia.
It was a remarkable sight to behold, creatively capturing the chaotic intensity of the haboobs that occasionally engulf our state. However, just as quickly as the violent and oppressive dust storms blow through town, the artistic representation has taken its final bow.
Fortunately, the installation was only the first in a series of three large-scale living sculptures set to debut this spring at Desert Botanical Garden that draw inspiration from the natural events that occur in Arizona. The Wind, Water, Earth exhibition features the work of wife-and-husband duo Natasha Lisitsa and Daniel Schultz — artists who imaginatively create installations that combine the emotion of flowers with fascinating structures of industrial materials.
"We are in a very narrow niche of installation art," Lisitsa explains. "We use a medium of organic materials — not necessarily only flowers per se but branches and cactus and whatever other natural material is available to us — and combine it with the modern cultural form."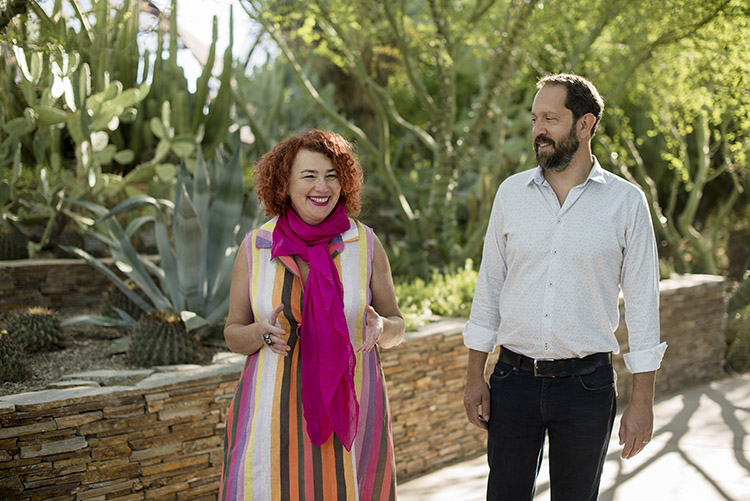 Site-Specific Inspiration
Originally trained as an engineer, Lisitsa founded her boutique San Fransisco studio Waterlily Pond in 2001. She began her floral career by studying Japanese Ikebana floral design. She has since become a celebrated floral artist on the international design scene.
Meanwhile, Schultz serves as the studio's technical lead, using his degree in architecture from Rensselaer Polytechnic Institute and experience as a practicing furniture designer to deliver a deep sense of structural design to every project the team tackles.
Lisitsa and Schultz have been commissioned by modern art museums, cathedrals, public spaces and cultural organizations all around the world to create large-scale floral art, with suspended installations up to 2,000 pounds in weight.
"These installations are quite challenging because we work in a very large scale," Lisitsa says. "We also have to come up with the sculptural forms as well as provide the water source if it involves fresh flowers and plants. That makes our job quite a bit more challenging than most."
Schultz adds that the size and weight of their installations also pose challenges in their construction, transportation and reconstruction.
"Our pieces need to quite literally fit through the front door so we usually create them almost entirely in our studio in San Francisco then have to take them apart, put them in the truck, bring them [to their destination] and put them back together again," he explains. "There are a lot of challenging aspects to it."
Despite the challenges, the artists love what they do — especially because it affords them the opportunity to visit various places on the planet, gain site-specific inspiration and source organic materials that are unique to that location.
Lisitsa says interpreting a location into a floral sculpture is her favorite part of the process.
"The combination of the engineering aspect and the selection of beautiful flowers and plants is what makes it interesting for us," she notes. "We also enjoy working together. We have been working together for more than 15 years now so we feel fortunate that we are able to do this creative work and use both our talents."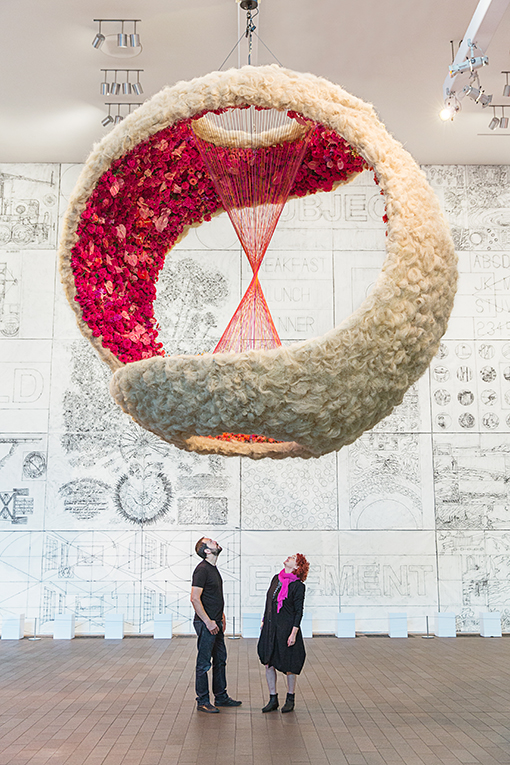 Natural Events
Gaining inspiration from Arizona's natural events and sourcing organic materials from Desert Botanical Garden was a particular pleasure for the floral artists. After all, our deserts are beautifully distinct and diverse.
No longer on display, the first installation in the couple's Desert Botanical Garden exhibition — the 16-foot-high and 8-foot-wide Wind — was a visual triumph. Lisitsa and Schultz were inspired by Arizona's tumultuous dust storms that pick up various objects in their path and toss them across the desert landscape.
"We were really interested in using material found in the desert so we collected creosote branches, palo verde branches, tumbleweeds, dry agaves, cactuses, yucca and other treasures and transformed them," Lisitsa says. "We literally restored them, painted them gold and incorporated them into our piece."
The second installation in the exhibition is on display through March 22 in Desert Botanical Garden's Berlin Agave Yucca Forest. Titled Water, the landscape intervention spans 100 feet, mapping the path of seasonal flooding through the site with 8,000 colored wooden dowels and 1,500 red flowering blooms, from petunias and geraniums to tropical flowers, oriented to flow and spill around rocks and plants.
Schultz says Water is different from Wind — a freestanding sculpture — in the sense that it is built directly into the landscape.
"Our thought was to take inspiration from the fact that the garden itself is a natural wash through Desert Botanical Garden where floodwaters run so to speak," he explains. "Taking modern colorful materials and building them directly on the landscape and cascading through rocks and around agaves in a sense simulates the flow of water but with a much different texture and color.
"It is bright yellow and incorporates red flowers. These are two colors that you hardly see at all in the landscape of the garden, which is mostly soil and sagey green colors. It is a very graphic insertion into the landscape. You cannot see the whole thing at the same time so it is a bit of an experience to walk alongside it and see it from many different perspectives with the pathways around it."
The exhibition will culminate April 3–25 with Earth, an installation in Desert Bontanical Garden's Dorrance Hall that is inspired by the sandstone strata of Arizona canyons. The immersive, room-height, three-dimensional structure will be composed of 25 wood layers of strata cut away to reveal an open archway that visitors can enter. Ten thousand fresh flowers — including roses, orchids and succulents — will line the layers in a palette of desert colors.
"Earth is going to be a real tour de force of fresh flowers," Schultz says. "We are going to reinterpret the desert landscapes of buttes and canyons with this large sculptural form that, 12 feet tall and 16 feet wide, will be sort of like an archway in the sandstone somewhere in the canyonlands."
Creative Execution
Schultz says he was excited to work with Desert Botanical Garden and have its team help him and his wife source so many unique materials for each of the three installations that comprise the exhibition.
"There are not many floral artists out there who have access to this type of material and put a piece together of this scale so we feel really lucky about that," he adds.
Lisitsa agrees, noting she hopes Wind, Water, Earth encourages people to view the organic materials they may see on a daily basis either in their garden or outside their home in a new way. She also appreciates the new challenge the exhibition offered.
"This is the first time that we have done an outdoor exhibition that lasts for a whole month," she explains. "We have done a lot of things at indoor locations so this took the challenge to a whole other level. We had to make sure that these pieces could endure the elements for a long time and would not fly away with the wind."
She says creating three intricate installations in the same geographical location that are each uniquely interesting and utilize a different approach was also a new challenge for the duo. Ultimately, she feels good about the various aspects that each installation is going to show Desert Botanical Garden's visitors.
And Schultz notes those aspects are innumerable.
"These installations are kind of crazy and require a lot of creativity to execute," he says. "It is not like we just do one thing. Some artists hone in on one technique or material and do it over and over to great success. But we are always open to new ideas and new materials and different ways of putting things together."
Wind, Water, Earth
Through April 25 | 8 a.m.–8 p.m. | Desert Botanical Garden
1201 N. Galvin Parkway, Phoenix | See website for prices
480-941-1225 | dbg.org