Writer Shannon Severson
Photography Courtesy of Claire Hamilton
[dropcap]N[/dropcap]ew River resident Natalie Gilliland knew that the odds might be stacked against a retail business launching in the current economic climate, but she has always never been one to shy away from taking a risk — especially when it just seems meant to be.
"In the middle of a pandemic, we opened a flower shop," Gilliland says. "I felt confident that joy was something people really needed; I was blown away by the response."
Gilliland had long dreamed of opening a flower shop that would mimic the cozy, verdant charm of similar spots in Paris and other European cities, but her vision never included Phoenix.
The mother of three boys left her career in education to help grow her family's landscaping business with her husband, Mike. She had what she likes to call a "midlife crisis" at age 40. Her kids were growing up and she was ready to have something of her own. When Mike brought up the flower shop idea, she wasn't quite ready.
"I always saw it as a retirement business, but not in Phoenix," Gilliland recalls. "I grew up in California and I wanted a boardwalk flower shop on the beach — in a place where people walk a lot. I just couldn't see it happening here in the desert. Mike suggested we think and pray about it."
In the meantime, Gilliland began taking floral design classes, building on her instinctive bent for art and creativity. She fell in love with the process and her instructor told her she was a natural.
"Mike said, 'I told you so,'" she says, laughing at the memory. "In 2019, my instructor retired and we ended up purchasing his assets in Tempe. There was no retail space; it was a warehouse operation. I was able to use my training to take over his weddings and corporate events business."
Gilliland's idea for her flower shop was a brand new retail concept planned for another North Phoenix shopping center. When the COVID-19 pandemic devastated the events business and the intended retail space fell through, everything looked uncertain.
"I said, 'God, what do I do?'" she recalls. "Looking back, it gave us the chance to focus on the retail process. Two spots opened up in Norterra and within two weeks, we had our keys. It was the right thing."
Poppies began welcoming customers last September at the Shops at Norterra and the business blossomed from the jump.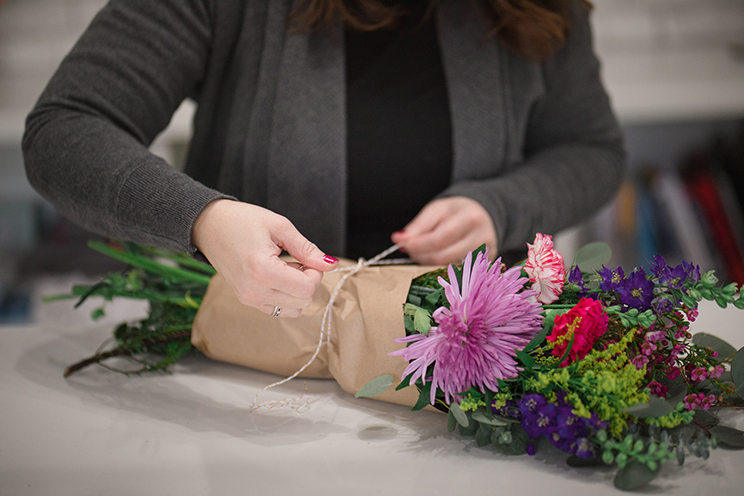 Comfy and Quaint
Gilliland knew that she couldn't compete with the average grocery store floral section in the price category, but she could create an experience that would develop a loyal following.
"When you step through the doors, I want you to feel like you aren't in the middle of the desert," she says. "My vibe is comfy and quaint. I want to create a customizable experience that resonates with people. We put thought into each bouquet and every product we carry. I'm picky about what we carry and what vendors we select. I really try to keep everything local and true to our values and faith."
Gilliland admits to being a perpetual shopper. She peruses Instagram for local artisans and stocks her shelves with items that she herself might pair when purchasing flowers or plants for a friend or loved one: thoughtfully chosen cards, candles, candy and books, which naturally hold a special place in the former teacher's heart.
"I love books and knew I wanted to have them in the store," she says. "I'm old school and love walking into a bookstore, reading books that I can hold in my hands. We have gift books and books on plants and flowers that you can't find anywhere else."
As an educator, Gilliland always knew she wanted to offer classes and began doing so back in the Tempe warehouse days. And she still has customers who make the trip from Tempe for their Poppies fix.
"I had a nice following there," she explains. "When the pandemic hit, I started doing Zoom flower classes. It was outside my comfort zone, but it was really fun and it filled a need. I knew that when we had a retail space, classes would be a huge component of what we offered. I love to teach and floral design is such a fun skill to learn. Anyone can do it."
The classes range from small make-and-takes to open classrooms where a staff member is on-hand to assist while participants drop in to use the large project table in the back and the shop's array of tools. Then, they can walk away from the mess and enjoy their arrangement. The schedule stays flexible to accommodate busy lifestyles. It has created a community feel at the shop and customers who learn a new skill return to purchase blooms to arrange on their own.
Thoughtful Touches
Beyond the retail element, Poppies still maintains a base of corporate customers and its weddings and events services are thriving. The shop typically commits to just one wedding per month, choosing to give complete focus to each couple. Gilliland says she loves the chance to experiment with color for business accounts and to create special events that reflect the tastes of brides and grooms.
The day-to-day at the shop remains Gilliland's biggest joy, though, and takes up the lion's share of her time. She's gotten to know her many regulars and loves it when people discover Poppies for the first time.
"With the chaos and disconnectedness of the world, I feel like people are more invested in doing thoughtful things," Gilliland says. "Those thoughtful touches do matter. When people come in and might be a bit overwhelmed, we can help personalize a bouquet for the recipient and the purpose of the gift. You can't get that with mail order where you just tick a box and press 'send.'"
In response to customer requests, Gilliland is now offering four-week Introduction to Floral Design courses. Classes are limited to just six students, who learn hands-on skills — including base arrangements, hand-tied bouquets and flower care. These types of courses are not readily accessible in the Phoenix area, so Poppies will offer the series a few times per year.
"We've entertained the idea of having other locations, but I'm a wife and a mom first and I don't want to lose any time pouring into what I have here at Norterra," Gilliland adds. "I'm rolling with it and working hard on whatever comes my way."
Whatever the future brings, Gilliland's flower shop dreams have come true at Poppies — much to the delight of local flower lovers.
Poppies Flower Shop
2450 W. Happy Valley Road # 1147, Phoenix
480-649-7100