Writer Shannon Severson
Photography by Bryan Black
[dropcap]A[/dropcap] jackrabbit perks up its long ears at some unseen sound; a family of quail perches amidst the brilliant fruits of a prickly pear cactus; a trio of wild horses looks up from grazing amidst tall grass.
These depictions of wildlife are the work of artist Amy Lay, whose paintings are on display at Sue Bickerdyke Interiors, Art Gallery and Home Furnishings in Carefree.
"I was first introduced to Amy's work in Jackson Hole," says Sue Bickerdyke, who owns the professional interior design studio and home furnishing boutique that specializes in fabrics, color and comfort. "I was immediately drawn to her work and contacted Bryce Pettit, another artist who displays at my gallery. Amy and I had an immediate connection and people really love her paintings. Her work reflects the natural surroundings we are so fortunate to have in this area."
Lay's style defies narrow definition. It is contemporary and colorful with an impressionistic feel, each one brimming with movement and vitality. She begins by sketching with graphite and often charcoal on white canvas, applies a wash of thinned oil paint and then thickens those layers here and there. It gives her paintings a uniquely translucent quality.
"I get a lot of questions about my process because it's uncommon," Lay says. "I really think the white canvas is important; it's like the use of light I learned in watercolor. In traditional oils, it's a big, heavy layering process. You begin by removing light and then add it back. I like to use the white of the canvas and give it a thin wash; it gives a brighter look."
This process and her free-flowing style harness the viewer's attention. Lay's depictions of wildlife feel immediate, like a moment captured, but on the brink of action. She prefers not to work with reference material like photographs, instead drawing from her own memories, which are plentiful.
Surrounded by Wildlife
Lay has spent her life on her family's historic homestead in remote Northeast Oregon, amidst the wide-open spaces replete with mountains, lakes, rivers and plains — and, of course, animals.
"I had a unique situation growing up," she recalls. "I was surrounded by wildlife. Living far from town gave me a focus and intimacy with nature that inspired my creativity. As a child, I learned to occupy my time with animals and it gave me the background to paint wildlife.
"It also instilled in me a sense of the importance of conservation and the need to highlight nature in my work. Since animals don't really have a recognizable voice, I think it's critical to give them one in my paintings; to make them the star, even if it's a gesture or a look in their eye."
She observes that the propensity for drawing animals is really an age-old practice; it comes naturally to humans. In ancient caves and primitive homes, there are always drawings of animals. Lay says that animals are symbolic of everything. They normalize us and connect us — to our surroundings and to each other.
Her earliest childhood memories include lots of drawing and painting and she always preferred animals as her subjects.
"I would draw on any blank corner of paper I could find," she recalls. "My parents tell me that I told them I would be an artist when I was 5 years old and I remember declaring that to my teachers all throughout elementary and high school. It was always my great love and the skill I felt most comfortable with."
Lay credits her family and teachers for encouraging her to develop her talents. Right out of high school, she pursued an art degree at Eastern Oregon University. She says some of the most impactful lessons she learned were the ability to take critiques and what she learned about watercolor painting from a specific professor.
"I still use the same format and simple color palette that he showed me years ago," she says. "I think my colors are part of my signature style."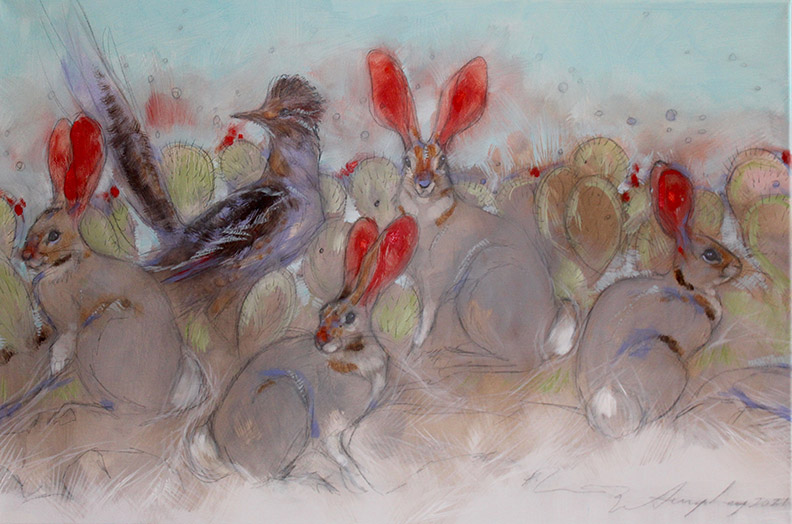 Enchanting Scenery
It's remarkable that Lay began using oils fairly recently. Before 2013, she used watercolors exclusively. She was motivated to start using oils and mixed medium for the flexibility and permanency, along with eliminating the need to put all her paintings under glass.
"I think the long time I spent with watercolor gave me confidence," she says. "It also allowed my work a looseness and freedom that translated easily to oils. I hear all the time that watercolors are difficult and I guess my answer to that is to just let them go; let them do what they want. This spontaneous nature is what gives a painting life. It's what I try to let happen in my work."
Lay still lives on her family's land in Oregon with her husband, Thomas — an Arizona native — and their three children. Since she began showing at Sue Bickerdyke Interiors, Art Gallery and Home Furnishings, she has enjoyed the chance to visit our state and be inspired to paint the wildlife here.
"We hike a lot," Lay says. "It's one of my favorite things to hike in the desert. I fell in love with it; the fragrance and the scenery … it's enchanting."
Bickerdyke says many of her patrons have homes in both the Carefree area and in the mountains. Lay has created paintings that reflect the wildlife and scenery of both these areas so the gallery's clientele can have art that fits the surroundings of their homes.
"Our clients are mobile and have homes in many different places," Bickerdyke explains. "Amy has adapted her work for our areas. People really love it. We design our homes to fit how we live and so much of that involves the outdoors — the big skies and the wildlife around us. Amy's paintings capture that beauty and lifestyle."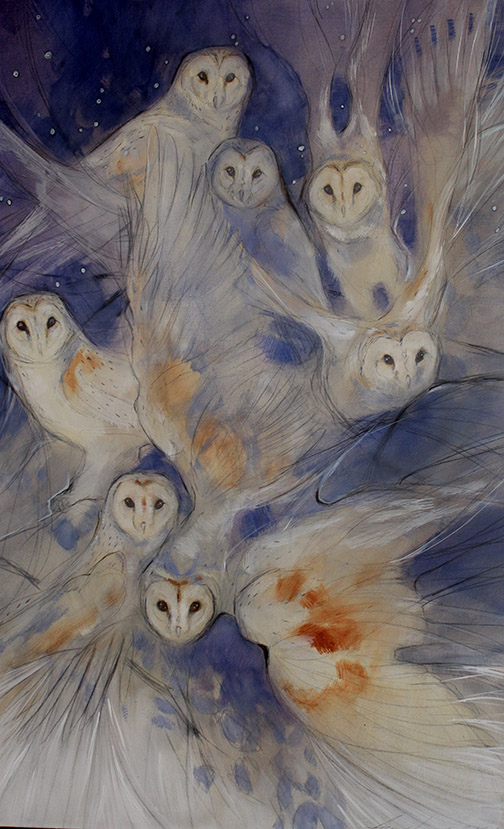 Bringing People Joy
Lay has been encouraged by the response to her paintings. Throughout her life, painting has been a constant. When she began having children, she left a career with the forest service to raise her daughters and son when they were young, earning her teaching certificate in history so that her schedule would coordinate with theirs. After a long day of teaching and mothering, she would get the kids to bed and then went into her studio to paint late into the night.
"I thought to myself, 'I am not giving up on this," Lay recalls. "After 10 years, I decided I was going to paint professionally and the galleries I applied to took me on; I immediately started selling."
It was 2010, the start of her full-time art career. She took her children to showings every weekend, putting in the work to make connections and establish herself with galleries across the West and even as far away as Vermont. Hearing people's reactions is a rewarding feeling for doing what she knows she was born to do.
"I hear people say, 'This is so different, it's happy," Lay explains. "That's a huge boost. I want to make people happy. I will always paint, no matter what, but it's really nice to bring people joy with it. I've never painted just for myself. I paint for others. That is the joy and that's how I communicate."
The Art of Amy Lay
Sue Bickerdyke Interiors, Art Gallery and Home Furnishings | 36889 N. Tom Darlington Drive, Carefree | 480-595-0171 | suebickerdyke.com