Writer and Photographer Francine Coles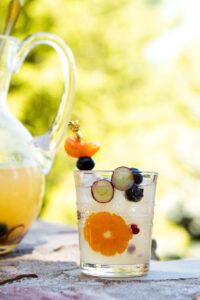 Summer tends to get a lot of flack here in Arizona due to our extreme temperatures. But I prefer to have a glass-half-full attitude and welcome summer with open arms, as it is the perfect opportunity to imbibe on one of my absolutely favorite drinks — sangria! Though a traditional sangria is made with red wine, this version is made with white and is the ideal beverage for Mother's Day, Memorial Day or any day!
Serves: 4
Ingredients
1 bottle white wine (I prefer Sauvignon Blanc)
1/5 cup limoncello liqueur
1/4 cup orange juice
1/4 cup lemon juice
1/4 cup white grape juice
1/2 cup vodka
1/4 cup simple syrup
1 cup halved purple grapes
1 lemon sliced into half wheels
1 orange sliced into quarter wheels
Soda water
Directions
Mix all ingredients together and serve chilled in a pitcher. Delicious and refreshing when topped with soda water.