Writer Joseph J. Airdo // Photography by Nick Milotta
The highly distinguished visual artist Andy Warhol once asked, "Isn't life a series of images that change as they repeat themselves?"
Similarly, the notably less illustrious fictional "One Tree Hill" character Lucas Scott said, "Most of our life is a series of images. They pass us by like towns on the highway. But sometimes a moment stuns us as it happens. And we know that this instant is more than a fleeting image. We know that this moment, every part of it, will live on forever."
Photographer Nick Milotta is perhaps more cognizant than most of these images and moments. Among his favorites are memories of a Japanese maple tree that grew in the yard outside his childhood home.
"I remember my mother taking me into my room to show me how the light from the setting sun would seep through the thin branches and red leaves of the maple, filling my bedroom with patterns of dancing shadow and glowing light," Milotta says. "Sometimes I would go upstairs to my room and just wait for it to happen.
"There was also a place called Port Richmond where my father used to take me to watch the ships. However, my eyes were usually glued to the shadows an old section of the boardwalk cast across the shore. I would live in these fleeting moments when they happened and wish that I could freeze time — but, eventually, the mental images faded.
"Photography has given me a chance to relive those experiences three decades ago in my bedroom or on the shore. And although it took me many years to make the connection, I am grateful for the journey that led me to this place in my life.
"As I continue to explore the world through my camera lens, I am reminded of the power that photography has to capture emotion, memories and stories. I am grateful for these moments — and for the opportunity to share them with others. I want to make those fleeting moments a little more lasting."
This month, Images Arizona's photo essay celebrates the moments in life that stun us so much that they live on forever. Some appear as though they were lifted right out of a detective novel. Others look like they could be a production still from an Oscar-nominated movie. And others are simply so surreal that they may as well have been manufactured by Warhol himself.
But this is real life. This is the world around us. This is fleeting perfection.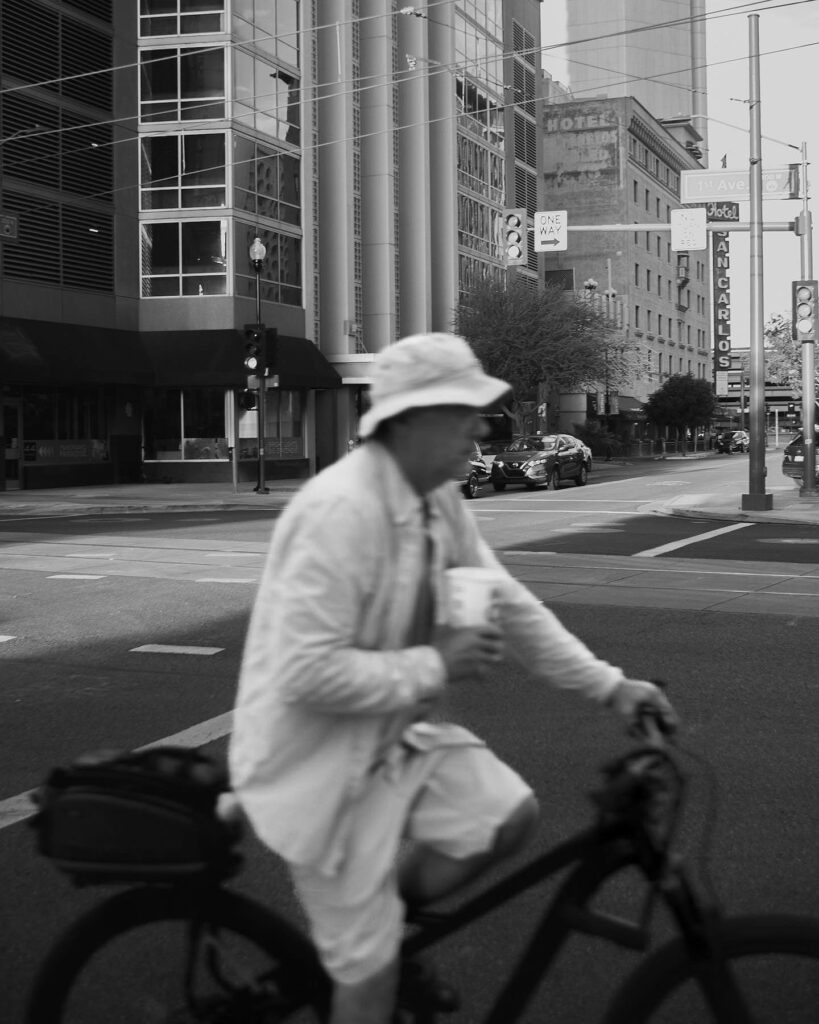 Sense of Nostalgia
Having fallen in love with photography two years ago, Nick Milotta has most recently been experimenting with older technology: 35mm film.
"It is a different experience altogether," he says. "It is a process that involves more intention and mindfulness, as there are only 36 shots on each roll of film. I have to think out and carefully compose each shot. There is no immediate feedback or opportunity to delete and retake the shot. It feels like there is more on the line, so hearing that shutter slap is that much more satisfying.
Milotta adds that 35mm film provides an aesthetic that speaks to him on a level that newer technology cannot.
"It captures a certain warmth and depth that digital often lacks, with a grainy texture and subtle variations in color and contrast," he explains. "That sense of nostalgia is what I am after."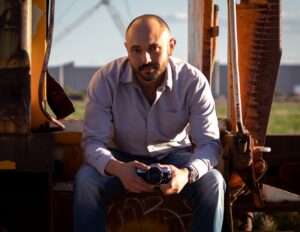 About the Photographer
Nick Milotta discovered his passion for photography in an unlikely place.
"At the time, I would frequent a little improv theater in Tempe called The Bridge," he says. "I would go and watch the shows and also perform from time to time. I had seen a lot of people taking pictures with their phones and I remembered that I had a Canon m50 with a kit lens in the trunk of my car. So I decided to go grab it and take a few shots of the performers.
"It was electric. I found myself skimming between rows and laying on the floor in front of the stage to get good shots. I guess they noticed my zeal and asked me to take photos for their social media team. The Bridge supplied me with fertile ground for growth, for which I am grateful."
Milotta's passion for photography quickly became an obsession, as he learned to shoot manual and experimented with shutter speed, aperture and ISO to capture the perfect image.
"I found myself seeking out that perfect moment of light and shadow that would transport me back to childhood memories," Milotta explains. "Photography became my escape; my way of freezing those fleeting moments in time and preserving them for posterity."
Realizing that photography was far more than just a hobby, Milotta has spent the past two years leaning into what he views through the lens.
"Photography is a way of seeing and interpreting the world around me," he says. "Through my camera lens, I am able to capture the beauty and complexity of life in all its forms — from the vibrant colors of a cityscape to the intricate and delicate details of dew on a rose petal."
instagram.com/nickmilotta.photos