Writer Rebecca L. Rhoades // Photography Courtesy of Art of Our Soul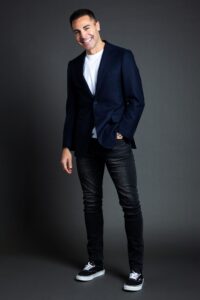 In a brightly lit glass-enclosed studio in midtown Phoenix, 15 men gather around tables stacked with blank art canvases and cups of boldly hued pigments. At the front of the room, former Channel 3 news anchor Brandon Lee, outfitted in paint-splattered overalls and wielding a hair dryer, explains how to manipulate puddles of colorful acrylics into flowing marble-like designs.
As the men, many of whom are covered in tattoos and whose faces lay bare the effects of a hardscrabble life, follow Lee's instructions — pouring the viscous paint, tilting the canvas to form interesting patterns, and creating their own ethereal images — their hardened demeanors begin to slip away. They laugh, they praise their fellow artists — and for 90 minutes, they forget about their troubles and simply enjoy the moment.
"That's the magic of this program," Lee explains. "These are tough dudes, and within 5 minutes of being here, their inner child comes out."
The men are all residential patients at Crossroads, a substance abuse treatment facility with locations throughout the Valley. Each week, they attend a painting class at Art of Our Soul, an innovative hands-on therapeutic art program founded by Lee in late 2021.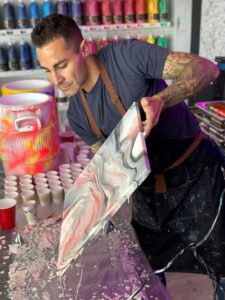 Finding a Purpose
To those who tuned in each night to watch him report on the news, Lee appeared to have it all: an exciting, high-profile career that included two Emmy awards; movie star good looks; and a smile that would brighten any room. But the cheery public persona masked a long history of trauma. While Lee never shied away from talking about his past — from childhood abuse to drug addiction — like many addicts, he struggled to process the trauma.
Lee had been in recovery for about 13 years when, during the pandemic, he relapsed and became suicidal. His trauma therapist suggested he reach out to a shaman with whom she worked. Shortly after he began spiritual healing sessions with the shaman, Lee started experiencing a recurring dream of a little boy with a can of paint.
"I kept getting visions of artwork, and it made no sense to me," he recalls. "I had dabbled in art, but it never connected."
At the behest of his shaman, Lee went to the store, got some painting supplies and started to create. Then one day, he awoke to find three words written on a paper towel next to his bed: studio, gallery and school.
"My shaman said, 'This is where the journey is about to lead you, and it will be life changing,'" he explains.
Two days later, a voice told him to leave the news and develop an art healing studio for trauma survivors.
On September 27, Lee anchored his last newscast. On November 1, he opened Art of Our Soul.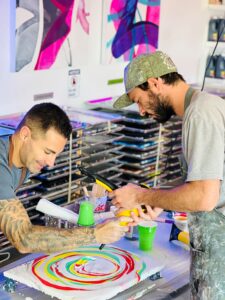 A New Take on Art Therapy
According to the American Art Therapy Association, art therapy is defined as a treatment in which patients, facilitated by a therapist, use art materials, the creative process, and the resulting artwork to explore their emotions, foster self-awareness, reduce anxiety and increase self-esteem. This therapeutic approach has been used to help treat a variety of mental health and physical disabilities since the mid-1940s.
A 2016 study of veterans with post-traumatic stress disorder found that art therapy allows patients to experience and verbalize difficult emotions, provides a distraction and can lead to positive emotions through the creation process. And a 2019 study by Leiden University Medical Centre in the Netherlands suggests that art therapy is especially beneficial for survivors of prolonged or recurrent trauma.
But Art of Our Soul is more than therapy. It is healing.
"We're flipping the script on the tried-and-true traditional clinical art therapy," Lee explains. "A lot of times in recovery, people will do art therapy, and they collage and do clip art and talk about their traumas. And while there is a purpose in that, it's not fun, and it doesn't release dopamine.
"Because I've been in recovery for more than 13 years, I wanted to create something that people look forward to doing in the early stages of their trauma recovery. When you're in the early stages of recovering from trauma, it's heavy, and it's really dark at times. I wanted to figure out a way to bring joy and allow people to experience joy."
According to Lee, his program helps create new neural pathways in the brain, which allows dopamine to be released naturally. Often called the "happy hormone," dopamine is a neurotransmitter that provides feelings of pleasure.
"If you've been on drugs for a long time, all the joy is gone," he says. "Life gets black or gray; there's no color. We have to re-create those neural pathways in order to bring color back into your life."
Art of Our Soul combines music with the art of acrylic pouring. There are no paintbrushes or preconceived designs to replicate. Patients use their hands to create vividly hued one-of-a-kind abstract artworks on canvas. In the background, a playlist of high-energy electronic dance keeps the energy flowing.
"When you're creating something with your hands, you get lost and your body gets elevated into what science calls an alpha state," Lee says.
Some people refer to this as being in "Zen," in the flow, or even a light hypnotic state.
"It lowers your heart rate; helps with anxiety, depression and suicidal ideation; and brings joy and peace," he adds. "And that's exactly what happens here — at every single session."
In addition to working with recovering addicts, Art of Our Soul teaches acrylic pouring to patients with brain injuries, victims of sexual abuse and sex trafficking and folks with mental illness and developmental disabilities.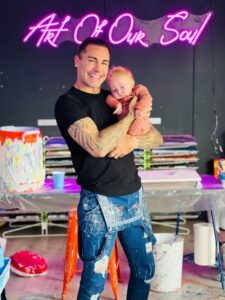 The Healing Power of Creativity
Crossroads was one of the first groups that Lee reached out to during the development of Art of Our Soul. He had frequented the center's 12-step program and knew how much a course like his would help the patients.
"We had been looking for alternative types of programming," says Karem Garcia, Crossroad's chief clinical quality officer, remembering the day that Lee approached her to share his idea. "We had tried some art things in the past, but they were hard to sustain because people would come in, do their projects, and then wrap up and go. This was something we could do on a weekly basis. Plus, it was in line with our model of somebody in recovery helping another, a peer helping a peer."
Each week, 15 of the center's clients from its multiple campuses partake in a class taught by Lee or one of his fellow art instructors, Christin Day and Carey Gerst, both of whom are in recovery.
"It's important that anybody who works for me is a trauma survivor," Lee points out. "They don't have to be in addiction recovery, but they have to be a trauma survivor. How can you relate to and get on the level of someone who comes in here if you've never walked in their shoes or haven't had their experiences?
"I've been down that road. I know what it's like. I'm one of them."
According to Garcia, the fact that Lee and his team have survived trauma and addiction is both inspiring and motivating.
"It gives the newcomer a long-term vision of what recovery can look like," she explains. "Many of our people are so broken when they come in here, they don't know who they are. Brandon's story is right in line with so many others' stories. I love when clients can see that recovery truly is possible."
Florence Crittenton is a social service agency that provides housing, education, counseling and support to at-risk and disadvantaged youth who are assigned female at birth. Through a year-long grant from Mercy Care, the agency has been able to provide weekly classes for its young women at Art of Our Soul.
"Our girls come to use from various backgrounds, all based on trauma," says Amy Holstein, director of Florence Crittenton. "This program has been one of the most beneficial modalities of therapeutic support as we teach our girls coping skills. Being able to see an adult who's been through something similar to them, and to see that they're happy and they've coped and there is a future — it shows them that there is hope."
Holstein recalls one girl who lacked confidence in just about everything — in her looks, in her ability to make friends, in her creativity. After attending a class at Art of Our Soul, she said, "I feel like I'm good at something now." Another girl painted an image that started in the bottom left-hand corner with dark shades of black and red and grew into golds and light colors in the upper right-hand corner.
When asked about the painting's meaning, the girl replied, "This is like my struggle. At the bottom are the bad things that happened to me. The middle is everything that's helping me. And over here where it's lighter and brighter, that's where I'm going." Through art, she was able to express her feelings in a way that she could not through traditional therapy.
"These classes have made such a huge impact, not just on the kids who come in but also on our program moving forward," Holstein says. "What Brandon has created is beautiful. It's on a completely different level of art therapy because it's more about healing through creative expression. And there's no script for it. It's just led with heart and human connection."
When Lee opened Art of Our Soul 16 months ago, he partnered with only three recovery centers. Today, the studio works with more than 16 healthcare services — offering three or four sessions a day, five days a week. According to Art of Our Soul's website, the program provides "art healing sessions to more than 600 trauma survivors each month."
Recently, Lee announced that he is expanding Art of Our Soul to health clinics and hospitals throughout Arizona and the country through franchise opportunities.
"My dream is to have an Art of Our Soul in every state in America," Lee says. "Trauma will always exist. It is not going away, which means addiction is not going away. My goal is to introduce patients to different modalities that can help them process trauma in real-time rather than suppress it — and heal from it so they don't have to go down the dark path of addiction."