Writer Rebecca L. Rhoades // Photography by Loralei Lazurek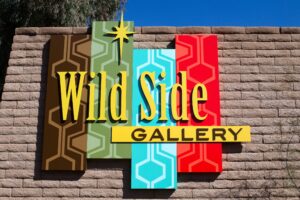 Zoos today have a tricky responsibility: to conserve wildlife and educate the public about animal welfare but also to entertain the hundreds of guests who pass through their gates every day. They're part tourist destination, part research facility, part Noah's Ark. And, for the Phoenix Zoo, part art gallery.
Located among the towering red sandstone formations of Papago Park, the Phoenix Zoo is one of the largest zoos in the nation — and one of the most popular attractions in Arizona. More than 3,000 animals from across the world can be found here. And with the recent opening of the Wild Side Gallery, so can world-class art exhibitions.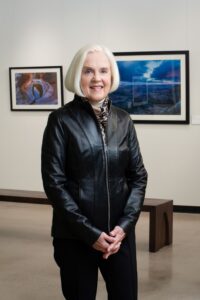 More than Animals
Art at the zoo is not unprecedented. Large bronze sculptures are scattered throughout the property. Many pieces are in the shape of animals and local icons. One of the zoo's most popular works is a lifesize bronze portrayal of beloved TV characters, Wallace and Ladmo by Sedona-based artist Neil Logan.
"We have people who come here specifically to see that sculpture," says zoo president and CEO Bert Castro. "Our mission is to provide experiences that help people really think about the natural world, and we can do that in different ways. Art is very inspirational. It's another way to get people to care about wildlife and wild places."
About five years ago, Castro, his wife, Janice, and Jean Bingham, a longtime zoo board member, decided to inventory the zoo's art collection, much of which had been donated by the community.
"We had more than 65 pieces, worth more than $2 million," Castro notes.
Around the same time, Bingham gave a behind-the-scenes tour of the zoo to some local artists who had submitted works for a fundraiser. Among them were painters April Howland and Dyana Hesson.
"We got to see the Savanna Grill, which had just been renovated," Howland recalls. "We walked in, and the walls were bare. And it was so beautiful, with all this natural light coming in. I looked at Dyana, she looked at me, and we immediately thought we could do something with it."
The pair came up with a proposal, and in February 2019, the zoo debuted its first gallery show. Since then, the restaurant has been home to rotating exhibitions of paintings and photographs of animals, landscapes, and nature scenes by local artists, with a portion of the proceeds going toward zoo conservation. And the space has become a popular stop for adult zoo-goers and kids alike.
"We've gotten wonderful positive feedback about the art in the Savanna Grill — how much guests enjoy viewing it and waiting for the next exhibit. It's been a wonderful way to get young children to start caring about nature," Bingham explains.
Then, a few years ago, Castro was visiting the Arizona-Sonora Desert Museum in Tucson, which has a permanent art gallery.
"I thought, 'Wow, wouldn't it be cool to build a gallery at the zoo and have a wonderful venue that would celebrate wildlife in a different way than we ever had before,'" he says.
The gallery at the Arizona-Sonora Desert Museum is housed in a renovated building. The zoo also had a historic building that, at the time, was being used for storage. Situated right off the main entrance, the midcentury modern 1970s Activity Center was designed by well-known Valley architect William Cartmell, who designed the dorms at Arizona State University and the school's College of Law building as well as numerous banks and educational facilities.
The 2,400-square-foot building needed renovations — at one point it had even housed animals — but the original structure was intact.
"It was just a dream come true," Hesson says.
Renovations took about 18 months, and included restoring the original clerestory windows and exterior light fixtures, as well as painting, adding custom period-appropriate furnishings, and landscaping an outdoor patio.
"We wanted to stay true to the architect's vision," Hesson adds. "We worked really hard and transformed it into a beautiful gallery. I think [Cartmell] would be thrilled that people took care of something he built."
Directly across from the gallery's large glass doors hangs a portrait of Robert E. Maytag, founder of the Phoenix Zoo and grandson of the founder of the Maytag appliance company. According to Bingham, the portrait was found hidden inside a garbage bag in a barn on the property.
"We've since had it conserved and hung in a place of honor," she says.
Advancing an Appreciation for Nature
The Wild Side Gallery opened in February with a renowned National Geographic exhibit. "Between River and Rim: Hiking Across the Grand Canyon" by photographer Pete McBride and author Kevin Fedarko showcases the duo's nearly 800-mile journey through the heart of the Grand Canyon. It highlights the beauty of the Canyon and the threats to it that the artists discovered along the way.
More than 400 people attended the gallery's opening night.
"Guests have been loving the work," Howland says. "They're really captivated by the story of two guys who traverse the canyon. And at the same time, they're learning a lot about Arizona."
Hesson adds that guests are getting a different kind of enjoyment from the zoo.
"The gallery gives people a way to experience and become interested in something that maybe they didn't know about," she explains. "We hope it will spark some imagination, especially in kids. And then they'll want to learn more about the natural world and how to care for it."
Most of the art on display is available for purchase, and 30% of the proceeds of each piece goes to the zoo to help with conservation and its efforts of supporting animals in the wild.
"Between River and Rim: Hiking Across the Grand Canyon" is on display through September. Future plans include a juried show featuring the works of local artists and exhibits by the Society of Animal Artists.
Howland hopes to also open the gallery for photography and art classes.
"I want this to be a place where people come to learn more about conservation and to become ambassadors for the natural world," she says.
Castro hopes that the gallery will give guests a greater appreciation for wildlife.
"It's important that people who come to the zoo walk away with empathy for and a little bit more knowledge about wildlife, and hopefully that will make them good stewards of the land and of species in general," he says.