Writer Rebecca L. Rhoades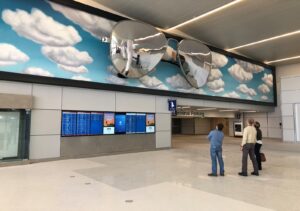 On a typical day, more than 125,000 passengers arrive and depart at Phoenix Sky Harbor International Airport. They pass through the terminals, ride the AirTrain and stop by the rental car center to pick up vehicles. For most travelers, the airport is simply a place that must be tolerated on the way to their final destination — it's crowded, it's chaotic, it's stress-inducing.
But for those who take a moment to slow down and observe their surroundings, the airport becomes a welcoming space filled with color, beauty and artistry.
"Sky Harbor is the front door to our city and to our state in many ways," says Gary Martelli, manager and curator of the Phoenix Airport Museum. "Having art at the airport says that art and culture are important to us."
Phoenix Sky Harbor airport has one of the oldest and largest art programs in the country — second only to San Francisco International Airport. There are more than 40 display areas for individual art and themed exhibitions throughout the airport system. Artworks are displayed in the terminals, rental car center, SkyTrain stations and even outdoors. The museum also has exhibits at the Deer Valley and Goodyear airports.
Some exhibitions are permanent; others change about every six months. There are dedicated galleries, large glass display cases, art-lined hallways, hidden niches and a sculpture garden. Some pieces are integrated, such as artist-designed floors, ceilings and stained-glass walls. And 80–90% of the art on display is viewable pre-security, meaning that you don't need to have a plane ticket to see it.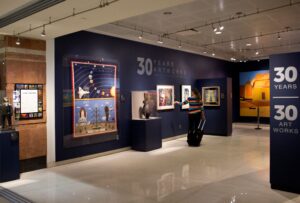 History on Display
The Phoenix Airport Museum program began officially in 1988, but the tradition of showcasing beautiful artworks dates back to the airport's origins in the 1960s.
One of the museum's earliest pieces was commissioned in 1960 in anticipation of the opening of Terminal 2. Paul Coze's 75-foot-wide mural, "The Phoenix," is a three-panel multimedia work comprising 52 different materials. The center panel is dominated by a mythical blazing Phoenix perched atop a native date palm. It is believed to be the first piece of city-commissioned public art that was chosen by a citizen vote.
The triptych debuted in 1962 on the west wall of the Terminal 2 lobby and quickly became an iconic landmark. When the terminal was decommissioned in 2020, the mural was saved, and in fall of 2021, it was installed in the rental car center near the central escalator.
Today, it still attracts art lovers and historians who examine the mural's tiny details, such as gemstones, tile and even a child's toy steering wheel, through observation scopes tucked away at the base of the escalator. Display cases tell the story of the mural's creation and its relocation.
In 1986, the city of Phoenix established the Public Art Program, which allocates 1% of the city's annual Capital Improvement Program to public art projects — including the airport. Then, the airport's collection stood at 25 pieces. Today, it spans about 900 works.
There are paintings, sculpture, photography, fiber art, glass, ceramics, architecturally integrated pieces and more from some of the region's most renowned artists, including Ed Mell, Mark Klett, Frank Ybarra, Anne Coe and Patricia Sannit, as well as internationally recognized artists such as Jun Kaneko.
Travelers at Terminal 3 are greeted by a large backlit stained-glass wall created in 1979 by Ken Toney. The 1,400-square-foot artwork originally was installed in the ceiling above the terminal's escalators. Comprised of more than 2,300 pieces of glass in sunset shades of gold, red and orange, the glass panels were repurposed into an exterior eye-catcher during the terminal's modernization in 2019.
Inside the terminal, Donald Lipski's "The Aviators" watches over the daily goings-on — literally. The giant pair of reflective aviator sunglasses hang above the arrivals atrium and are designed to celebrate Arizona's rich history of civil and military aviation.
"We want to promote Arizona's art and culture, and that can be expressed in a lot of different ways," Martelli says when asked about the variety of works on display. "When we say 'Arizona,' that doesn't necessarily mean a landscape or image of something from the state. I want artwork that's well-crafted and that conveys what the artist intended to convey."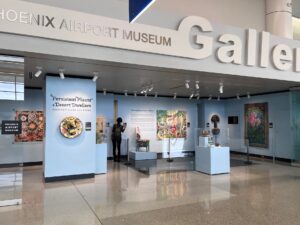 World's Biggest Galleries
One of the most recent additions to the Sky Harbor museum is a 6,000-square-foot terrazzo floor by Phoenix-based artist Bill Dambrova. Located in the SkyTrain station at the rental car center, the floor, titled "From the Earth to the Sky," welcomes travelers with bold graphics and vibrant hues.
"The city of Phoenix Offices of Arts and Culture said they didn't want a 'design'; they wanted 'art,'" Dambrova says of the work's undulating abstract biology-inspired shapes. He notes that the city, when making commissions, "selects artists who they feel have the potential to make something fresh and different, something that feels meaningful."
Dambrova's floor debuted in December 2022.
Having art displayed in the airport has become an honor that rivals having work in top galleries and museums — and an opportunity that artists now seek out. Dambrova, who also is a museum exhibition designer, notes that if given his choice, he would prefer to have his work shown in an airport instead of a museum.
"I feel that art is needed in airports," he explains. "Many people still don't feel comfortable going to art museums or galleries, and airports are like ambassadors for art. They make art accessible to those who otherwise would not seek it out. Some folks who say that 'they don't get art' may even end up enjoying it, even if only by osmosis. I like the idea of being involved in making art more accessible to everyone, not just people who already like art.
"I've designed exhibits at some major well-known institutions with huge budgets that thousands of people see, but my name isn't on them, and they are not permanent. This will be the most permanent thing I've ever done that could last 50 years or more. It very much feels like I am leaving a legacy in my hometown."
Botanical artist Dyana Hesson of Mesa also has a large painting in the museum's permanent collection. She recalls meeting a woman who had just relocated to the Valley from Canada who recognized her name because she saw the artwork hanging in the airport.
"She said one of the first things she saw when she landed in Phoenix was my painting, and she thought, 'This is some place I want to explore, someplace I want to live.' It made an impression on her," Hesson says. "The Sky Harbor art program is a great venue and a great opportunity for artists. There are so many people you can connect with at the airport. It's a way for our state to introduce itself to our visitors."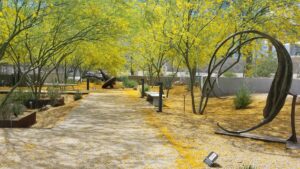 'A Sense of Place'
Travelers who fly in and out of Arizona's second-largest city also have the opportunity to view beautiful works of art. Since 1987, Tucson International Airport has been showcasing works by artists from southern Arizona and northern Sonora, Mexico.
"In many ways, art is about establishing a sense of place," says Danette Bewley, president and CEO of Tucson Airport Authority. "Passengers traveling through Tucson International Airport should have no doubt they have landed in Southern Arizona when they are in the terminal. We want [visitors] to be surrounded by Tucson's unique beauty and culture and understand that they are in Southern Arizona before they step outside and snap selfies with the saguaros."
The Tucson airport's collection features more than 100 works, including paintings, photographs and sculptures. Some of the most popular pieces are "Desert Ramblers," a whimsical sculptural scene by Joe Pagac that includes a javelina, jackrabbit, packrat and desert tortoise patiently waiting for their flight, and "Another Way to Fly," a series of glass flying carpets by beloved Tucson glassblower Tom Philabaum.
"Tucson International Airport is more than just a travel hub; it is a pillar of the Southern Arizona region," Bewley says. "The Tucson Airport Authority has partnered with local artists for more than three decades, and we will continue to amplify the creativity that makes Tucson such a special place to live, work and travel to from around the world."
For Martelli, art is a calming distraction in an otherwise hectic environment. It transports travelers to new destinations and sets Phoenix and its airport apart from an increasingly homogeneous world.
"We like to say that Sky Harbor is a museum that planes happen to come and go from," he says.
skyharbor.com/at-the-airport/amenities/airport-museum
flytucson.com/services/art