Writer Joseph J. Airdo // Photography Courtesy of Stagecoach Village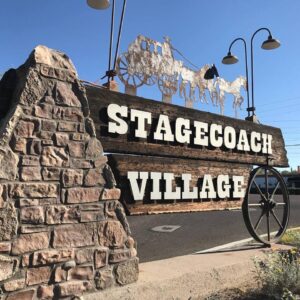 It's beginning to look a lot like Christmas at Stagecoach Village in Cave Creek, where 28 beautifully lit trees welcome visitors to a uniquely Arizonan winter wonderland.
To help the community get into the spirit of the season, the retail district will on Dec. 9–11 host Western Holidays — a festive and fun-filled holiday event designed to bring people together while also benefitting a very admirable cause.
"We wanted to create a family-oriented holiday event," says Patty Pollnow, property manager and special events manager of Stagecoach Village. "That was the goal going into it. We plan on having a lot of children's activities as well as several activities for adults. But we wanted it to be very family oriented."
Part of that family aspect of Western Holidays is incorporating the gift of giving through title sponsors Sanderson Ford and Sanderson Lincoln's Operation Santa Claus, which collects new unwrapped toys, children's clothing items and packaged food items for those who need a helping hand this holiday season.
Pollnow says that while Stagecoach Village has hosted a number of different events over the years — including the Taste of Cave Creek and several fine art festivals — Western Holidays marks the retail district's first foray into a Christmas celebration.
Among the many activities planned for the three-day event is a Yuletide artesian market, featuring a variety of pieces by local artists, hand-crafted holiday wares and other gifts. Meanwhile, a variety of festival food vendors will also be on hand, as will a beer and wine garden for the adults.
Although all three days of Western Holidays will be overbrimming with festive merriment, Saturday will be especially spectacular, with a spellbinding balloon glow scheduled for 5:30 p.m. that evening.
"The balloons will inflate and ignite their burners, resulting in a magical dance," says Pollnow, noting that the hot air balloons will be tethered to the ground and feature music-synced illumination. "This way you can get up close to these colorful balloons while they glow and light up the area. We recommend arriving early to check out local vendors and ensure prime parking."
Pollnow adds that Stagecoach Village's various business owners are eager to welcome the community to celebrate the season in their unique little corner of Cave Creek. Some are even getting in on the action — such as Cowbells Western Interiors, which will be hosting a crazy Christmas hat contest on Saturday afternoon. Those who plan to attend are encouraged to create their wackiest winter headwear prior to the event.
Other notable happenings on the ever-growing list of activities during Western Holidays include visits with Mr. and Mrs. Claus, storytelling, ornament making, face painting, glitter tattoos, wagon hayrides and quite possibly the most Cave Creek thing of all time — a parade of tractors, all decked out in festive Christmas lights.
"It started out as kind of a small event," Pollnow says. "But it just keeps growing bigger and bigger every day."
Of course, no holiday gathering would be complete without music, so Western Holidays will have plenty of it. Carolers will be roaming the retail district throughout the weekend, serenading attendees with the joyous sounds of the season. Additionally, bands, dancers and singers from Cactus Shadows High School will be performing on Friday evening as well as throughout the day on Saturday.
Western Holidays will even include a live concert 5–9 p.m. Saturday, featuring The Crown Kings — a band whose original music encompasses both the varied influences of its members and the feel of the Sonoran Desert.
Pollnow adds that in addition to providing community members a place to come together and celebrate the holiday season with one another, Western Holidays will also offer those who may have not visited Stagecoach Village recently an opportunity to discover all of the exciting new businesses that have opened at the retail district over the past few months.
Western Holidays is just one of at least seven events scheduled to take place at Stagecoach Village in the upcoming months. Future festivities include a large bicycle race in the spring and, of course, plenty of other opportunities to gather with friends and neighbors.
"People are ready to celebrate again," Pollnow says. "They are ready to enjoy their neighbors and their community."
Experience
Western Holidays // Dec. 9–11 // Friday 10 a.m.–7 p.m. // Saturday 10 a.m.–10 p.m. // Sunday 10 a.m.–4 p.m. // Stagecoach Village // 7100 E. Cave Creek Road, Cave Creek // Free admission with toy or nonperishable food donation // 480-876-6108