Writer Shannon Severson // Photography by Patrick Hodgson and Margo Hawk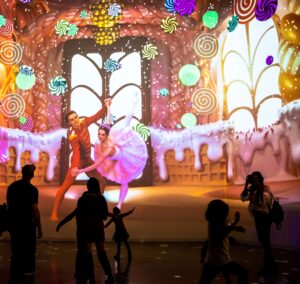 The story of "The Nutcracker and the Mouse King" has entranced audiences young and old for more than 200 years. First written by German author E.T.A. Hoffman in 1816, the story was adapted by Alexandre Dumas — better known as author of "The Three Musketeers" –– in 1844, which became the basis for the version we are familiar with today.
The first stage performance of "The Nutcracker" ballet in St. Petersburg, Russia was commissioned by the director of the Russian Imperial Theater in 1892, set to the music of Peter Ilych Tchaikovsky's original score — and, believe it or not, it received mixed reviews.
But as critics can sometimes be out of step with larger public sentiment, "The Nutcracker" went on to become a perennial favorite around the world as a dreamy tale of Christmas come to life. In the United States, choreographer George Balanchine's 1954 version for New York City Ballet cemented the story as what is arguably America's favorite ballet. For many families, the holidays just are not the same without attending a performance.
Now, a new way to enjoy this classic Christmas tale has arrived in the Valley in the form of "The Immersive Nutcracker, A Winter Miracle" at Scottsdale's Lighthouse ArtSpace Phoenix. It's an approachable experience for even squirmy young children who might prefer twirling alongside the dancers to sitting still in a theater seat.
"This is an experiential retelling of a classic holiday story combined with magical sounds of Christmas music, ballet dancing, state-of-the-art moving projections and immersive animations," says Corey Ross, producer and co-founder of Lighthouse Immersive who, along with Impact Museums, is bringing this creation of Canada's Storywall Entertainment to local audiences.
Audiences will travel through five fantasy worlds from the Winter Forest to inside the magical Christmas tree to Candy World. Sprinkled throughout are ballet performances by Canadian talents, including principal dancer Denis Rodkin and leading soloist Eleonora Sevenard, as well as animations — all in a 360-degree, three-dimensional environment with 50,000 cubic feet of projections.
The classical score includes the familiar strains of "The March of the Toys" and "The Dance of the Sugar Plum Fairy." The 30-minute, larger-than-life experience allows attendees young and old to experience a bite-sized slice of the long-form holiday delight.
Experience
'The Immersive Nutcracker, A Winter Miracle' // Through Jan. 2. // $29.99+; group discounts available // Lighthouse ArtSpace Phoenix // 4301 N. Scottsdale Road, Scottsdale // immersive-nutcracker.com