Writer Joseph J. Airdo // Photography Courtesy of Coolwater Christian Church
Coolwater Christian Church Pastor Rick Gates fondly recalls the Christmases of his childhood, when he and his parents would get into the family car and ride around the neighborhood, looking at all of the beautiful holiday lights.
It is a tradition that many families have and pass down from generation to generation; one that, despite how much the world has changed over the decades, has somehow managed to retain its humble place in many people's celebrations.
Journey to Bethlehem — a one-of-a-kind drive-through Nativity hosted by Coolwater Christian Church — aims to tap into that tradition and enrich it with reflections on the reason for the season.
The event was conceived last year when church leaders began pondering ways they could effectively reach out to the community and raise awareness about their congregation and campus.
"We had originally wanted to do an event in October — a fall festival with pumpkins, music and food trucks," Gates says.
However, with the effects of the COVID-19 pandemic still lingering and many people still hesitant to attend large gatherings, church leaders scrapped the idea and went back to the drawing board. That is when the thought of a live Nativity entered the conversation.
"We had previously done a live Nativity on our property in a kind of desert setting before our building was built," says Gates, noting that — like most live Nativities — guests walked and gathered around the scene. "So we decided to introduce to the community a drive-through Nativity. That way, people could experience the Christmas story [in a socially distanced way]."
The event immediately became an all-church effort as everyone volunteered to bring the story of the birth of Jesus Christ to life the weekend before Christmas.
"We all poured into it and pulled it off," Gates says. "And we were very pleased with how it went. It accomplished everything we wanted it to. It let people know about Coolwater Christian Church and offered the community something very meaningful at a time when everybody is out and about, looking for things to do. I think that we had about 100 cars that came through. The reception was so favorable, we just knew that it was something we really wanted to do again this year."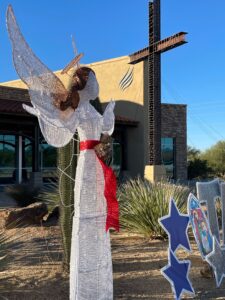 Therefore, on Dec. 17 and 18, Coolwater Christian Church will once again host its drive-through Nativity, improving and expanding upon last year's effort by enhancing its lighting and further enriching its message with two additional scenes.
"Last year, we had four scenes," explains Gates, noting that Journey to Bethlehem essentially transported visitors back in time. "We had Mary and Joseph traveling to the City of David to pay their taxes, the shepherds in the field keeping watch over their flocks by night, the noble Wise Men 'from the East' who followed a miraculous guiding star to Bethlehem and the glorious birth of Jesus Christ into the world. And that was just spectacular.
"This year, we are adding the enunciation scene, where the angel Gabriel announces to Mary that she would be carrying the child, as well as a closing scene after the manger to help our guests ponder the meaning of the news. We are doing that to give it more impact and to make our Journey to Bethlehem a richer experience."
The experience will also be more interactive this year.
"One of the actors at each scene will give a gift to each car," Gates says. "The gift will be something as simple as a little votive candle from one of the scenes and a card, at one of the others, with frankincense and myrrh on it that people can pass around the car and have an idea of the fragrance of what the wise men were carrying."
Like last year, guests will also receive goodie bags filled with candy and other surprises as well as be invited to tune their car radios to a special frequency that features music to set the tone of the experience. Guests are encouraged to bring donations of nonperishable food items to benefit Foothills Food Bank and Resource Center.
"This time before Christmas and the celebration of Christmas Day is a time to remember and reflect on the story of the birth of Jesus," Gates says. "Our drive-through Nativity is a way to convey that to people, to remind them of what Christmas is really all about and to help them experience it and think about what it means to them; what impact it might have on their life."
"Say that you have got grandparents taking their grandchildren through and, on the way home, they have a conversation about what Christmas was like when those grandparents were growing up. It is a way to engage in conversation with yourself, with others and with God about what this time really means."
Experience
Journey to Bethlehem // Dec. 17 and 18 // 5:30–8 p.m. // Coolwater Christian Church // 28181 N. 56th St., Scottsdale // Free // 480-585-5554 // coolwaterchurch.org