Writer Joseph J. Airdo
Photography Courtesy of Desert Botanical Garden
[dropcap]G[/dropcap]lass artist Dale Chihuly has found inspiration in a variety of ways over the years.
"But what is most important to him when developing an exhibition is the environment," says Britt Cornett, director of exhibitions for Chihuly Studio. "He approaches every site — whether in a garden or a museum — with the intention to create unexpected experiences."
Chihuly this month returns to the Sonoran Desert with a new exhibition at not just one but two of Arizona's most iconic venues — Desert Botanical Garden and Taliesin West. Combining art, architecture and nature, the glass artist's masterpieces will stun from day to night as color, light and form come alive for the first time ever at two locations for a joint exhibition.
"This exhibition is special because it includes two very distinct locations," Cornett says. "Desert Botanical Garden offers the opportunity to present Dale's work against the beautiful desert landscape while Taliesin West allows him to show his work against the inspiring architecture of American icon Frank Lloyd Wright. Gardens and architecture both play a key role in Dale's history."
Gorgeous in the Garden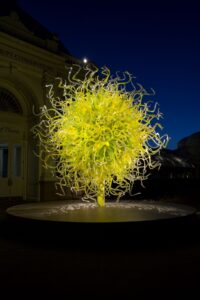 Chihuly's artwork has graced Desert Botanical Garden twice before — once in 2008–2009 and again in 2013–2014. The garden's executive director Ken Schutz says that in addition to several new forms, some popular ones make encore appearances, albeit in different colors. None of the pieces in this exhibition have ever before been displayed at Desert Botanical Garden.
Moreover, for the first time ever, some of Chihuly's works will be staged inside of the garden's Dorrance Hall for what Schutz believes will be considered the highlight of the exhibition.
"Never before have we had an interior presentation," Schutz says. "We are taking Dorrance Hall, which is probably 4,000 square feet of exhibition space, and creating six stagings inside that building. I love every one of these pieces but I think that interior presentation will be the showstopper."
Schutz adds that Desert Botanical Garden is a great place to exhibit Chihuly's artwork because, unlike most other gardens, it encourages the artist to stage them amongst the plant displays.
"Many public gardens have large lawns and public areas," he explains. "Chihuly's work will often be displayed in an area like that so guests must walk from one area to another to see the glass then walk back again to see the plants. We have two rules: You cannot do anything that would be unsafe for the public and you cannot do anything that would be unsafe for the plants. Beyond that, we just asked him to go crazy and let his creative spirit run wild."
As a result, Chihuly's artwork is completely integrated into the core garden and interior space.
"So it is part of the garden experience as you look at real plants alongside Chihuly's plant-like creations in glass," Schutz says. "It is kind of like a 'Star Trek' episode in which two planets collide and the life forms from each of them grow side-by-side. I think that is what makes it so unique to see his artwork in our setting."
Schutz adds that because the aesthetic of Chihuly's artwork changes throughout the day as the light changes, it would behoove one to visit Desert Botanical Garden's exhibition multiple times throughout its run — at least once during daylight and at least once at night.
"It is pretty at all hours of the day but it is especially pretty starting around 4 p.m. through that golden hour where there is still a lot of light but it is coming in at an angle," he explains. "The plants really glow at that time, too, so if I only had one time to see it, I think I would come right before sunset. Then it completely changes character in the dark. They employ really skillful theatrical lighting to make these really striking nighttime displays."
If visiting at night in December, one will also be treated to live music performances, entertainment and thousands of dazzling hand-lit candles during Las Noches de las Luminarias at Desert Botanical Garden.
Astonishing with the Architecture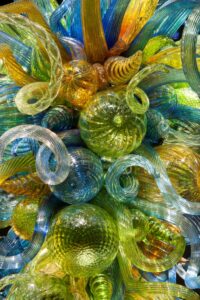 Unlike Desert Botanical Garden, this exhibition marks the very first time Chihuly's artwork has ever been shown at Taliesin West, which served as architect Frank Lloyd Wright's winter home and school in the desert from 1937 until his death at the age of 91 in 1959.
Frank Lloyd Wright Foundation vice president and chief learning and engagement officer Nikki Stewart says that it will be fascinating to finally see Chihuly and Wright in conversation with one another in a public space — especially given the similarities of their work.
"Chihuly and Wright have much in common, especially their inspiration," she explains. "They are both deeply inspired by the natural world and world cultures. These two men were actually working very similarly albeit in different times and places."
Stewart says that Wright gained inspiration for much of Taliesin West's architecture from the natural world — the shape of the mountains and the desert cactuses — that surrounds the property.
"The same thing is true for Chihuly," she adds. "He is looking at the natural world and creating abstractions of what he sees. He is looking at plants, nature, animals and spaces and creates works of art that fit within and go beautifully with them."
Like Desert Botanical Garden, most of Taliesin West's exhibition is staged outdoors but also consists of a dazzling display within the property's garden room.
Also like Desert Botanical Garden, the aesthetic of Chihuly's artwork changes throughout the day as the light changes, therefore Stewart suggests people plan multiple visits to Taliesin West throughout the exhibition's run.
"The dazzling sunlight during the day is a great way to see this glass," she says. "And at nighttime, once it is all lit up with artificial light, it looks completely different."
Fortunately, Taliesin West has made it easy for visitors to experience both aesthetics.
"The signature experience here is called In a New Light," she says. "It is a 90-minute tour that takes you through all of Taliesin West so you get to see all of the Chihuly artworks while learning about Frank Lloyd Wright. Then we offer an evening program called Sunsets and Sips during which you can have a cocktail out on the prowl and watch the sun go down. As it does, all of the glass and artwork in the building comes to life in a completely new way."
Beauty is Everywhere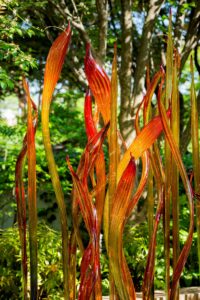 Noting that although one's interaction with artwork is subjective and personal, Cornett ultimately hopes that those who visit Desert Botanical Garden or Taliesin West will escape into the beauty of Chihuly's work and see the world through the glass artist's eyes — if even just for a moment.
"Dale's large-scale installations are often comprised of blown-glass forms that take inspiration from the natural world," Cornett explains. "I encourage visitors to spend time considering the influence of light, space and form, which are critical to how Dale approaches his work. It has been a hard time for our world and I think that people need art and beauty in their lives more than ever."
Schutz agrees that everyone has different aesthetic senses.
"I really like pattern, color and abstraction," says Schutz, calling attention to the ZoLo play-sculpture set sitting on his desk. "Chihuly creates these magical installations. Every time I look at them, I see them in a different light and from a different angle. They never cease to delight my brain."
Stewart adds that each and every one of us has to interpret art and the beauty in the world around us for ourselves.
"Chihuly interprets it in glass, light and color," she says. "Wright interprets it in spaces, shape, light and color. So they are very similar. But I think that the real lesson from Chihuly's work is that beauty is everywhere. And he makes that beauty really easy to find."
Experience
Chihuly in the Desert // Dec. 3–June 18 // Desert Botanical Garden // 1201 N. Galvin Parkway, Phoenix // Frank Lloyd Wright's Taliesin West // 12621 N. Frank Lloyd Wright Blvd., Scottsdale // See website for prices // chihulyinthedesert.org